---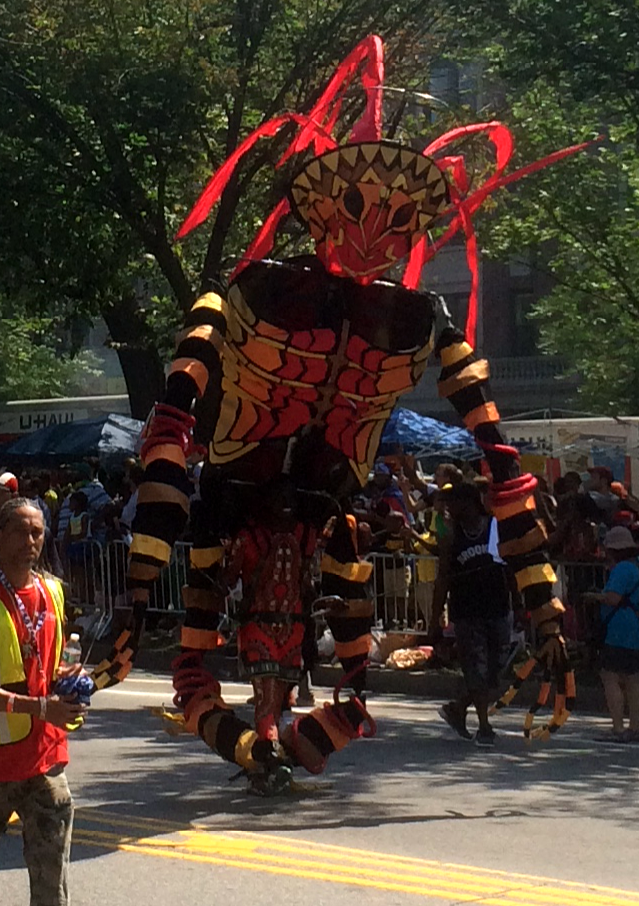 By Etu Evans
Prepare to be mesmerized by revelers shaking their tail feathers, while gazing at others flaunting neon strapped ensembles to cattle horn headpieces.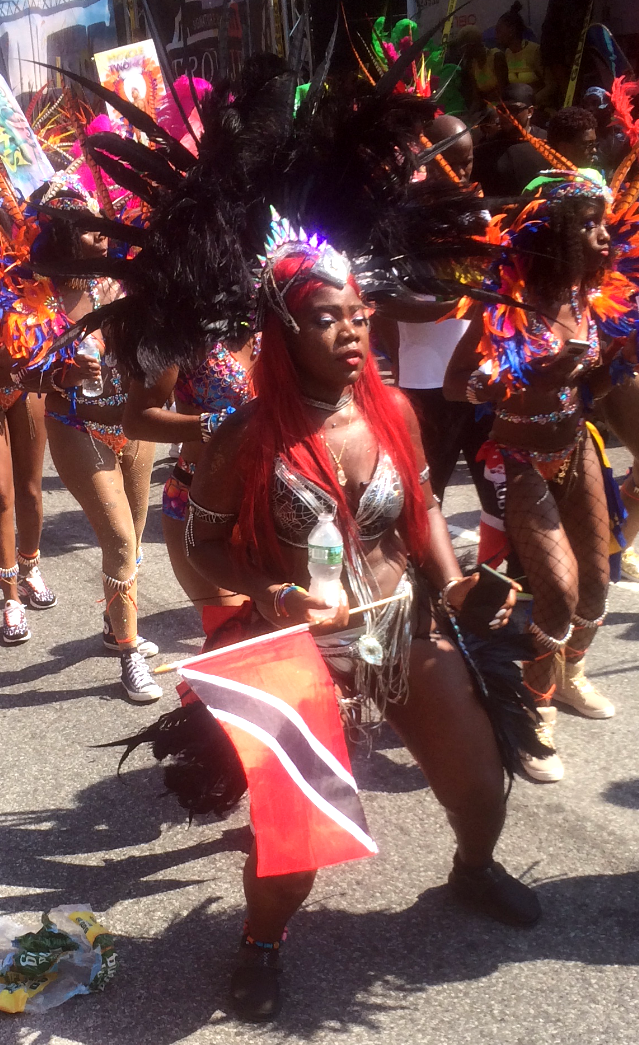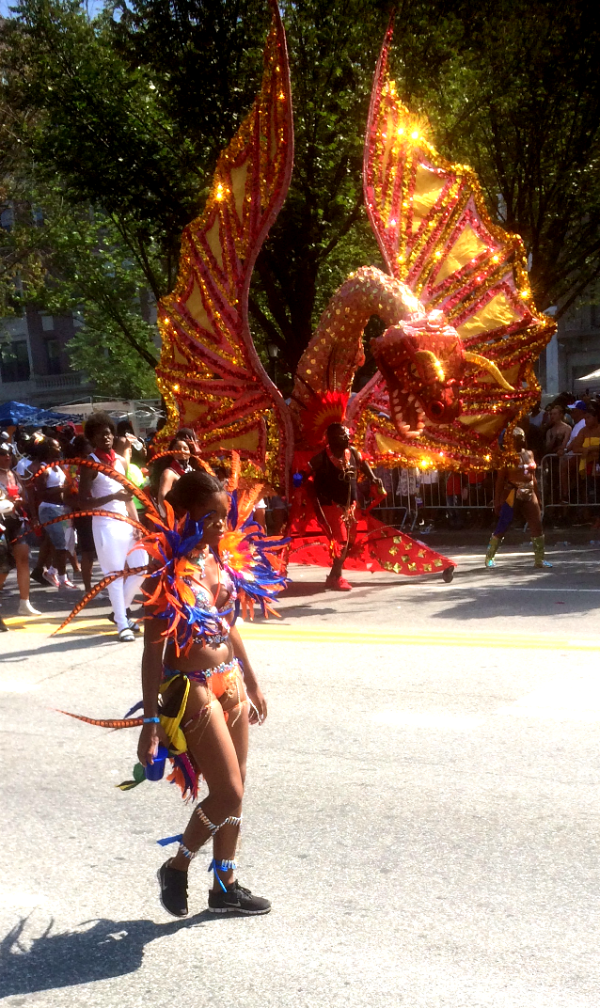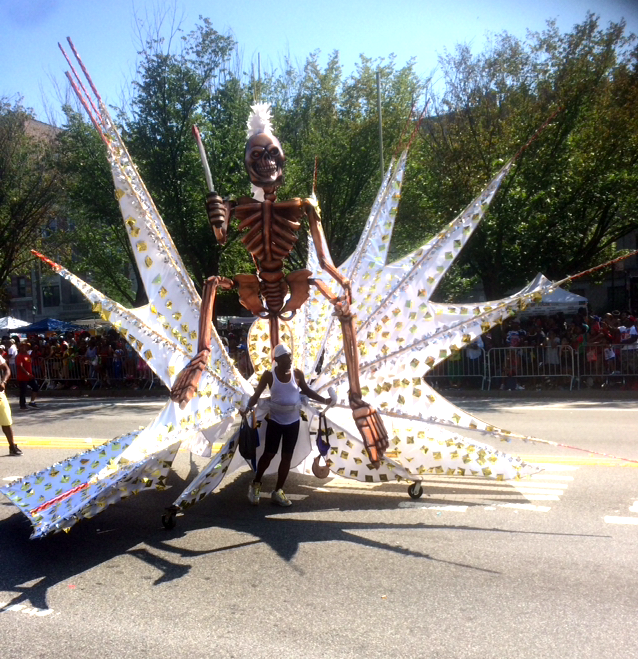 Whatever you fancy, the annual Brooklyn West Indian Parade held on Labor Day is sure unravel the possibilities of one's imagination. The parade turns 51 this year and people are ready to take singer Ciara's anthem to heart and Level Up. The day is all about Caribbean swag, a celebration of the cultures food, flags, floats, costumes, music and earthquaking dance movements, as the savory smell of curried goat, rice and peas, and oxtails seduce the palate. Every year, more than a million people congest the sidewalks of Crown Heights behind metal barricades to marvel at the spectacle or tag behind huge trucks heralding music from their island. The parade is considered the largest in the United States. This cultural magnet is anticipated to draw even more people of all hues and ethnicities than it did last year.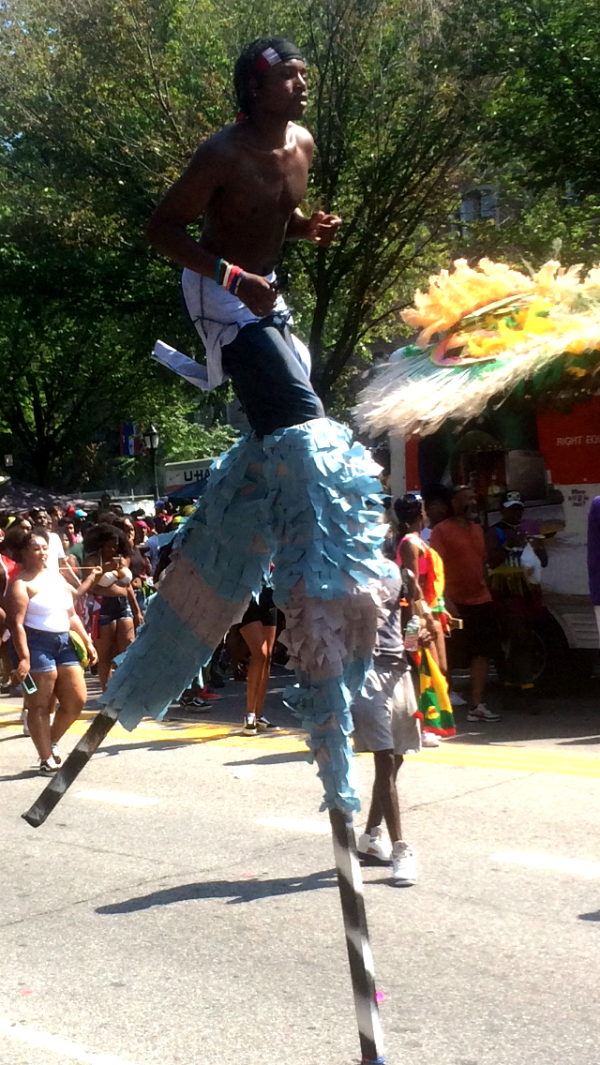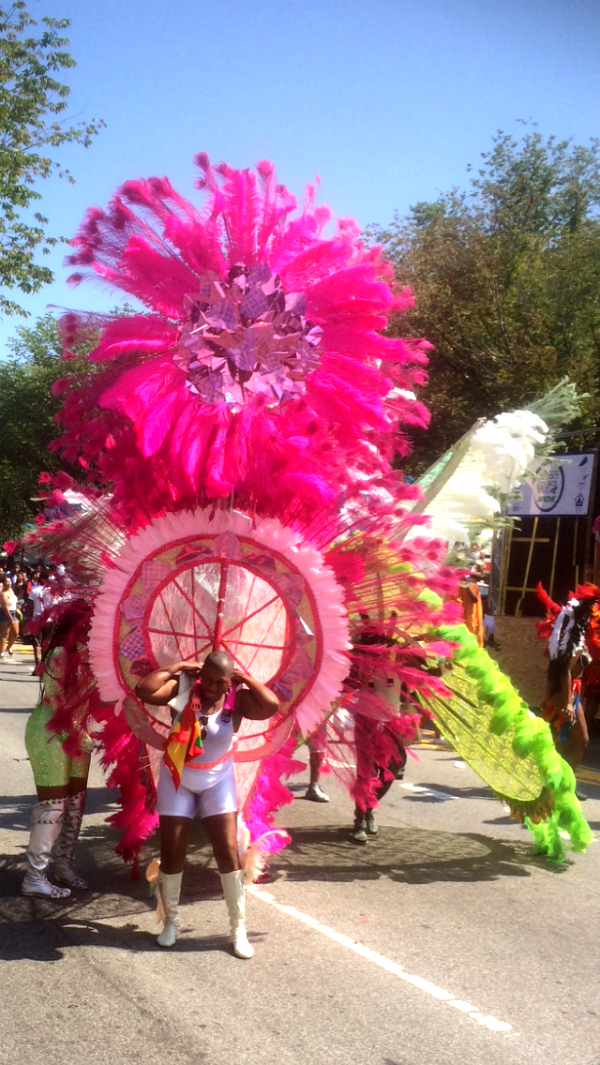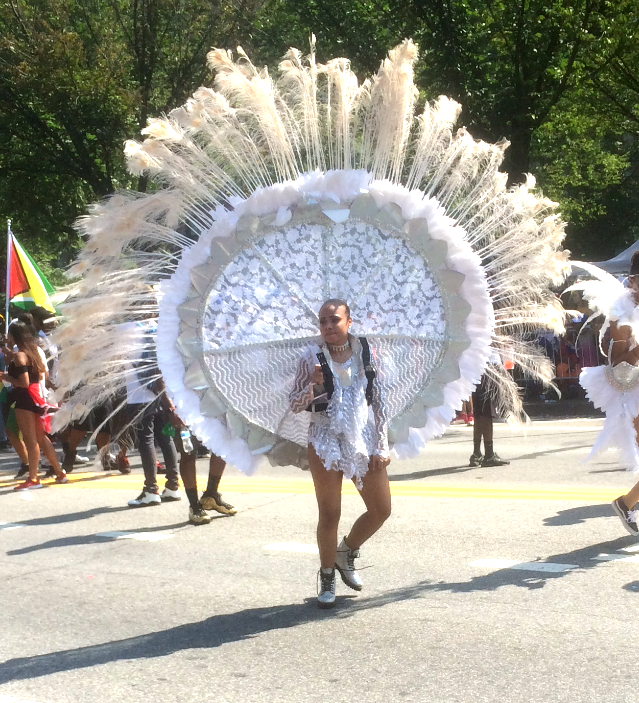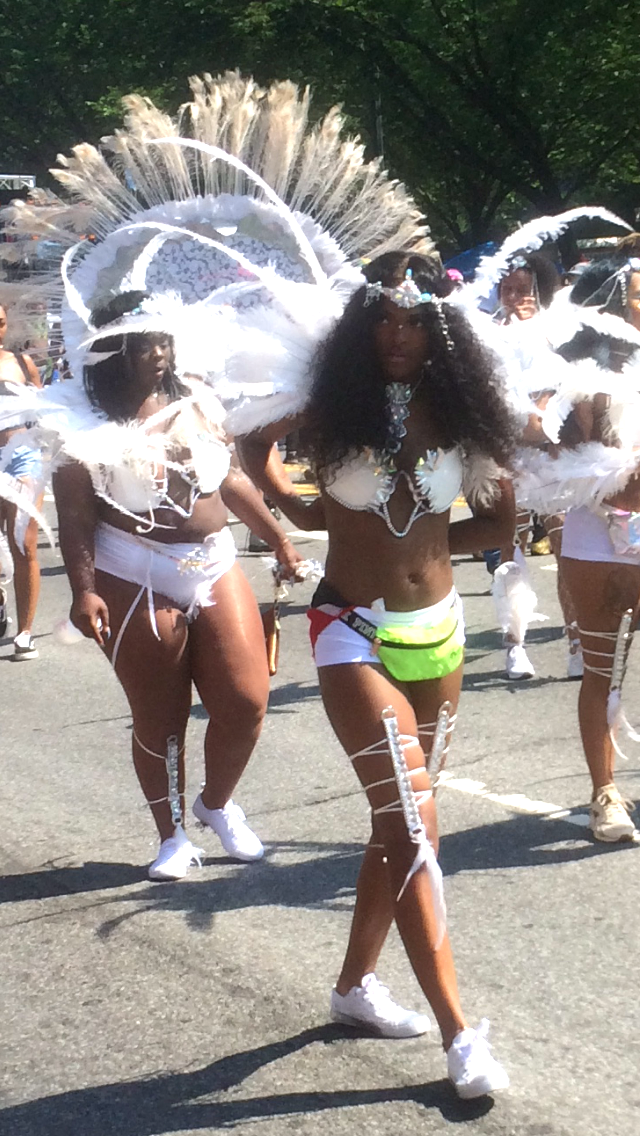 Prior to the actual parade, the festivities begin with J' Ouvert. The word "J" Ouvert means "dawn" or "daybreak," which explains why it begins so early in the morning. It begins at 6 am and last until 11 a.m. to get revelers lit for the parade kick off at noon, where a sea of country flags will ignite the air with pride, power, and uncontrollable shouting with twerking hips in tow by seasoned seniors to young whippersnappers.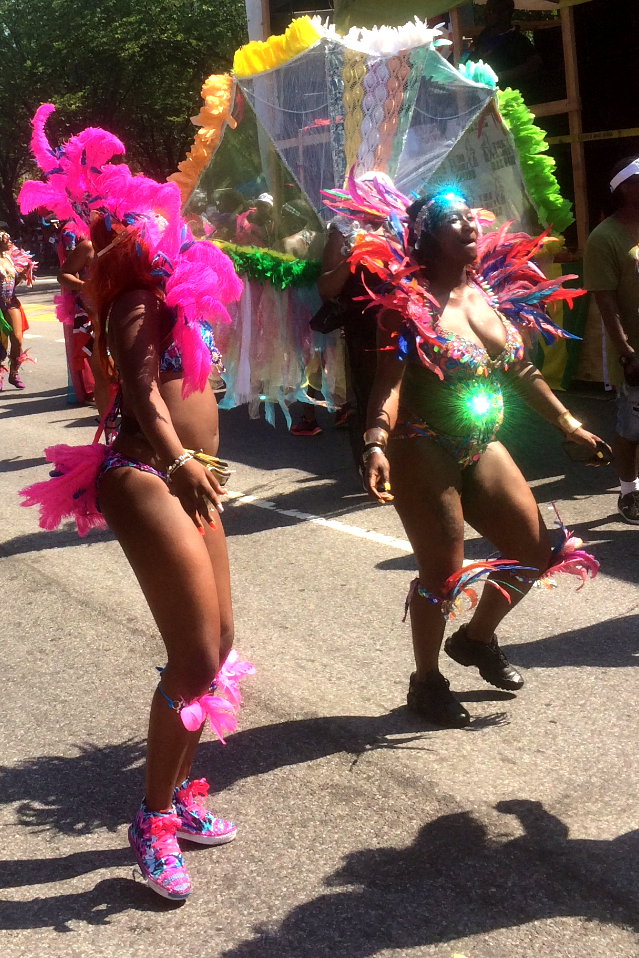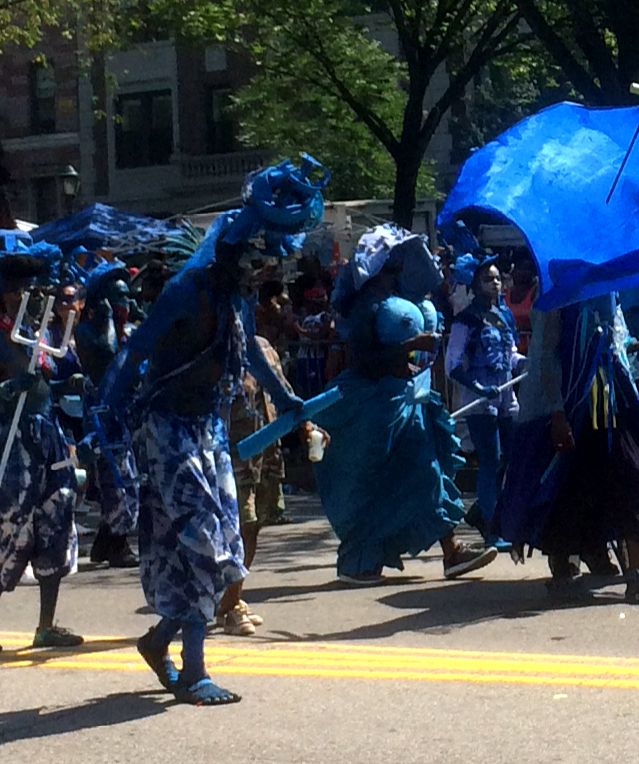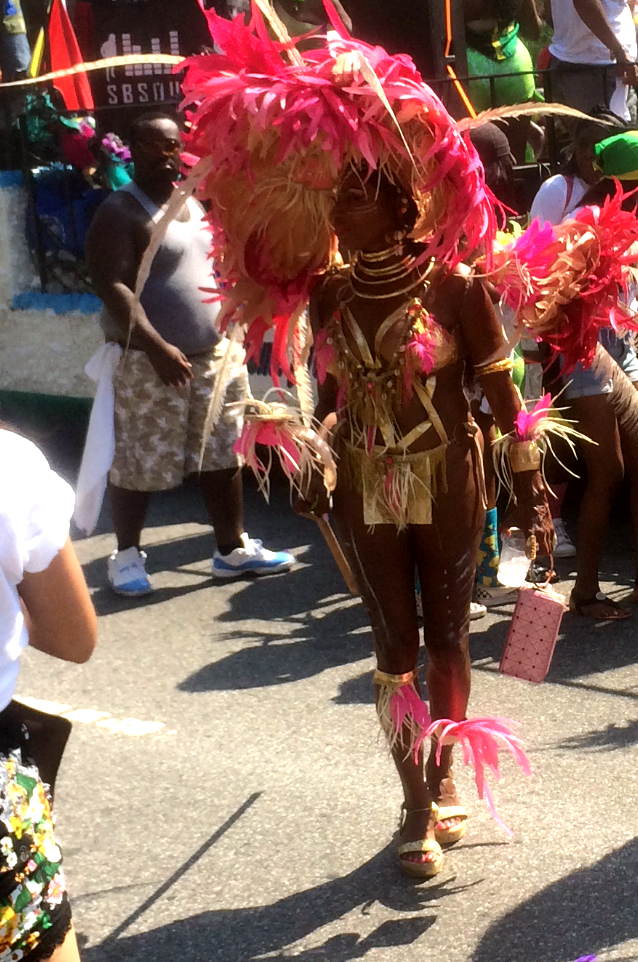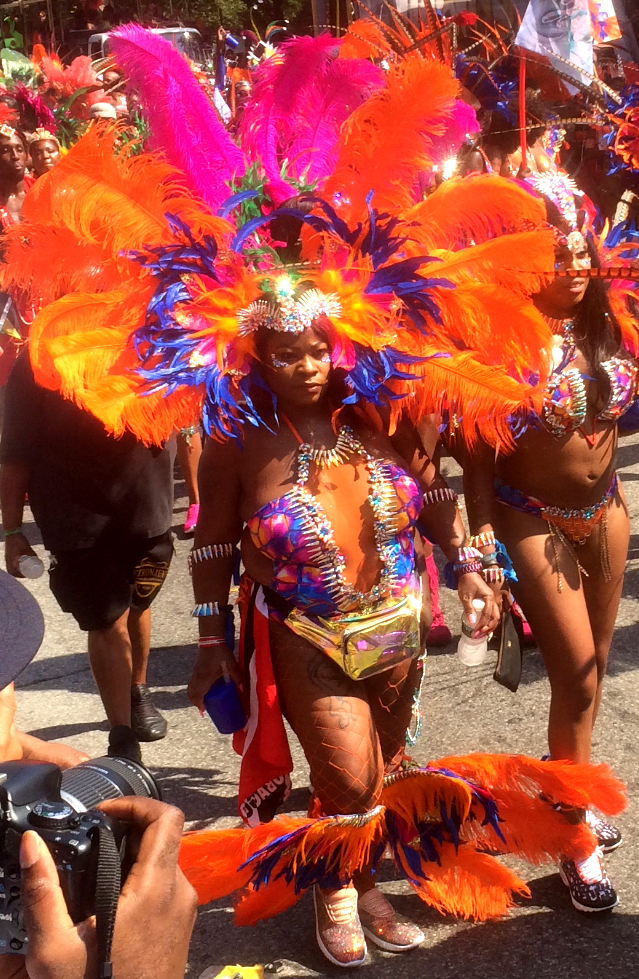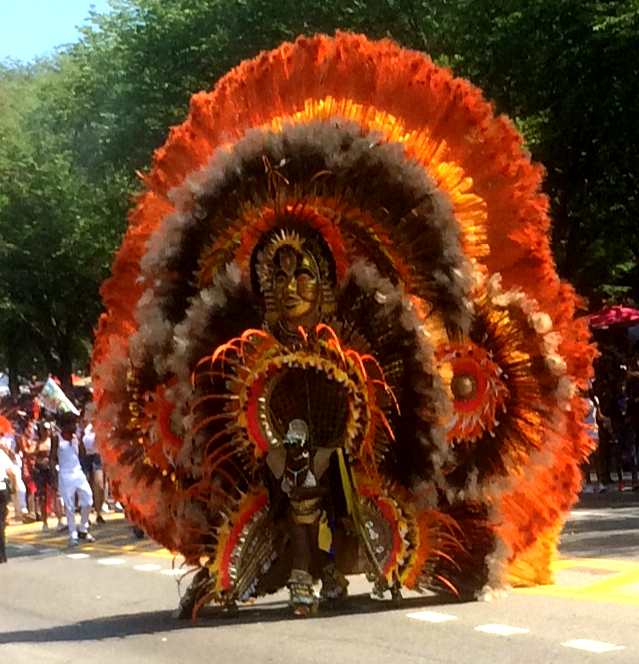 J' Ouvert marks the emancipation of Trinidadian slaves. In the 18th Century, French settlers colonized the island. Unfortunately, they excluded the Africans while celebrating mas due to them being enslaved. However, when slavery was abolished in 1834, a new movement surged as carnival shifted from the society balls of the colonizers to the street festivals as we know them today of an emancipated people celebrating their freedom. The African swag influenced Trinidad's new revelers to create colored costumes using scraps of material, tar, grease, and fowl. Today, characters bred out of early Trinidad society can currently be found on the streets in Brooklyn, such as "jab jabs," devil-like underworld warlords covered in black paint lurking the streets at 4 a.m. along with the Lane Bryant character of choice Dame Lorraine of curry culture. She is an exaggerated chunky women of ample proportions who attired herself to mock the French aristocracy.
Behind The Seams
Costume Design from Harlem to Brooklyn
If you think what you see is something in the parade, I assure you behind the seams is equally amazing. There you will find a massive mound of talented visionaries and artisans, who spend unimaginable hours bending wire, armed with glue guns, making macabre masks and contorting spandex to capture a variety of personalities and proportions.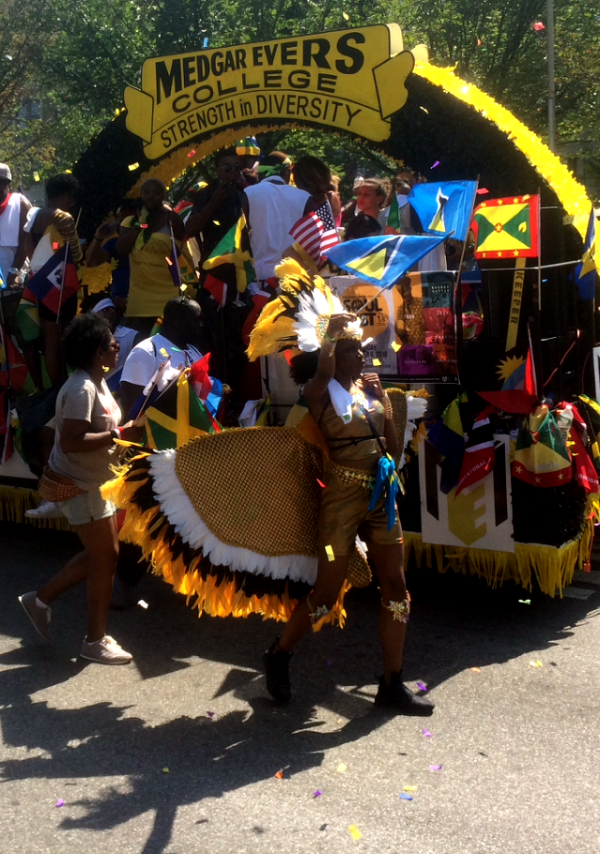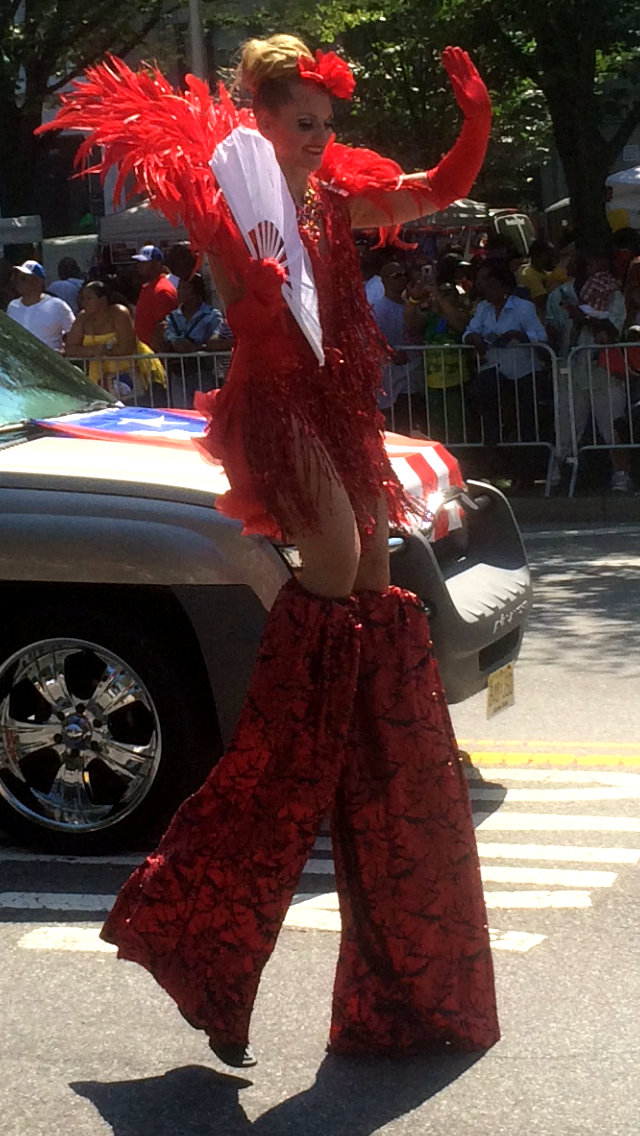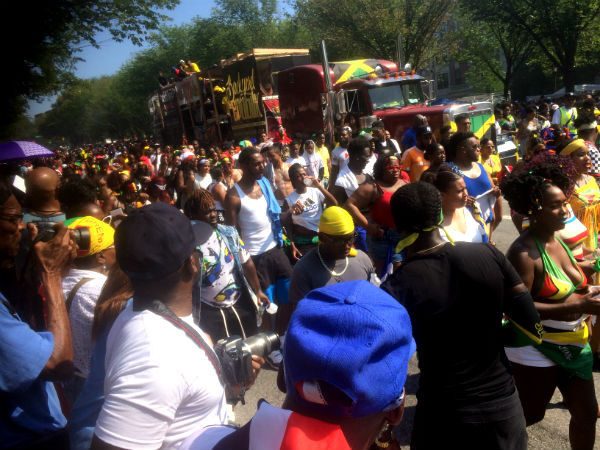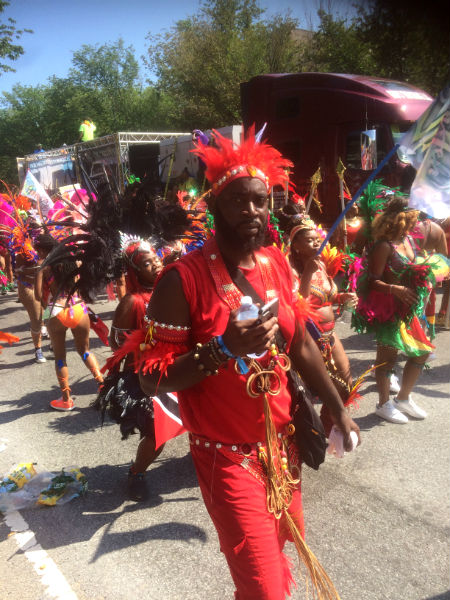 Harlem fashion designer and style Guru, Donna Dove a costume designer for Pagwah says, "Her culture can't be contained and it's magical. Masquerading or playing mas is all about self-expression." Dove who hails from Trinidad originally has designed for Pagwah for over 10 years. She says, "In order to play mas, first you must be able to narrate the story be it of history or sheer experience." The award-winning designer and FIT alum has drawn inspiration from the Black Lives Matter Movement pronounced in her pleather fringed knee length vest, tilted berets and whimsical revolting straw hats which twisted at the crown and spiraled to the collarbone. Due to the Dove effect, Pagwah's band members won the top J' Ouvert prize for best costumes last year. Also, leaving a footprint in the culture is Harlem Celebrity shoe designer Etu Evans. He has historically designed fancy feet treats along with Edson Murray from Trinidad for over 15 years. Evans says, "carnival on the parkway captures the soul of a people and pulse of its pride through the enchanting sounds of the steel drum, mouth-watering flavored foods, and creative costumes."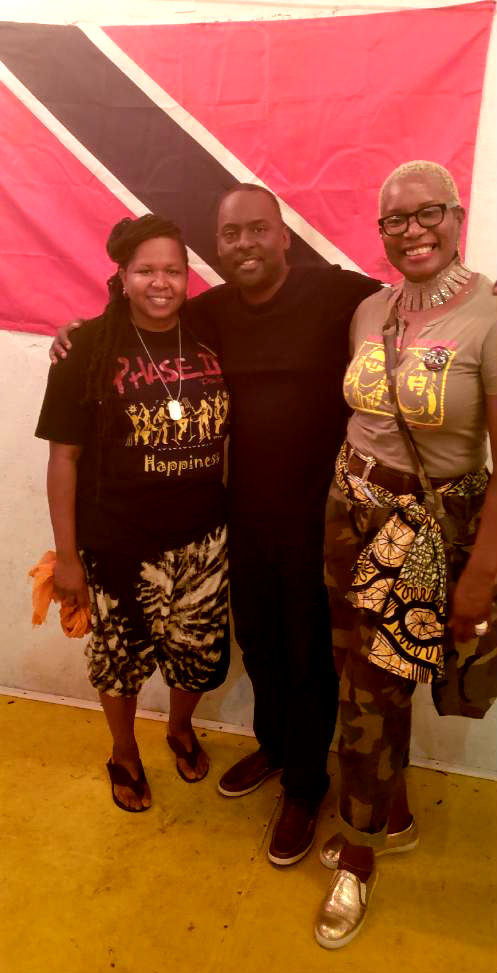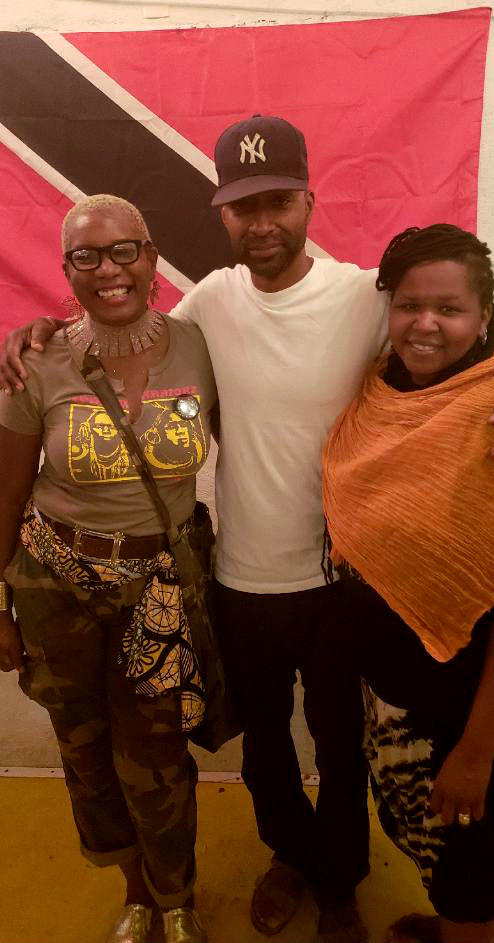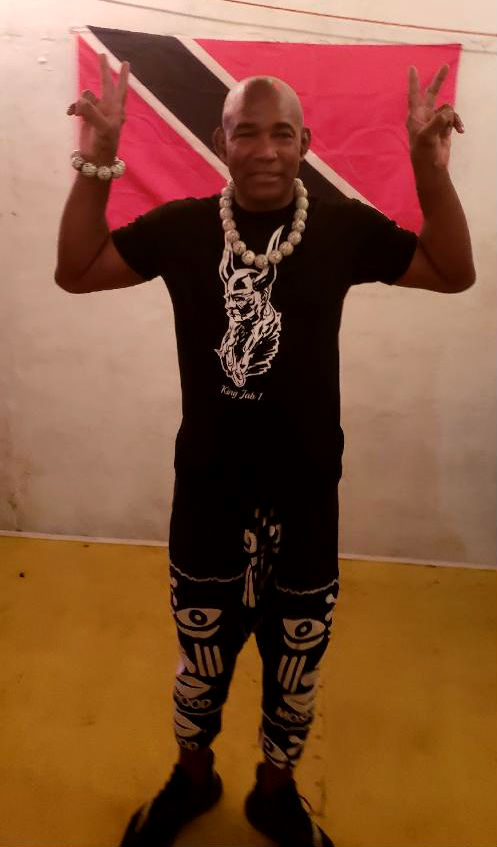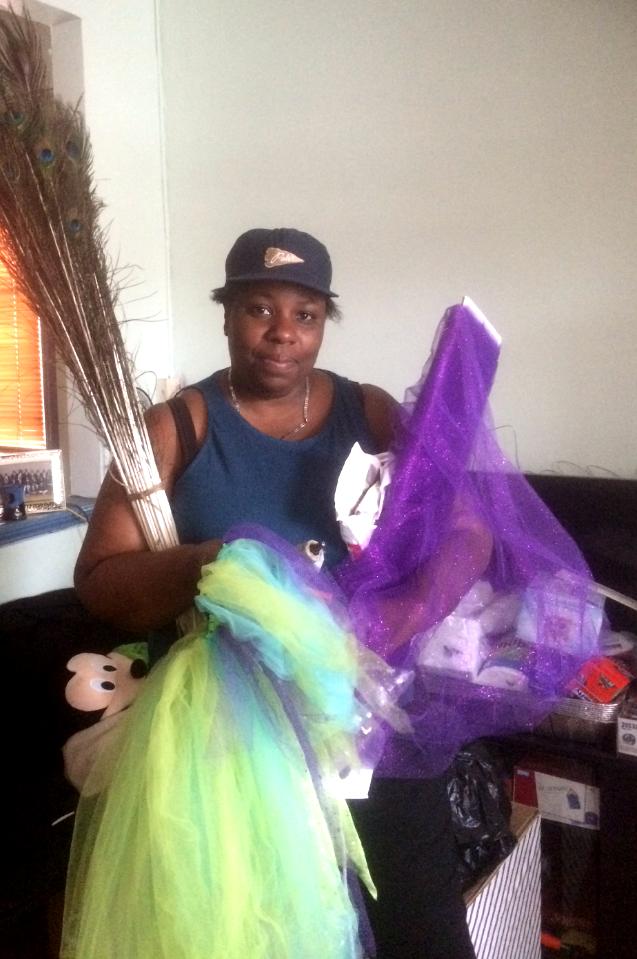 Meanwhile, in Brooklyn, costume designer Simone Lewis, who also teaches a wire bending class throughout the year has transformed her living room into a feather filled, sequence laden, tulle and multimedia colored treasure chest of culture to satisfy her clientele. Playing mas since she was two in Trinidad, Simone had no choice but to learn quickly since her family was in the business. When she left Trinidad to move to Brooklyn, she became immersed in her culture around age 20. To date, she has been designing costumes for Antoine International for 23 years.
She exclaimed, "Carnival is more than a parade to me. It's a way of life. A portal of freedom to revel with family, friends and to remain culturally connected to home." She and her team have designed over 250 costumes for Monday's parade and orders are still pouring in. Adult costumes start at $200 and can go up to a $1,000, while children's begin at $85 and up. Ms.Lewis has done more costumes than she has gotten sleep. She has been averaging 2 hours a day with occasional 15-minute power naps while on the train and in Uber. She says she will sleep on Tuesday. She believes strongly in tradition and continues her families legacy by having her 13-year-old son Khari, 20-year-old daughter Adriana and cousin Celebrity Stylist and Personal Shopper Steven Lewis assist with costume design, sourcing and picking up supplies.
The festivities are tourist friendly and a free event for families and friends to enjoy alike.
Etu Evans is a Celebrity Shoe Designer, Speaker, Founder of Etuology Cannabis Skincare and Solesville Foundation in Harlem. His designs have adorned Beyoncé, Halle Berry, Solange Knowles, Michael B. Jordan and Queen Latifah just to name a few. His purple bottom shoes have been featured in several top international and domestic publications. Etu is a 4.0 graduate of Columbia University, S.C. State University and the Fashion Institute of Technology. For more follow him at www.etuevans.com. Follow Etu Evans IG: @EtuEvans, E-Mail: Etuevans@gmail.com. Photos by Putwa Media. 
For more Etu Evans posts here.
Photo credit: 1-22) By Etu Evans.
---