---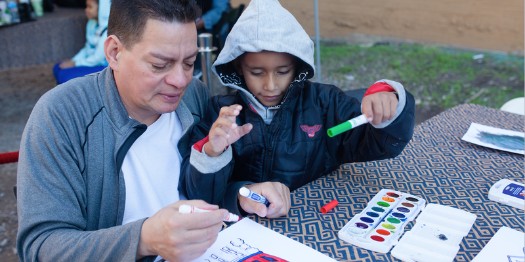 With Father's Day fast approaching this weekend, what are some best ways to recognize dear old dad in Harlem this year?
Sharon Schweitzer, an incredible international etiquette and modern manners expert, offers these tips:
Beyond Biological: Father figures may not just be your biological dad – consider mentors, coaches, teachers, and family members who have supported and guided your personal growth. Whether you send them a hand-written card or plan a special day to recognize these honorary fathers, let them know how much you love and appreciate the special role they've had in your life.
Save the Date(s): Although Father's Day 2018 falls on June 17 in the U.S., festivities can occur up to a week before and after. For those with several paternal figures such as grandfathers, uncles, or godfathers, make time to call, visit, or recognize everyone. While scheduling can be tricky, it's possible to find days and times that recognize each deserving dad, coordinating with family members (especially siblings) as necessary.
Offer an Experience: Shopping for the perfect Father's Day gift can stump even the most retail-savvy, so consider planning a special event just for Dad. A national survey of the average U.S. American's major life regrets highlighted that one of the biggest regrets is not spending more time with parents. Use this day to express how much your father has meant to you over the years. A family barbecue, an outing to the movies, or a dinner prepared with all his favorites gives the gift of precious memories filled with the ones he loves.
Great Gifting: Gifts for dads can range greatly depending on your father's interests, so pay attention to the movies, books, and events he talks about, as well as how he spends his leisure time. According to research by the National Retail Federation, Father's Day spending is up by 34% since 2015. Consider the three P's to guide your gift giving: Practical, Personalized, and Perfect.
Practical Gifts: Is he practical? Go for the gift that won't get tossed in a closet or re-gifted. Talk to your dad about his needs or communicate with family members. Contribute toward a group gift he will truly love, for example:
Business and casual clothing
Restaurant gift cards to his favorite eatery
Hobby accessories (cooking gadgets, paints and art supplies, how-to books)
Personalized Gifts: Go the extra mile to highlight his name, family crest or favorite team:
Engraved Watch
Personalized Glassware, Flask or Beer Growler
Sports Team Wine Stoppers
Perfect Gifts: Find the gift that quintessentially represents your dad or his future goals. Where does he want to go? What's on his list? A perfect gift for your father:
New sports equipment: golf club, fishing rod, tennis racket
A fly-fishing or deep-sea trip he wants
Concert tickets to his favorite band
Happy Fathers Day!
Sharon Schweitzer, an international etiquette and modern manners expert, who is the founder of Access to Culture, offers these tips:
Related Articles
---