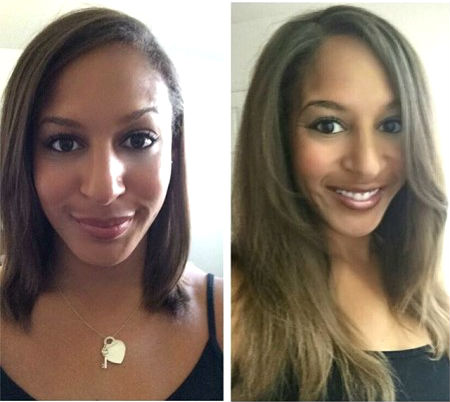 With summer underway, it's important that we give our hair the nutrients and minerals that will protect it from the heat, sun and chlorine damage. Essential oils highly concentrated and potent oils distilled from various parts of plants and trees, such as flowers, fruits, leaves, stem, roots or bark. Unlike vegetable oils, these plant extracts can work wonders on your hair and scalp, producing healthy, shiny hair. Tymeka Lawrence, CEO and Founder of HAIRFINITY Hair Vitamins and its newest hair care line, knows the importance of including essential oils in each of her products.
HAIRFINITY's line of hair care products includes a handful of essential oils used to reinvigorate dry, tired hair and scalp.  A few of the top essential oils Tymeka has included in her products and recommends that everyone should be including into their daily hair care routine include:
Cinnamon Essential Oil: This oil is a great natural solution for improving hair quality, making your hair stronger and healthier, as well as preventing and slowing down hair loss.

Rosemary Essential Oil: This oil stimulates blood flow to the scalp and promotes strong and healthy hair growth while also treating dandruff, itchiness, scalp irritation, oily skin, greying as well as hair thinning.

Lavender Essential Oil: It helps balance natural scalp oils, which makes it a good treatment for dry, flaky scalps by soothing, nourishing and providing relief from inflammatory scalp conditions.

Cedar Essential Oil: It's recognized for providing hair with a shinier and healthier glow, as well as stimulating hair growth when massaged into the scalp.

Peppermint Essential Oil: Regardless if you have an oily or dry scalp, this oil is known to have astringent properties that helps to normalize the sebum secretion and cools the scalp eliminating the greasy feeling.

Thyme Essential Oil: This oil is known for preventing hair loss and is used as a treatment for the scalp to help promote hair growth and scalp stimulation.
Its importance of using essential oils to promote healthy hair is of great interest from Harlem to Harare.
Tymeka Lawrence and her husband, Brock Lawrence established Brock Beauty Inc. in 2004, when they spotted a gap in the hair and cosmetic industry. Under the parent company Brock Beauty, they created HAIRFINITY®, one of the most innovative new hair care products on the market. HAIRFINITY®, a vitamin used by women all over the world, encourages and invigorates fast and healthy new hair growth. Tymeka's own addiction to innovation helped drive her success with HAIRFINITY®, which started out as a simply solution she created to solve her own hair growth problems. She discovered it was very difficult to find products that contained both safe and effective ingredients, and committed Brock Beauty to utilizing nature as the source of nurture for hair and skin health. Together, they have developed high-profile products for skincare, vitamins and hair care.  Tymeka is incredibly motivated and continues to grow Brock Beauty Inc. into a natural product powerhouse for women seeking solutions for everything from hair care to skincare with its brands, HAIRFINITY®, Infinite Lash®, Essentious® and Dermera®.
Photo credit: Actual testimonial by Christina Ford
No related posts found...