---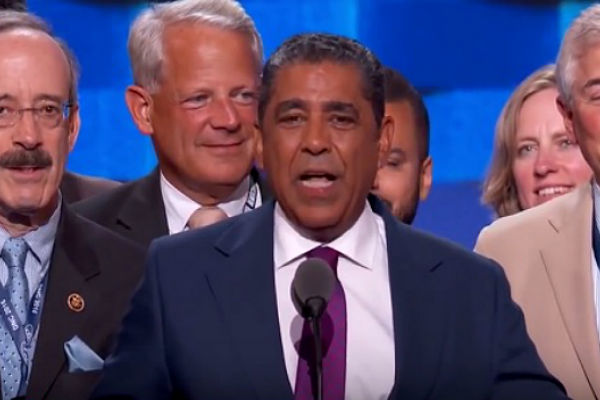 Today, Harlem State Senator Adriano Espaillat, the Democratic primary winner in New York's 13th congressional district, addressed the delegates at the Democratic National Convention in Philadelphia in support of the Clinton-Kaine ticket. If elected in November, Espaillat would not only become the first Dominican-American to ever serve in Congress, he would also become the first member of Congress to publicly acknowledge being a former undocumented immigrant.
In reflecting on the opportunity to address the convention hall, Espaillat said, "standing before this historic convention was a highlight of my career. This was an opportunity like never before to tell the story of the striving immigrant."
"The Democratic Party will stand up for an America that made my journey possible. Our party is unified behind Hillary Clinton and Tim Kaine, and together, we will fight for a tolerant, inclusive and more compassionate America. In Congress, achieving truly comprehensive immigration reform will be at the top of my agenda, so every member of our society can reach their potential and every family can remain whole."
At last week's Republican National Convention, Republican delegates approved a staunchly anti-immigrant platform, in keeping with the intolerant rhetoric espoused by the Republican nominee Donald Trump. Senator Espaillat's speech and his presence on stage was a resounding rebuke to the Trump-led Republican Party.
Below are Senator Espaillat's remarks as prepared:
When I take my oath as Congressman in January, I'll become the first Dominican-American to ever serve in Congress.

Perhaps more importantly, I will be the first member of Congress who was once an undocumented immigrant.
For us immigrants, our commitment to this country isn't always found in our papers.  It can be seen in the fruits we plant, the skyscrapers we build, and the adopted soil we defend.
With every callus on our hands, we build the bridge between our dream, and our destiny.
For Donald Trump, this is scary.  For Hillary Clinton and Tim Kaine, it's inspiring.
So let's keep building. Let's keep dreaming. And let's elect Hillary Clinton so we can be stronger, together.
In historic speech, Espaillat spoke of becoming first undocumented immigrant to serve in Congress.
Here's the video:
Related Articles
---