---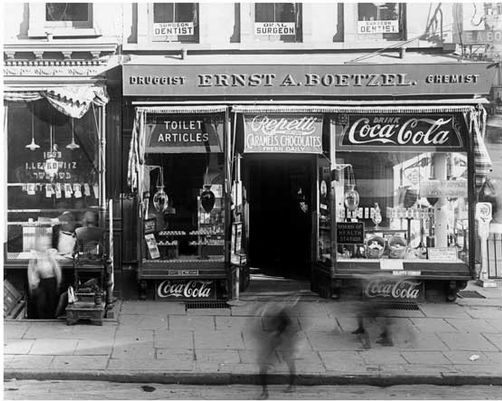 A great view of Ernst A. Boetzel. "Druggist" and "Chemist" store at 1691 & 1693 Lexington Avenue and 106th Street, East Harlem, New York, 1911 
At the turn of the century Ernst A. Boetzel's store sold everything a Harlemite would need from Coca Cola, Chocolates to Toilet Articles and more. He was on a committee of the Harlem-based German Apothecaries Society that went throughout Harlem speaking to other "druggist" to use chemicals to create photographs in Harlem and restore "German Pharmacies destroyed" during the war.
Three people are blurry on the north side of the street in front of the Ernst A. Boetzel. "Druggist" and "Chemist" store
East Harlem was first populated by poor German, Irish, Scandinavian and Eastern European Jewish immigrants, with the Jewish population standing at 90,000 around 1917.(Source).
---