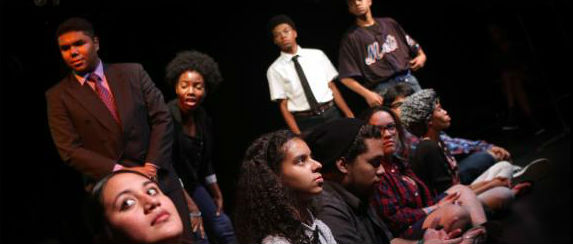 Be inspired, informed and entertained by an original educational-equity-themed play written and performed by the Campaign for Educational Equity's high-school-student collaborators from Epic Theatre Ensemble.
Over the past two summers, the Campaign's researchers, working closely with Epic's professional theatre artists, mentored over two dozen high school students in studying educational rights under New York State law. The students then applied their newfound understanding, their day-to-day experiences, and their creativity to develop original theatrical performances.
On March 23, their latest groundbreaking play, 10467, will ask the audience, "Why do we stand down when we should stand up in the battle against educational injustice?" This event also includes an interactive, intergenerational discussion about students' educational rights and the role of young people-the stakeholder group directly affected by educational inequities and rights violations-in advocacy and activism toward true educational equity.
Wednesday, March 23, 2016
---
Become a Harlem insider - Sign-Up for our Newsletter!
---
Event Schedule
5:30PM – 6:15PM – Check In; Light Refreshments; Know Your Educational Rights Learning Stations
6:15PM – 7:30PM – Performance of 10467
7:30PM – 8:00PM – Intergenerational Community Discussion: Youth Activism in Education
Event hashtag: #EduEquity
For full details and to register: www.bit.ly/eduequityplay
Teachers College, Columbia University, Cowin Center Auditorium West 120th Street & Broadway, New York, NY 10027, (212) 678-3689, www.tc.columbia.edu/
Related Articles
---
VIDEO
---
"Dr. Harry Delany is a renowned Harlem born and raised surgeon, the son of the great jurist and civil rights leader, Hubert Delany...." This monthly post is made in partnership with Harlem Cultural Archives.