---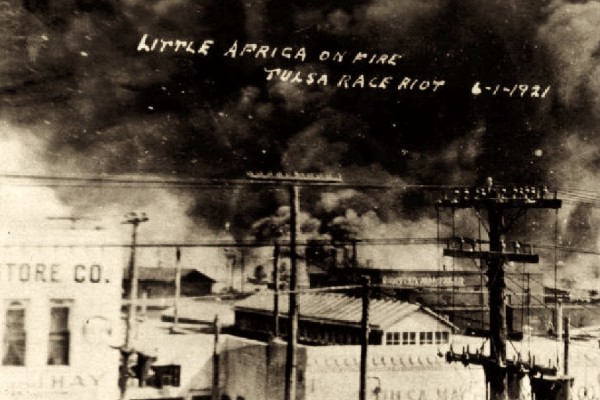 Harlem-based Shades of Truth Theatre & Voza Rivers/ New Heritage Theatre Group is delighted to announce the first-ever collaboration with the Robey Theatre of Los Angeles.
As well as the premiere of Harlem's First Annual Black Wall Street Festival.
Black Wall Street: Ten Stories High, is a festival devoted to highlighting the often-overlooked legacies of the most successful black communities established after the Civil War and after the Reconstruction period in the United States.
June 1, 2021, commemorates the 100th Anniversary of The Tulsa Oklahoma Massacre and therefore, Greenwood, the most celebrated of the Black Wall Street communities and will take center stage with the debut of two original works by Michael Green (The Plan) and Joseph Lawrence Thompson (Junebug's Great Plane Ride).
The producers are honored to also feature scenes from an original play by award-winning playwright, Levy Lee Simon, Double V (an excerpt of "The Magnificent Dunbar Hotel" and directed by Ben Guillory).
The Plan by Michael Green
It's 1920 and various parts of the country are still reeling from the aftermath of the worst series of racial disturbances in recent times.
The Red Summer of 1919. In contrast, things could not be better in Greenwood, Tulsa Oklahoma.
The thriving upwardly mobile black community seems invulnerable to such violence.
Zachary Fountain doesn't think so, and he believes that an attack on Greenwood is inevitable and possibly imminent.
He ponders the same question, over and over…What are we going to do!!!? The answer? We need a plan!
JuneBug's Great Plane Ride by Joseph Lawrence Thompson
It's the summer of 1992 and Los Angeles is on fire. In the wake of the acquittal of the law enforcement officers accused of nearly beating Rodney King to death, as witnessed by millions of TV viewers, the city erupted in chaos.
For many, it is the worst day ever as images of people bleeding and buildings burning will forever be etched in their minds.
For the aging and convalescing SophiaToomey, it is a harbinger of things past. She was a child living in Greenwood on its worst day ever, June 1, 1921.
Join Shades of Truth Theatre, Voza Rivers/ New Heritage Theatre Group, and The Robey Theatre Company, June 1, 2021, in association with the Queens Public Library, honoring the victims, survivors and history of one of the most significant yet largely unknown economic movements of our time.
The vision of Michael Green, Founder/Artistic Director of Shades of Truth Theatre and teaching artist at Medgar Evers College English Department, is to produce works that stimulate, illuminate and educate.
The Black Wall Street Festival accomplishes his vision.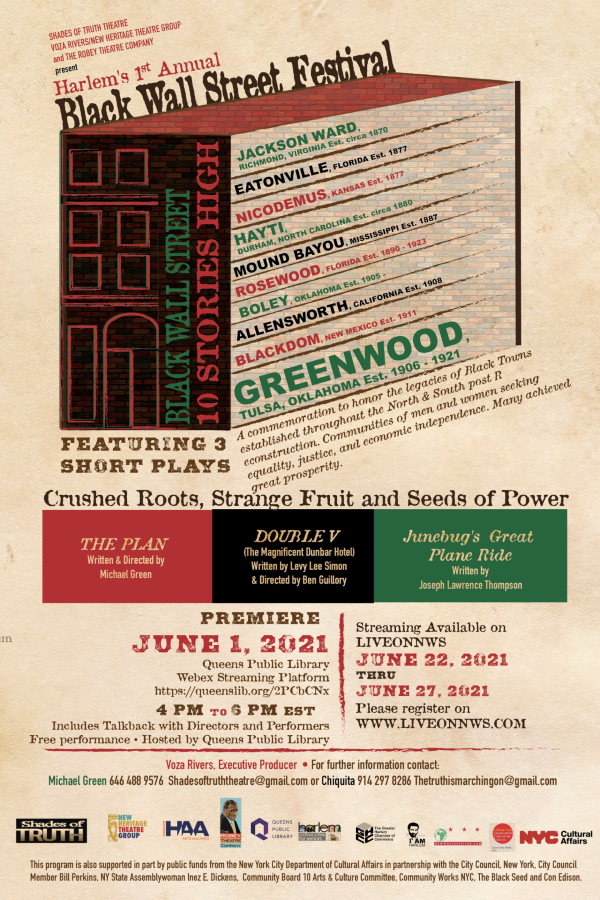 Black Wall Street: Ten Stories High will have its world premiere on the Queens Public Library virtual platform on June 1, 2021, 4 pm – 6 pm. Get the Livestream here www.liveonnws.com
Photo credit: Tulsa Wikipedia.
---