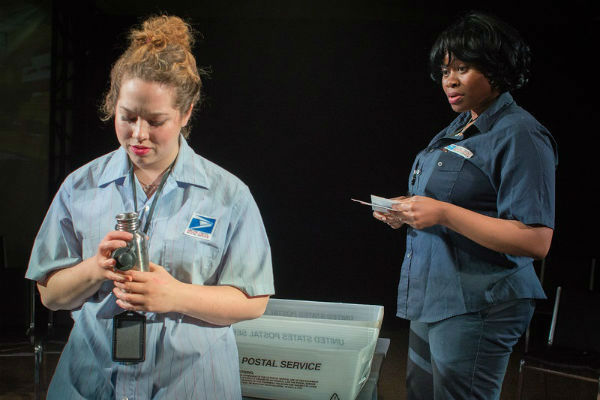 By Dontré L. Conerly
Undoubtedly, you've received the following email; we all have:
Addressed to you from an unknown address and source, the author claims to be a citizen of an African nation in a most unfortunate situation:
She has just been bequeathed an extraordinary sum of money (anywhere between $4M to $18M) and is in need of a "reliable" person to help her retrieve it.  After fleeing a war and absconding with this money—concealed in a chest—she needs your help to get it out of her new country and into yours. You simply have to give over vital personal details (such as your bank account info), and pay the associated "fees" to get the money into your hands.
Related: Read more great articles by Dontre Conerly here.
You can see where this is going.  Most people can; and they simple sent this email to the SPAM folder.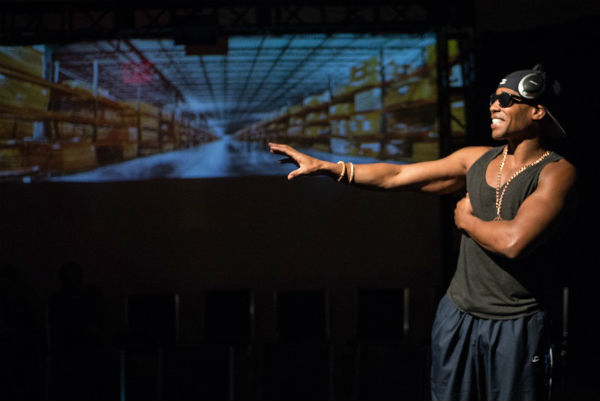 But have you ever wondered who falls for such a scam and who are the people behind it?
Both questions are answered by Vanessa Shealy's new play, An American Drum Circle, playing through May 22, 2016, at The Tabernacle Theater in Northern Manhattan.
Director Melissa Attebery delicately weaves her five-person cast into an sentimental web of humour and heartbreak, as this small-scale production explores how the famed "Nigerian email scam" becomes a reality when paired with the unquestioning faith of a religious man and the strained emotions of his runaway daughter.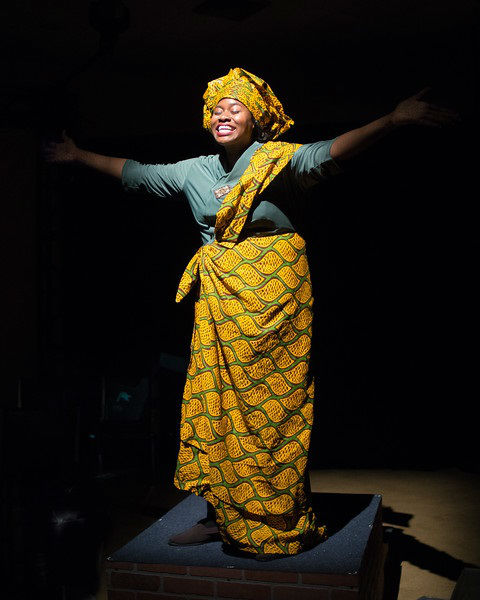 Tired of failed get-rich-quick schemes by her father, "Mandy" seeks a new life in Tulsa, Oklahoma, free from his broken promises and dashed hopes, which would otherwise be the bedrock of the archetypal father-daughter bond. The immature 18-year-old is quickly in over her head when she meets aspiring rapper, "Jimmy" whose smooth words are used to woo more than just the gullible ingénue.
---
---
Cutting the apron strings of family pressures in Nigeria and following his dreams in America, "Jimmy" is quickly caught up in Mandy's heartstrings who, like him, is merely looking for a fresh start. He is quickly ensnared in a tangled mess when loose ends of his double-dealing aren't properly tied off.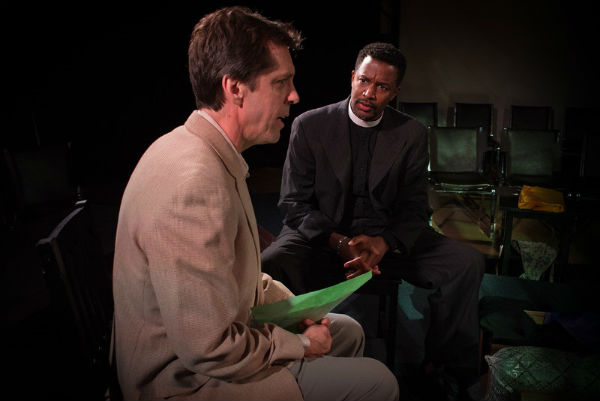 It's said "a sucker is born every minute," and it seems that clock tolls loudly in America's Bible Belt, where unquestioned faith leads entire congregations to instill their trusts in the piety of a convincing pilgrim, who is chasing the ultimate scheme to recoup his family and faith.
In what could be a harsh critique of religion and youth, no one seems to listen to reason or common sense, both instilled in "Niecy," Mandy's roommate and a member of the congregation who encourages everyone to have open, honest dialogue. They never do.
In the infancy of their relationship, Jimmy explains to Mandy that in some Nigerian tribes, drums are used as a communication device to transmit messages over vast distances.  In Shealy's 'Drum Circle,' the beating of hearts fuels communication which ultimately breaks down when receivers fail to hear the rhythm.
This season opener for UP Theater is poignant and powerful, and—impressively—adds depth to a modern-day joke. The cast of five expertly fill the expansive space spring boarding from one character to the next with stealthy outfit changes, no discernible break in the play's action or flow. It's a little play with a big heart that has a vibrant beat.
Get tickets to see An American Drum Circle by clicking HERE.
Photos by Martha-Granger.
Related Articles