---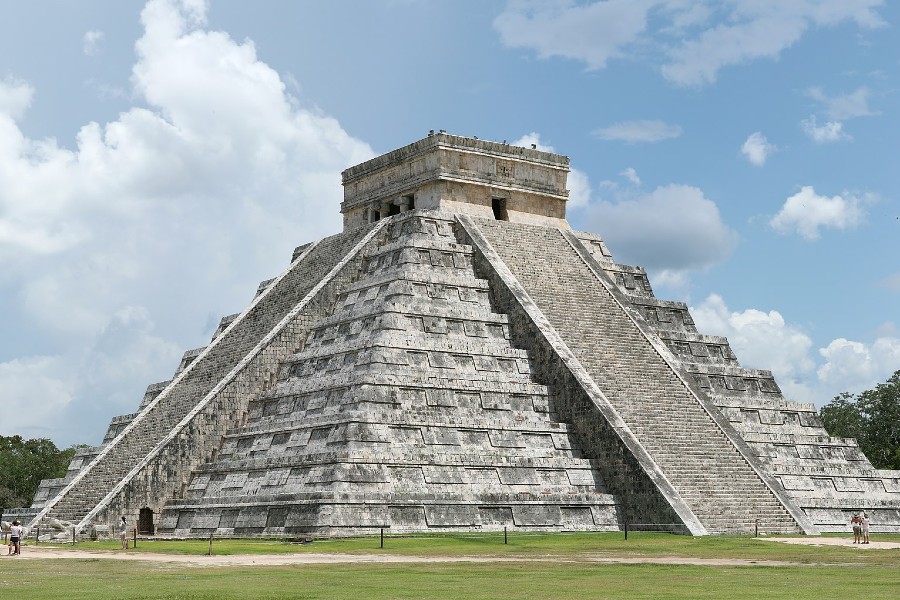 Mexico, a land where ancient civilizations collide with modern wonders, beckons travelers with its rich tapestry of culture, history, and natural beauty.
From the sun-kissed beaches of the Riviera Maya to the awe-inspiring ruins of Chichen Itza, this enchanting country offers an unparalleled array of experiences. If you're planning a trip to Mexico and seeking a guide to its most captivating destinations, read on for a journey through the heart of this vibrant paradise.
Discover the Timeless Charms of Mexico City
Mexico City, the pulsating heart of the country, is a mesmerizing blend of ancient traditions and contemporary delight—and one of the top places to visit in Mexico. Start your adventure at the Zocalo, one of the world's largest public squares, surrounded by historical landmarks like the Metropolitan Cathedral and the National Palace. Dive into the past at the Templo Mayor, an archaeological site revealing the secrets of the Aztec Empire.
For art enthusiasts, the Frida Kahlo Museum and the Palacio de Bellas Artes showcase Mexico's artistic prowess. Take advantage of the vibrant neighborhood of Coyoacan, home to colorful streets, lively markets, and delicious street food.
Relax on the Sun-Drenched Beaches of the Riviera Maya
If your idea of paradise involves sandy beaches and crystal-clear waters, the Riviera Maya is your dream destination. Explore the underwater wonders of the Great Maya Reef while snorkeling in Xel-Ha, or dive into the mysterious Cenotes, natural sinkholes that reveal an otherworldly beauty.
For a taste of luxury, indulge in the high-end resorts of Playa del Carmen or Tulum. Tulum, with its ancient Mayan ruins overlooking the Caribbean Sea, provides a unique blend of history and natural beauty.
Step Back in Time at Chichen Itza and Mayan Ruins
No visit to Mexico is complete without exploring the ancient Mayan ruins. Chichen Itza, a UNESCO World Heritage Site, stands tall as one of the New Seven Wonders of the World. Marvel at the grandeur of the Kukulkan Pyramid, an architectural masterpiece that aligns with celestial events.
Additionally, venture to the mystical city of Palenque in the Chiapas region, surrounded by lush rainforests and adorned with intricately carved temples. Discover the enigmatic Coba Ruins, where you can climb the tallest Mayan pyramid in the Yucatan Peninsula for panoramic views of the jungle.
Immerse Yourself in Mexican Gastronomy
Mexican cuisine is a delightful fusion of flavors, colors, and textures. Indulge your taste buds in street food delicacies like tacos al pastor and tamales, savor the rich flavors of mole sauces, and enjoy the freshness of ceviche by the seaside. Be sure to sip on authentic tequila and mezcal, the country's signature spirits.
Embrace Adventure in the Copper Canyon
For the adventure seekers, the Copper Canyon offers a rugged and picturesque landscape that rivals the Grand Canyon. Explore the region by taking the Chepe train, which winds through the canyon, offering breathtaking views of waterfalls, cliffs, and indigenous Tarahumara villages.
Practical Tips for Your Mexican Adventure
Currency: The official currency is the Mexican Peso (MXN).
Language: Spanish is the official language, but English is widely spoken in tourist areas.
Safety: Exercise caution in crowded places, and avoid traveling in remote areas at night.
Local Etiquette: Embrace the warm hospitality of locals. Learn a few basic Spanish phrases to enhance your interactions.
Mexico, with its diverse landscapes, rich history, and warm hospitality, promises an unforgettable adventure. Whether you're a history buff, beach lover, or culinary enthusiast, this vibrant paradise welcomes you with open arms. So pack your bags and get ready to be enchanted by the wonders of Mexico!
Finally, Visa Requirements to Visit Mexico
It's important to note that immigration policies and requirements can change, so it's highly advisable to check the official website of the Mexican embassy or consulate in your home country or the National Institute of Migration (Instituto Nacional de Migración) of Mexico for the most current and accurate information.
However, here's a general overview of the common types of visas for Mexico:
Tourist Visa (Visitante):
Tourist visas allow you to stay in Mexico for up to 180 days. Most nationalities, including citizens of the United States, Canada, and many European countries, do not need a visa to enter Mexico for tourism purposes. Upon arrival, you might need to fill out a Forma Migratoria Multiple (FMM) and pay a fee. Always check the current requirements before your travel.
Temporary Resident Visa (Residente Temporal):
This visa is for people who want to live in Mexico for longer than 180 days, but not permanently. Temporary Resident visas are typically issued for one, two, three, or four years. To obtain this visa, you usually need to prove financial solvency and meet certain income requirements.
Permanent Resident Visa (Residente Permanente):
Permanent Resident visas are for people who want to live in Mexico permanently. To qualify, you often need to prove a stable income or show financial investments in Mexico.
Work Visas:
If you plan to work in Mexico, you will need a work visa. These visas often require a job offer from a Mexican employer and the visa application is usually facilitated by the employer.
Student Visas:
For studying in Mexico, you need a student visa. You'll need to be accepted into a recognized educational institution in Mexico and provide proof of enrollment.
Important Note:
Mexican immigration laws and requirements are subject to change. Therefore, it's crucial to contact the nearest Mexican embassy or consulate or visit the official website of the National Institute of Migration (Instituto Nacional de Migración) of Mexico to get the most up-to-date and accurate information regarding visa requirements and application procedures for your specific situation and nationality.
Photo credit: Source. This content is part of the HWM Partnership.
---