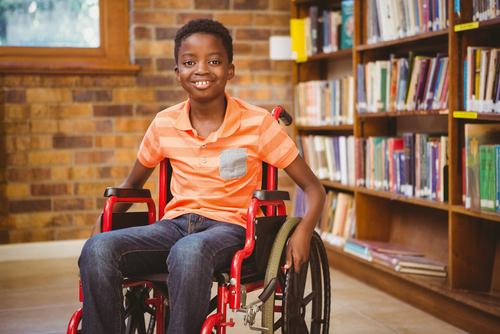 EmpoweredNYC, a new collaboration dedicated to enabling New Yorkers with disabilities to build a stronger financial future for themselves and their families, today announced a citywide listening tour to engage with the disability community about their financial well-being. EmpoweredNYC also announced the launch of Empowerment ED, a new monthly training series that equips service providers with financial empowerment strategies tailored for people with disabilities and their families.
Starting June 13, EmpoweredNYC listening sessions will be hosted in each borough in partnership with local elected officials, offering people with disabilities and their families opportunities to share and discuss issues specific to their financial stability. Insights from these events and future outreach efforts will inform new trainings and services offered by EmpoweredNYC.
At the listening sessions, New Yorkers with disabilities and their families are invited to speak about the barriers that have made financial growth difficult, sources of financial stress, and feedback on the programs and services that would be most beneficial to strengthening their financial security. The listening sessions will be held in each borough as follows:
Staten Island – June 13 at the Staten Island Center for Independent Living
Manhattan – June 27 at Manny Cantor Center
Bronx – July 10 at Hostos Community College
Queens – July 12 at JFK Jr. School and
Brooklyn – July 16 at Brooklyn Borough Hall.
For event details, to register, and request accommodations, visit ListeningSessionsRSVP.
Empowerment ED, the free monthly webinar training series, launched on June 12. Empowerment ED will help financial capability and disability service providers, as well as human service providers, colleges, universities, transition center staff, and professionals who are interested in financial empowerment to connect people with disabilities and their families with the best information, services, and programs to meet their financial needs and build their financial stability. The webinars will take place every second Tuesday of the month from June 12, 2018 through May 14, 2019. The topic for the first webinar training on June 12 was "What Is EmpoweredNYC and Why Is Financial Empowerment Important to Persons with Disabilities?" Future topics will include Money and Benefits; Why Financial Empowerment Is Critical to Work; Financial Education Tools and Resources; Credit and Savings; Myths about Medicaid and Work; ABLE Accounts and Employment; and more. Sign up for the Empowered Cities listserv to learn about news and updates at Empowerment ED.
More than 50 million people live with a disability in the U.S., and 25 percent of households include a child or an adult with a disability. Nearly one million people in New York City live with a disability, a group comprising 12 percent of the city's population. New Yorkers with disabilities are twice as likely to be living in poverty as those without disabilities. EmpoweredNYC aims to build the financial capability of New York City residents with disabilities and their families through broad engagement and education, tailored one-on-one financial counseling enhanced with new expertise, outreach and tools, and specialized benefits support services. The program will test, adopt, and promote new strategies to financially empower people with disabilities throughout New York City.
Co-developed and supported by Citi Community Development, EmpoweredNYC is a collaboration between the Mayor's Office for People with Disabilities (MOPD), the Department of Consumer Affairs (DCA) Office of Financial Empowerment (OFE), National Disability Institute (NDI), The Poses Family Foundation, and the Mayor's Fund to Advance New York City. It is the first local program of Empowered Cities, a national public/private initiative to expand financial empowerment and economic inclusion for people with disabilities and their families that was launched in January of 2018.
"People with disabilities and their families must often navigate a maze of complex financial challenges every day, with many forced to do so while living on extremely low incomes and without easy access to vital support services or accurate information," said Bob Annibale, Global Director of Citi Community Development and Inclusive Finance. "By directly engaging the disability community, these EmpoweredNYC listening sessions will give people with disabilities the opportunity to be heard, to share their experiences and directly inform the development of new trainings like Empowerment ED as well as services for strengthening their financial security."
"New Yorkers with disabilities and their families will be better able to take advantage of the rich resources of our city," said First Lady Chirlane McCray, Chair of the Mayor's Fund to Advance NYC. "With the training series and feedback gained from community members, financial services can be more effectively designed to meet the family's needs and goals. We are becoming a better city by becoming a fairer city."
"Through EmpoweredNYC we are developing a new model to create greater equity and opportunity for New Yorkers with disabilities, many of whom also face substantial financial insecurity," said Darren Bloch, Executive Director of the Mayor's Fund to Advance New York City. "We're proud to partner with Citi Community Development and our New York City partners as we embark on these listening sessions, which will provide an opportunity to hear directly from people with disabilities about the barriers they face, to ensure that the work effectively addresses the real and pressing challenges at hand."
"We know that New Yorkers living with disabilities face unique financial challenges," said Department of Consumer Affairs Commissioner Lorelei Salas. "We encourage New Yorkers with disabilities and their families to come share their experiences so we can learn how to best empower them in their journey to financial stability." Those interested in future webinar trainings can sign up for the EmpoweredNYC listerv at EmpowermentED.
"Every day, I hear about the challenges that so many other people with disabilities and their families face when taking control of their financial futures. It's time for change, which is EmpoweredNYC," said Mayor's Office for People with Disabilities Commissioner Victor Calise. "By hearing directly from New Yorkers with disabilities through the Listening Sessions, we can ensure they will have access to relevant, personalized and up-to-date information on how employment affects their Social Security benefits, Medicare and Medicaid. With the right resources and partners, people with disabilities can ease their fears and become productive, contributing taxpayers who are included in all facets of society."
---
"The new Empowerment ED training series will be informed by the listening sessions and will build the knowledge and skills of the disability community to set a new course and new expectations for earning, saving and managing money, including public benefits, while building financial stability," said Michael Morris, Executive Director, National Disability Institute. "We are excited to create city-specific strategies – with other municipal and community partners, with the support of Citi Community Development, and with the voice of the NYC disability community – that are sustainable and scalable and effective in improving the financial health of New Yorkers with disabilities."
For more information go to nyc.gov/mopd
For more information go to nyc.gov/dca 
For more information go to citicommunitydevelopment.com
For more information go to www.realeconomicimpact.org
Take the pledge to DISABLE POVERTY at www.disablepoverty.org
Related Articles