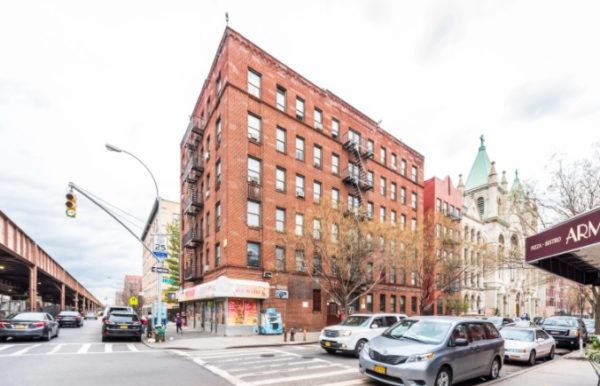 Real estate investor Isaac Kassirer's Emerald Equity Group continues to look to the East Harlem multifamily market, having acquired a four-building portfolio of mixed-use rental properties in the neighborhood from Castellan Real Estate Partners for $24.8 million, Commercial Observer has learned.
Real Estate Multifamily Investment In Harlem (Updated)Amazing opportunity to purchase this newly renovated 5-story building in West Harlem. Legal 11 famil…Feb 18 2017harlemworldmag.com
Emerald closed this week on the portfolio, which holds more than 100 residential units and three commercial units, sources told CO. The acquisition consists of three buildings—316 and 322-326 East 117th Street—on the block between First and Second Avenues, as well as 1661 Park Avenue at the corner of East 117th Street.
The buyer paid $15.8 million for the three buildings on East 117th Street, according to sources with knowledge of the transaction. The three properties—two of which are contiguous—span more than 42,000 square feet with 74 rental units as well as two commercial units. Emerald paid another $9 million for 1661 Park Avenue, sources added. That building spans more than 22,000 square feet with 34 rental units plus one retail unit.
East Harlem Community Board To Review Three Major Real Estate DevelopmentsLand use applications for three major East Harlem development projects will be reviewed Wednesday by…Mar 8 2017harlemworldmag.com
Castellan acquired all four prewar, walk-up buildings—where more than 90 percent of the 108 total residential units are rent-stabilized—for a combined $13.5 million in 2013, according to city property records.
"East Harlem is an area that is on the radar of many multifamily buyers and our early entrance into the market allowed us to capitalize on the increased demand," Etan Slomovic, a managing director at Castellan, said in a statement.
The seller was represented in the transaction by Ariel Property Advisors' Victor Sozio, Shimon Shkury, Michael Tortorici and Matthew Gillis.
Sozio told CO that Castellan's sizable return on its initial investment four years ago is a result of rising property values and increased activity in the Uptown Manhattan multifamily market in that time.
Bohemia Hosts Free Real Estate Workshop Series In Harlem (Update)Bohemia Realty Group,  residential and commercial, sales and leasing brokerage company in Upper Manh…Mar 9 2017harlemworldmag.com
"Especially in East Harlem, there's a perception that there's a lot of room for rents to grow and a lot of investment [in the neighborhood] from both the public and private sectors," Sozio said. "The area has continued to improve since they purchased [the properties]."
Sozio also cited the proposed rezoning of East Harlem that is currently making its way through the city's public review process as a boon to the neighborhood's prospects. The rezoning, while controversial, would "add density throughout the neighborhood," as well as "retail that the area [has been] lacking," he said.
---
---
Record Breaking Real Estate Sale For East HarlemForbes Magazine reports that an East Harlem condo at 1399 Park Avenue – a new development on East 10…Mar 27 2017harlemworldmag.com
Kassirer and his firm could not be reached for comment. The Brooklyn-based investor has been active in the East Harlem market as of late, paying Fairstead Capital and E&M Associates nearly $358 million last year to acquire a 47-building, nearly 1,200-unit portfolio of multifamily properties located across the neighborhood.
Via source
Related articles
Related Articles