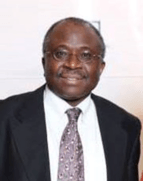 Members of the Liberian Community Association in New York City unanimously welcomed as President, Elseah W. Chea, an Ivy grad, a college professor, and a newspaper publisher at their monthly meeting today, with his swearing-in presided over by Presidential Advisor and former Interim President Dr. Felicia Lamptey, and the Union of Liberians Associations in the Americas Vice-President-elect, Mr. Vamba Fofana. 
With his appointment, Mr. Chea succeeds outgoing President Mr. Paul Tuider, who resigned as President and is relocating to North Carolina to focus on his family.
"Fellow Liberians, as many of you know, I announced my intention to resign in July this year.  That resignation is effective today, October 17th.  I am resigning to focus on my family, and I leave in place my capable Vice President, Elseah Chea, whom I am confident is up to the task of leading this great organization. I thank you for the opportunity to serve you," Mr. Tuider said.
In his acceptance remarks, Mr. Chea, a Teachers College, Columbia University graduate who teaches English at Molloy College in Rockville Centre, NY and is the founder/publisher of the Long Island Dispatch and Hempstead/Uniondale Times newspapers on Long Island, expressed sincere gratitude to the outgoing president whom he noted tapped him as a running mate in the community 2014 election.
"I want to thank our outgoing President, Mr. Tuider for the opportunity to serve in his administration as Vice President. Mr. Tuider's provided a good leadership.  Under his administration, as many of you know, we quickly obtained our Federal status. We started as a team, with a mandate and, I want to say in this public manner that my administration will forge ahead to fulfill the things that Mr. Tuider set out in his platform.  We will move to unite our community.  We will work tirelessly to locate and engage resources to advance our community here in America and at home in Libeia.  Our community will serve as an exemplary African community. And tonight, I ask you, my fellow Liberians, for you cooperation to accomplish our objectives.  I thank you for the trust you have reposed in me, but I need the support of all of you, for as the saying goes, "No one man is an island," Mr. Chea ended.
Related Articles
---
---