---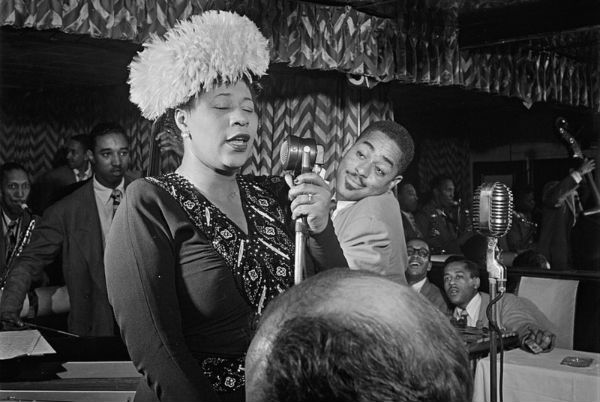 Ella Fitzgerald sometimes referred to as the First Lady of Song, Queen of Jazz, First Lady of Jazz and Lady Ella. She was born on April 25, 1917, in Newport News, Virginia. She was the daughter of William Fitzgerald and Temperance "Tempie" Henry. Her parents were unmarried but lived together for at least two and a half years after she was born. In the early 1920s, Fitzgerald's mother and her new partner, a Portuguese immigrant named Joseph Da Silva, moved to Yonkers, in Westchester County, New York. Her half-sister, Frances Da Silva, was born in 1923. By 1925, Fitzgerald and her family had moved to nearby School Street, a poor Italian area. She began her formal education at the age of six and was an outstanding student, moving through a variety of schools before attending Benjamin Franklin Junior High School in 1929.
Starting in third grade, Fitzgerald loved dancing and admired Earl Snakehips Tucker. She performed for her peers on the way to school and at lunchtime. She and her family were Methodists and were active in the Bethany African Methodist Episcopal Church, where she attended worship services, Bible study, and Sunday school. The church provided Fitzgerald with her earliest experiences in music.
Fitzgerald listened to jazz recordings by Louis Armstrong, Bing Crosby, and The Boswell Sisters. She idolized the Boswell Sisters' lead singer Connee Boswell, later saying, "My mother brought home one of her records, and I fell in love with it…I tried so hard to sound just like her."
In 1932, when Fitzgerald was fifteen, her mother died from injuries received in a car accident. Her stepfather took care of her until April 1933 when she moved to Harlem to live with her aunt. This seemingly swift change in her circumstances, reinforced by what Fitzgerald biographer Stuart Nicholson describes as rumors of "ill treatment" by her stepfather, leaves him to speculate that Da Silva might have abused her.
Fitzgerald began skipping school, and her grades suffered. She worked as a lookout at a bordello and with a Mafia-affiliated numbers runner. She never talked publicly about this time in her life. When the authorities caught up with her, she was placed in the Colored Orphan Asylum in Riverdale in the Bronx. When the orphanage proved too crowded, she was moved to the New York Training School for Girls, a state reformatory school in Hudson, New York.
While she seems to have survived during 1933 and 1934 in part from singing on the streets of Harlem, Fitzgerald made her most important debut at age 17 on November 21, 1934, in one of the earliest Amateur Nights at the Apollo Theater. She had intended to go on stage and dance, but she was intimidated by a local dance duo called the Edwards Sisters and opted to sing instead. Performing in the style of Connee Boswell, she sang "Judy" and "The Object of My Affection
" and won first prize. She won the chance to perform at the Apollo for a week but, seemingly because of her disheveled appearance, the theater never gave her that part of her prize.
In January 1935, Fitzgerald won the chance to perform for a week with the Tiny Bradshaw band at the Harlem Opera House. She was introduced to drummer and bandleader Chick Webb, who had asked his recently signed singer Charlie Linton to help find him a female singer. Although Webb was "reluctant to sign her…because she was gawky and unkempt, a 'diamond in the rough,'" he offered her the opportunity to test with his band when they played a dance at Yale University.
Met with approval by both audiences and her fellow musicians, Fitzgerald was asked to join Webb's orchestra and gained acclaim as part of the group's performances at Harlem's Savoy Ballroom. Fitzgerald recorded several hit songs, including "Love and Kisses
" and "(If You Can't Sing It) You'll Have to Swing It (Mr. Paganini)
". But it was her 1938 version of the nursery rhyme, "A-Tisket, A-Tasket", a song she co-wrote, that brought her public acclaim. "A-Tisket, A-Tasket" became a major hit on the radio and was also one of the biggest-selling records of the decade.
Here's the legend singing (If You Can't Sing It) You'll Have to Swing It (Mr. Paganini)
:
Webb died of spinal tuberculosis on June 16, 1939, and his band was renamed Ella and Her Famous Orchestra with Fitzgerald taking on the role of bandleader. She recorded nearly 150 songs with Webb's orchestra between 1935 and 1942. In addition to her work with Webb, Fitzgerald performed and recorded with the Benny Goodman Orchestra. She had her own side project, too, known as Ella Fitzgerald and Her Savoy Eight.
After Webb died Fitzgerald traveled the world bringing her wonderful voice she crafted in Harlem and shred with the world.
Fitzgerald died in her home from a stroke on June 15, 1996, at the age of 79. A few hours after her death, the Playboy Jazz Festival was launched at the Hollywood Bowl. In tribute, the marquee read: "Ella We Will Miss You."
Photo credit: Portrait of Ella Fitzgerald, Dizzy Gillespie, Ray Brown, Milt (Milton) Jackson, and Timme Rosenkrantz, Downbeat, New York, N.Y. 1947.
---