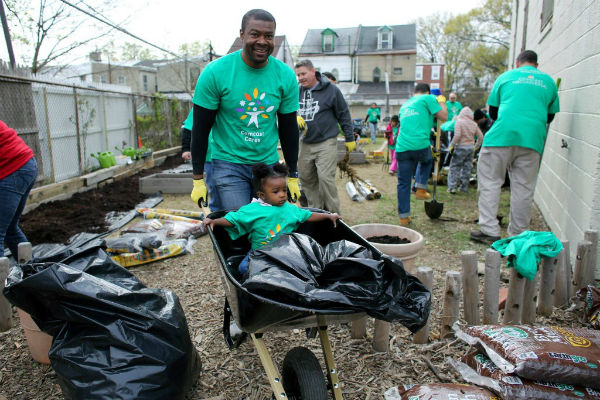 On Saturday, April 30, more than 300 local Comcast NBCUniversal employees and their family members and friends, including news anchors and reporters from NBC News, NBC 4 New York / WNBC and Telemundo 47 / WNJU and Mozhan Marno from NBC's hit show The Blacklist, will join com8unity partners and elected officials to "make change happen" as they volunteer to improve Harlem's P.S. / M.S. 149 Sojourner Truth as part of the 15th annual Comcast Cares Day.
Comcast Cares Day is Comcast NBCUniversal's companywide celebration of their year-round commitment to service and the nation's largest single-day corporate volunteer effort in the country. This year, the Company expects more than 100,000 Comcast and NBCUniversal volunteers to participate in nearly 900 projects across the country and around the globe. To date, volunteers have contributed more than 4 million service hours to improve nearly 7,000 projects in the U.S. and around the world since Comcast Cares Day started in 2001. 
"Comcast Cares Day is about giving back to the communities we serve and making a difference," said Eric Lerner, President and General Manager, NBC 4 New York. "Not only is Comcast Cares Day a fun and enjoyable day for our employees and their families, but it is remarkable to witness the impact more than 300 volunteers can generate on a single day."
City Year New York will serve as the official event partner for Saturday's Comcast Cares Day event at P.S. / M.S. 149 Sojourner Truth (https://goo.gl/5z3sVH). An education-focused, nonprofit organization, City Year partners with public schools and teachers to help keep students in school and on track to succeed. This year, City Year New York has recruited, trained and is employing over 300 young adults who are providing tutoring, mentoring and after-school programs to over 15,000 students living in New York City's highest-poverty communities.
In 2015, volunteers from NBCUniversal's NBC 4 New York / WNBC and Telemundo 47 / WNJU gathered at Morningside Park to revitalize approximately 17 acres of community park space as part of Comcast Cares Day, including painting the handball court as well as 800 feet of fence. Video coverage of the 2015 event can be accessed by clicking here.
The Comcast Foundation will provide grants to local community partner organizations across the country on behalf of everyone who volunteers on Comcast Cares Day. The grants will help Comcast's community partners continue their mission of serving the community throughout the year. To date, the Comcast Foundation has awarded more than $18 million in grants to local non-profit organizations who have partnered with us on Comcast Cares Day. 
Additionally, this Comcast Cares Day, the company is folding in the broad support and amplification of two other Company partnerships: Global Citizen, who organize the annual music and advocacy-focused Global Citizen Festival curated by Coldplay's Chris Martin that has aired on MSNBC for the past few years, and Red Nose Day, a special television event with top musical and comedy performances that debuted on NBC last year. These initiatives aim to end extreme poverty, fight inequality and injustice, and tackle climate change globally and in the United States. By amplifying support of these initiatives on Comcast Cares Day, Comcast NBCUniversal is providing additional ways to help drive positive change in our communities.
Comcast has been committed to serving local communities since our founding more than 50 years ago. For more information on Comcast NBCUniversal volunteer and community investment initiatives, visit www.comcast.com/community.
Related Articles
---