---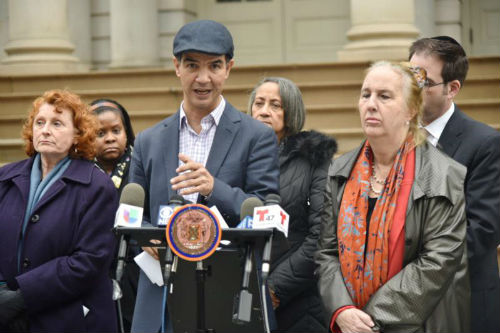 Today, Council Member Ydanis Rodriguez was joined by Manhattan Borough President Gale A. Brewer, NYS Assemblywoman Jo Anne Simon, NYC Council Members Jumaane Williams, Kalman Yeger, Bill Perkins, and community advocates and called for robust mental health services and counseling in New York schools, and greater gun regulation.
The press conference comes following the deadly shooting at Marjory Stoneman Douglas High School in Parkland, Florida where 17 lives were lost. Initial reports say that the 19-year-old shooter showed signs of mental health challenges and had experienced emotional hardship after the death of his adoptive mother. Just 7 weeks into 2018, there have been 18 school shootings at in the United States that have resulting in injury or death.
New York City public city schools have witnessed violent events, including one at a Bronx public high school in September 2017 where a student stabbed one student to death and injured another. Unfortunately, this is one of similar tragedies happening at our schools involving students in need of mental health care.
"We must better regulate access to firearms. We must provide adequate quality mental health services and counseling at our schools for all grade levels in New York City and around the country. We must resist the message of hate that has found a platform and megaphone in the White House. Yesterday's shooting at a Florida high school was horrific, and the stories and images are disturbing. The mass shootings epidemic in the United States demands our attention as the national emergency it is," said Council Member Ydanis Rodriguez. "History will remember how we respond to these tragic events that impact countless lives. The inaction of many will only perpetuate more senseless death, grief, and pain that inevitably shape our culture. We must not accept this as normal."
"I am devastated by the tragedy in Florida. My heart aches for the affected students, teachers and families. No child should ever feel unsafe in his or her school. It is heartbreaking to see that this is now the new normal. Congress cannot wait. Now is the time for comprehensive gun control and better access to mental health resources. I offer my deepest condolences to the students, faculty and staff of Marjory Stoneman Douglas High School, the victims and their families," said Council Speaker Corey Johnson.
"This should have been over after Aurora, Orlando, Las Vegas, or any one of the seemingly endless stream of mass shootings we have seen in this country," said Manhattan Borough President Gale A. Brewer. "Congress must act. There are too many guns, too many of them are in the wrong hands, innocent people are dying needlessly, and political cowardice is the only reason why."
"Yesterday, our nation experienced its eighteenth school shooting since 2018 began just over six weeks. My prayers for peace and comfort go to the families of those who have been killed, and to those who are still fighting for their lives," said Council Member Jumaane Williams. "We cannot lose our capacity to be appalled by this violence. We cannot grow numb to the tragedy that is wreaked by gun violence every day in our nation, because the families of those lost to that violence never will. We have an obligation to them to do all that we can to prevent other families from experiencing that same heart-wrenching grief."
"I am devastated about yet another school shooting in Parkland, Florida and my thoughts and prayers go out to the victims, their friends and families. But we need action, and we need it now. New York has worked hard to reduce gun violence through common-sense community programs and legislation, but we must do more. I urge Governor Cuomo to include funding for a Firearms Violence Research Institute in the upcoming state budget. New York must lead the way in conducting scientific research to better understand and prevent the gun violence that claims 33,000 lives each year. New York should also pass the Extreme Orders of Protection bill that I cosponsor with Senator Kavanagh. When a person exhibits warning signs that they pose a risk of serious harm to themselves or others, family members often observe these signs firsthand. But in New York, even if these concerns are reported, law enforcement has no authority to act and help prevent tragedies including interpersonal gun violence or suicide involving a gun. A temporary Extreme Risk Order of Protection would restrict a person's access to firearms if they pose a serious risk, while providing due process protections and the right to appeal," said NYS Assemblywoman Jo Anne Simon.
"Our thoughts and prayers are with all the victims and their families in Parkland, Florida. Our schools are meant to be sanctuaries, not slaughterhouses, and it is past time we take action to ensure our children and families are safe. New York City and State have already passed some of the toughest gun control laws in the country. Congress must show some moral courage and stand up to truly make our country safe," said NYC Public Advocate Letitia James.
"This shooting, like many before it, underscores how important commonsense gun control legislation is to ensure the safety of our communities. The SAFE Act in New York has had a measurable positive effect on gun violence in this state, and in this area, federal lawmakers are out of step with public opinion, with morality, and with simple common sense. This particular issue also showcases the pernicious effect well-funded special interests have on our politics. When 90% of the American public support background checks for firearm purchases, but Congress repeatedly refuses to act after multiple tragedies, we need to examine how our democracy is failing to reflect the will of the people. Thoughts and prayers are not enough, and will not bring the victims of gun violence back to their families and communities," said NYS Senator Marisol Alcantara.
"As a nation we mourn the loss of the precious lives lost in Florida yesterday. We stand united to say enough is enough words no longer suffice to cure the epidemic that is gun violence in our nation. I look forward to continuing to work with my colleagues to bring real reform when of comes to Gun Violence. These tragedies are avoidable and we must make the commitment to finding solutions to mass shootings now," said NYS Assemblywoman Carmen De La Rosa.
Related Articles
---