---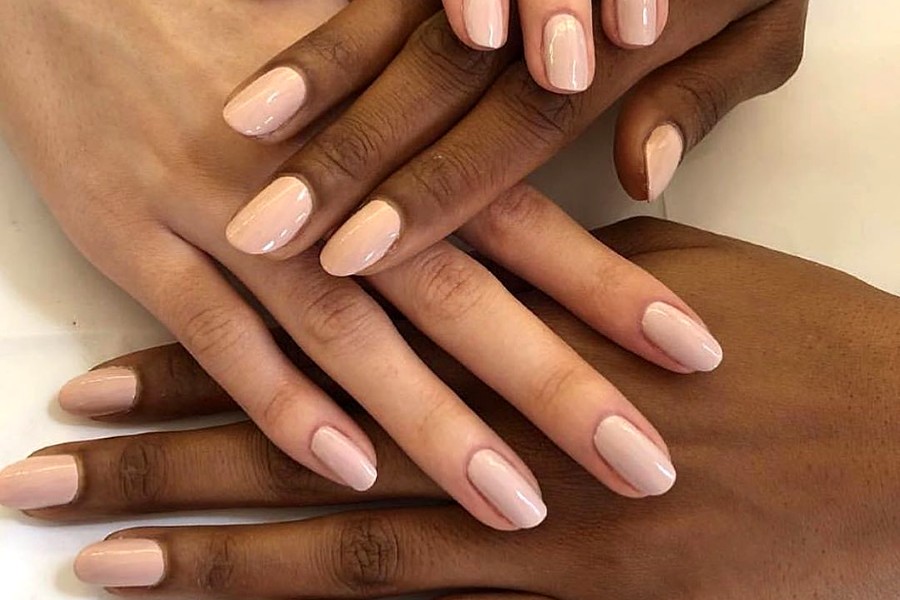 Most people want to look nice, and many people aren't afraid to engage in a little bit of DIY-ing.
However, combining both can be a dangerous game. If you've ever attempted a risky beauty move like at-home hair highlights, DIY eyebrow laminating, or homemade stick and poke tattoos, you know there are a lot of ways things can go wrong, with permanent or semi-permanent results. 
However, you can make both your DIY-loving side and your beauty-loving side happy with home manicures and pedicures. You can get better at nail art with practice and a few genius hacks, and fortunately, the results are never permanent—and yet, you can learn how to make your beautiful manicure last.
Prepping
These hacks deal with the preparation stages before you start painting your nails, because one way to ensure your manicure lasts a long time is by setting yourself up for success.
Store Your Nail Polish In the Fridge
There are better and worse ways to store your nail polish, with hot, humid temperatures being a bad idea and cool, even cold, temperatures being best. Try storing your nail polish bottles in the fridge for paint that goes on evenly without clumps. The cold air decreases the polish's ability to separate or discolor. Don't apply your polish straight out of the fridge though—you'll want to let it get to room temperature first for the best manicure.
Prevent Sticky Lids
If you struggle to open the lid of your nail polish due to dried clumps of polish sealing it shut, you can prevent this by spreading a thin layer of petroleum jelly around the top of the bottle. If you're already having a dried lid situation, you can soak your bottle's lid in hot water until it opens, use nail polish remover to clean the crusted polish, and then spread Vaseline with a cotton swab.
Prep Your Cuticles With Vaseline
Petroleum jelly has multiple uses when it comes to at-home manicures. Not only can it unseal your lids, it can also prep your cuticles for a manicure free from polish splotches on your skin. Simply rub a fair amount of Vaseline on the U under and around your nails before you start to paint.
Painting
Now for the fun part: creating your actual nail art. Here are hacks for DIY-ing your at-home manicure or pedicure. With these, you can create unique nails that are easier than even your average nail painting job.
Double Seal Your Tips
The first spot to chip and crack is always the tips of your nails, but somehow salons seem to make them last longer. You can prevent chips, too, by simply adding a step when painting your nails. The key is in applying two base coats—the first one just on your tips. Then, once dry, apply a normal base coat over each nail. You can then paint your nails as normal but have a longer lasting manicure.
Get Creative With Permanent Markers
You can actually use permanent markers to create designs and patterns on your nails. Just make sure you draw onto a base coat of polish and not your actual nail. When you're satisfied with your art, seal each nail with a top coat. Fortunately, permanent markers on your nails aren't permanent—nail polish remover or rubbing alcohol will fade the marks.
Use Semi Cured Gel Nails for a Long-Lasting Manicure
Semi cured gel nails are the best solution to your at-home manicure woes: if you can't get the hang of DIY designs, can't find the time, or don't know how to make your nails last, semi cured gel nails can solve all of these. Semi cured gel nails come in strips that are 80 percent cured—just right to adjust onto your nail. Then just use a UV lamp to set your nails for approximately one minute, and you've got an incredibly professional manicure in seconds.
Sealing
Now that you've created a lovely manicure or pedicure, follow these hacks to ensure you can show off your nails for as long as (or longer than) a salon manicure.
Dry Your Nails Quickly With Ice Water
If you find yourself always smudging your fresh at-home manicures, this quick drying hack is for you. Ice cold water helps nail polish set quickly without the bubbles of air drying. Dip each hand into a bowl of ice water after you've finished painting your top coat and within minutes your polish will be dry.
Set Your Polish With Hairspray
Speaking of speedily drying your manicure that you worked so hard on, here's another solution: hairspray. Spray your wet nails from the same distance you would your hair, and experience your nails drying quicker than normal.
There's something fun, and practical, about doing your nails at home, but you want to make sure your DIY manicures aren't lacking. Follow these hacks to find yourself with the best nails of your life, even after spending minimal time and money. Summer is the perfect time to experiment with nail hacks, so go ahead and give these a try!
Related Articles
---