---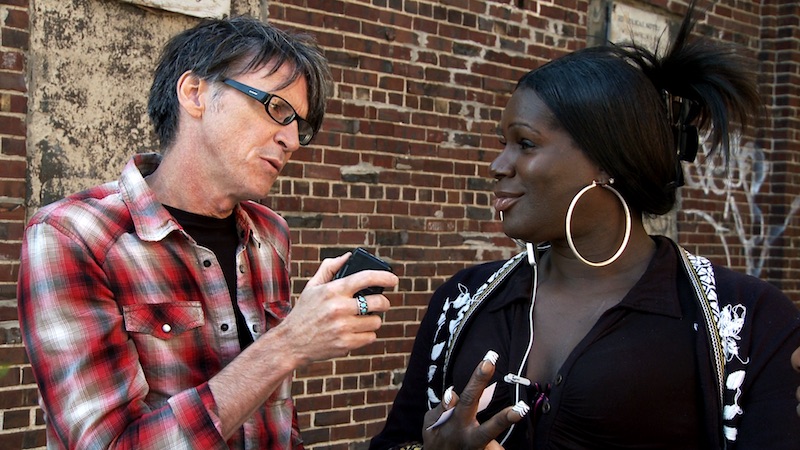 Filmed entirely in October of 2008, a time when gentrification is rapidly displacing the working and middle classes, Wall Street is plummeting, and then-Senator Barack Obama is making his first presidential bid, ONE OCTOBER is a lyrical time capsule that captures the heart and spirit of New York. When seen from our current vantage point, the film foreshadows the roiling political upheaval spreading across the country today in 2018. Directed by Rachel Shuman and executive produced by three-time Academy Award® nominee Edward Norton ("Primal Fear," "American History X" and "Birdman"), this captivating feature documentary, which had its World Premiere at the 2017 Full Frame Documentary Film Festival, chronicles intrepid radio host Clay Pigeon as he talks to a beautifully diverse cross-section of people throughout the city, exploring a microcosm of themes and issues including race, religion, economics, politics and culture. With today's news filled with ratings-hungry, sensationalist headlines and political pundits yelling over one another, Pigeon is quite the antithesis with his man-on-the-street style interviews, offering an authentic, warm-hearted and more humanitarian approach to journalism.
Maysles Cinema in Harlem, NY, where several of the scenes in the documentary were filmed, will host a week-long theatrical release of ONE OCTOBER, screening along with the short documentary THE MONOLITH, directed by Angelo J. Guglielmo, Jr., about pioneering NYC artist Gwyneth Leech, starting Friday, May 11. ONE OCTOBER will also be released nationally on VOD on May 11 via Passion River Films on iTunes, Amazon Prime, Google Play, Microsoft XBOX and other digital platforms. The film will also screen nationwide in select cities. For more information on ONE OCTOBER and a full list of upcoming screenings, visit: http://oneoctoberfilm.com/.
ONE OCTOBER begins with Pigeon, a radio host from WFMU in Jersey City, NJ, who takes to the streets of New York City to talk to everyday citizens about their lives, their dreams and their relationships in the face of uncertain change in a transforming city. As part of what he calls a "radio experiment," this transplanted Iowan roams the streets bearing a handheld recorder and a kindly probing nature: "Has he popped the question?" "When is the last time you've had a regular roof over your head?" "Do you love America?" These revealing interviews are woven between vivid scenes of New York's eccentric byways, which together reveal a city—and a nation—at a crossroads.
During his neighborhood rambles, Pigeon meets people like Kristin, an optimistic young woman who has just arrived from the Midwest; Mark, a union construction worker still dusty from his workday and deeply in debt; Nicole, a transgender woman looking for an accepting community; and Stacie, a single mother in Harlem worried about gentrification.
Pigeon's encounters interweave with observational passages that poignantly reveal urbanist and author Jane Jacobs's (The Death and Life of Great American Cities) idea of the "ballet of the good city sidewalk": rollerskaters wind their way through Central Park, city dwellers seek blessings for a motley group of pets on St. Francis Day, observant Jews toss breadcrumbs into the Hudson River on Rosh Hashanah, and Muslims mark the end of their Ramadan fast with Eid al-Fitr prayers and expressions of forgiveness. Amid these celebrations of daily life we see the shifting landscape of the city: big-box stores and mega-chains rapidly replace independent businesses, giant glass buildings are erected where flea markets once stood, and luxury condos loom over small brick tenements.
Nuanced, cinematic and often humorous, ONE OCTOBER charts the chasm between one's desires and one's means, explores the urgent need to conserve the old amid the glorification of the new, and affirms the notion that a varied streetscape is essential to the health of a dynamic metropolis.
"I wanted to make a film in response to the homogenization and hypergentrification of neighborhoods in New York City and chose to set it in October 2008, a tumultuous moment when the housing market collapse was becoming a worldwide economic crisis and much of the country was swept up in Obama's presidential campaign," said ONE OCTOBER director Rachel Shuman. "In retrospect, almost exactly a decade later now, I am releasing the film in another period of change in our country, and I hope that it will present a story of diversity and resiliency that unites people."
Edward Norton is an environmental, social and civic activist who has substantially contributed to the development of the cultural and civic life of the city. When asked why he wanted to become involved in this film, Norton stated, "Like E.B. White's classic 'Here is New York,' ONE OCTOBER captures the complexity of our culture at a moment in time and distills the zeitgeist of optimism and hope surrounding the election of Barack Obama. Viewed today, it's especially poignant and inspiring."
This project was completed with the support of the Women Make Movies Production Assistance Program
Documentary / 56 min. / English / 2017 / Digital (DCP, BluRay, H264)
Produced with support from New York State Council on the Arts with the support of Governor Andrew M. Cuomo and the New York State Legislature
Related Articles
---