---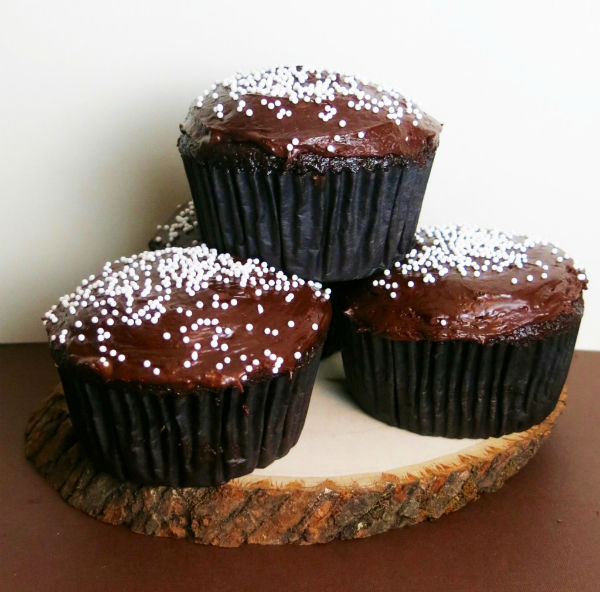 McCall Farms is celebrating back to school by sharing their Not Just Chocolate Cupcakes delicious farm fresh recipe. This recipe is simple, satisfying and nutritious.
As one of America's leading producers of canned vegetables and fruit, McCall Farms produce is picked at the peak of ripeness and immediately canned, locking in its flavor and nutrition. Not only does this Eat Your Vegetables Day recipe taste great, but it's packed with nutrients, too.
Ingredients
1 (14.5 oz.) can Margaret Holmes Mixed Greens
1 cup applesauce
1/2 cup water
3 eggs
1 (16.5 oz.) box devil's food cake mix
1 (8 oz.) package cream cheese, room temperature
5 tbs. real butter, soften
1/2 cup cocoa powder
4 cups powdered sugar
Directions
Cake
Preheat oven to 350°F.
Drain Margaret Holmes Mixed Greens, add fresh water and drain again.
Add greens, applesauce and 1/2 cup water to a blender. Blend until completely mixed.
Pour greens and applesauce mixture into a large mixing bowl. Add eggs and cake mix, and mix thoroughly.
Pour batter into a muffin pan lined with paper liners. Fill 24 cups about 2/3 full.
Place in oven and bake for about 16 to 18 minutes.
Frosting
Beat butter and cream cheese together until smooth.
Slowly add cocoa.
Add powdered sugar until frosting is of desired consistency.
Let cupcakes cool
Frost and store in refrigerator until ready to be eaten.
McCall Farms, is one of America's leading producers of farm fresh canned vegetables and fruit, McCall Farms has been cultivating food for more than 177 years. The family-owned and operated company produces a wide variety of Southern-style products under the Margaret Holmes, Glory Foods, Peanut Patch Boiled Peanuts and Bruce's Yams, as well as private-label and foodservice products, all of which are sold nationwide. Based in Effingham, South Carolina, McCall Farms products are grown on 2,000 acres of family farmland with an additional 18,000 acres contracted throughout South Carolina, North Carolina, Georgia and Florida. http://www.mccallfarms.com/
Related articles
---