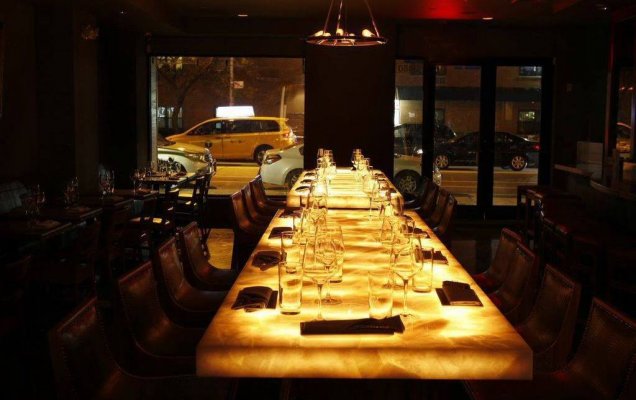 The Park 112, the Harlem restaurant with a self-service wine bar, is now open and ready to let us play sommelier. Guests are invited to pour their own glasses from a set of Enomatic machines. An actual sommelier will also be on hand to help guide new wine drinkers with any questions. Chef Kingsley John, formerly of Aquavit, oversees the kitchen and divided the menu into both small and large plate items. John said, "My experiences at Charlie Trotter redefined my career" says Chef John, "I learned there the difference between being a very good chef, and pursuing being a great chef."
Former music executive turned restaurateur Lewis Tucker (former President of Sean Combs Enterprises, and ran Bad Boy Records). As the President of Sean Combs Enterprises, Tucker ran Bad Boy Records, Blue Flame Marketing & Advertising, and Justin's Soul Foods Restaurants. Lewis then co-founded Essential Sports, a sports management agency, which has represented four NBA lottery picks in five years, including Ben Gordon, Charlie Villanueva, Antoine Wright, and Daniel Gibson.
Tucker's own personal and business travels inspired his knowledge of food and wine.  Visits to great restaurants in Barcelona, London, Nice and Paris (as well as New York favorites) particularly informed the types of experience that Farrugia wanted to create, in Harlem.  Farrugia experienced the enomatic wine machines while in Paris, and felt that it would be a natural fit for a fun, adventurous, upscale restaurant in Harlem.

Chicken and chive dumplings and fried oysters are a few of the shareable starters; main courses include a steak frites rib eye and butterflied branzino. The restaurant is currently accepting reservations daily beginning at 6 PM.
Located on Frederick Douglass Blvd at 112th street, just steps away from Central Park, 2080 Frederick Douglass Blvd., (between 112th & 113th); 646-524-6610, www.thepark112.com
Related articles
Related Articles
---