---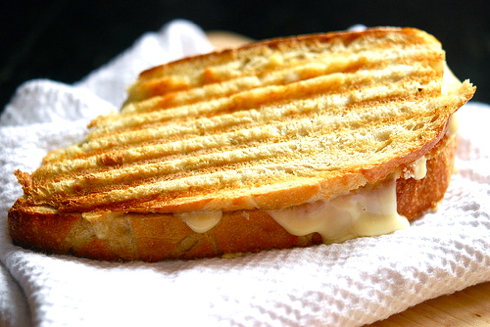 By Marcus Samuelsson
The grilled cheese sandwich is a staple of American cuisine. The combination of melted cheese and toasted bread is a favorite of children and adults alike and has become one of the most beloved meal items around the block and around the world. And although cheese and bread alone make a great meal, sometimes it's fun to try something new and different. Â Why not try one of these ideas to take your grilled cheese from basic to gourmet?
Try different types of cheeses, or mix and match several selections: American cheese or Cheddar are the basics, but you can also add a few slices of something different like Swiss, Emmental, Gouda, mozzarella, Gruyere, or even something sharp like Maytag Blue. Classic pairings like mozzarella, basil and tomato, Cheddar and apple, or blue cheese and bacon always delight, but there can be no wrong match with grilled cheese.
Sample a variety of breads: While white bread comes to mind for a grilled cheese, make yours with whole-grain bread for a healthier sandwich. You could also experiment with baguettes, ciabatta bread, or countless other varieties like sourdough or pumpernickel. A crusty French bread sandwich will work great with a side of soup. However, when you have a more flavorful bread like something with olives or nuts, try to avoid overpowering the flavor of the bread with too many fillings.
Add a few sliced vegetables: Tomatoes are a great addition to most grilled cheese, but let your imagination run wild. Go with softer vegetables so they cook and melt with the cheese in the sandwich. Otherwise, you can parboil the harder vegetables to soften them up before assembling your creation. Check out your local farmers' market for what's in season to get inspired.
Test different cooking methods: A simple cast-iron or stainless steel pan is a great cooking vessel, but a panini maker is also be a good way to press the bread down to lock in the ingredients. For a charred flavor, try grilling your sandwich. After all, it is called a grilled cheese.
Add in a protein: If you want to turn your sandwich into a more hearty meal, add a few strips of bacon, a fried egg, or some thinly sliced meat or cold cuts like calabrese salami, some rich prosciutto, honey-smoked ham or roasted turkey.
Go for something fruity: Take your sandwich from savory to sweet with some fresh fruits or some jams or chutney. A slathering of something like apricot or peach jam could really take your sandwich in a whole new direction.
What are your favorite grilled cheese add-ins? Let us know in the comments.
Photo: Chefdruck on Flickr
---