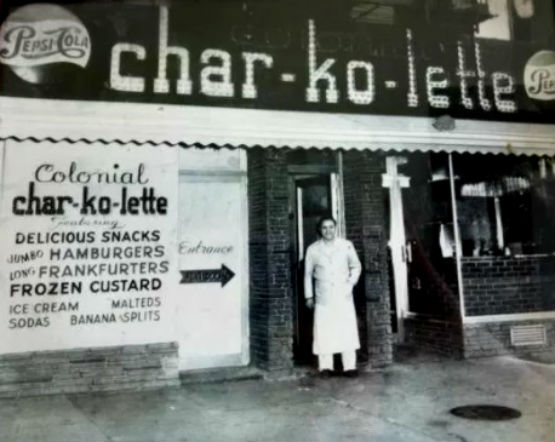 There is a long tradition of Tea in Harlem as we discussed in this article A Short History Of Tea In Harlem from 2012. Another Tea Room to add to that list is the Char-Ko-Lette aka the Colonial Tea Room at 116th Street and Pleasant Avenue in East Harlem, NY, 1949.
Jimmy Paloni said on Italian Harlem site, the photograph above was:
"…my cousin Arthur and his family's (Ida and Joe Nigro ), place the Char-Ko-Lette formerly called the Colonial Tea Room. I can't tell if that's Arthur out front, if not I'm not sure who it is."
Also, on the website Frank Budano says:
"…I lived one flight over the Char-Ko-Lette after I was born in 1953… My grandmother lived on the top floor… I had great memories growing up and will never forgot Char-ko-lettes hamburgers and malteds…"
In the book The Tenants of East Harlem, East Harlem resident, Pete who lived on Pleasant Avenue said:
"Everybody in the city used to go there. Used to be hundreds of people out there at night. It was at 116th Street and Pleasant Avenue. It's no more. I used to be in there morning non and night when I was a young man."
The book continues with a since of loss:
---
Become a Harlem insider - Sign-Up for our Newsletter!
---
"The Colonial Tea Room, Sloopy Mike's, Aida's -these were the neighborhood hot spots of the 1940's, thriving social institutions before the advent of public housing, and the scourge of slum clearance."
If you have any stories of East Harlem, please share them with us below.
Get more Italian Harlem history on the website Italian Harlem.
Related Articles
---
VIDEO
---
"Dr. Harry Delany is a renowned Harlem born and raised surgeon, the son of the great jurist and civil rights leader, Hubert Delany...." This monthly post is made in partnership with Harlem Cultural Archives.