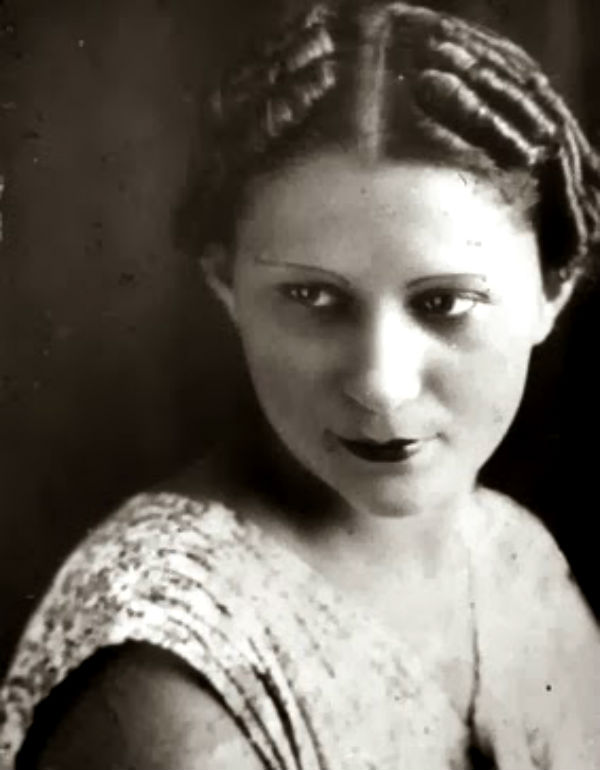 Julia de Burgos, February 17, 1914 – July 6, 1953, was a poet from Puerto Rico. As an advocate of Puerto Rican independence, she served as Secretary General of the Daughters of Freedom, the women's branch of the Puerto Rican Nationalist Party.She was also a civil rights activist for women and African/Afro-Caribbean writers.
Julia de Burgos (birth name: Julia Constanza Burgos García) was born to Francisco Burgos Hans (a farmer) and Paula García de Burgos. Her father was a member of the Puerto Rico National Guard and had a farm near the town of Carolina, Puerto Rico, where she was born. The family later moved to the barrio of Santa Cruz of the same city. She was the oldest of thirteen children. Six of her younger siblings died of malnutrition. Her first work was Río Grande de Loíza.
After she graduated from Muñoz Rivera Primary School in 1928, her family moved to Rio Piedras where she was awarded a scholarship to attend University High School. In 1931, she enrolled in University of Puerto Rico, Rio Piedras Campus to become a teacher.
In 1933, Burgos graduated at the age of 19 from the University of Puerto Rico with a degree in teaching. She became a teacher and taught at Feijoo Elementary School in Barrio Cedro Arriba of Naranjito, Puerto Rico. She also worked as writer for a children's program on public radio, but was reportedly fired for her political beliefs. Among her early influences were Luis Lloréns Torres, Clara Lair, Rafael Alberti and Pablo Neruda. According to Burgos:
"My childhood was all a poem in the river, and a river in the poem of my first dreams."
In 1934, she married Ruben Rodriguez Beauchamp and ended her teaching career. In 1936, she became a member of the Puerto Rican Nationalist Party (Partido Nacionalista de Puerto Rico) and was elected to the position of Secretary General of the Daughters of Freedom, the women's branch of the Nationalist Party. The Puerto Rican Nationalist Party was the independence party headed by Pedro Albizu Campos, a Puerto Rican Nationalist. She divorced her husband in 1937.
By the early 1930s, Burgos was already a published writer in journals and newspapers. She published three books which contained a collection of her poems. For her first two books, she traveled around the island promoting herself by giving book readings. Her third book was published posthumously in 1954. Burgos' lyrical poems are a combination of the intimate, the land and the social struggle of the oppressed. Many critics assert that her poetry anticipated the work of feminist writers and poets as well as that of other Hispanic authors. In one of her poems, she writes: "I am life, strength, woman." Burgos received awards and recognition for her work and was celebrated by poets including Pablo Neruda, whom she met in Cuba, and stated that her calling was to be one of the greatest poet of the Americas.
Among Julia de Burgos' works are:
El Rio Grande de Loiza
Poema para Mi Muerte (My Death Poem),
Yo Misma Fui Mi Ruta (I Was My Own Path),
Alba de Mi Silencio (Dawn of My Silence),
Alta Mar y Gaviota
Later in life, Burgos became romantically involved with Dr. Juan Isidro Jimenes Grullón, a Dominican physician. According to Grullón, many of her poems during that time were inspired by the love that she felt for him. In 1939, Burgos and Jimenes Grullón traveled first to Cuba where she attended briefly the University of Havana  and then later to New York City where she worked as a journalist for Pueblos Hispanos, a progressive newspaper.
Shortly after their arrival in Cuba, Burgos' relationship with Jimenes Grullón began to show tension. After trying to save her relationship, she instead left and returned once again to New York, however this time alone, where she took menial jobs to support herself. In 1943, she married Armando Marín, a musician from Vieques. In 1947, the marriage also ended in divorce, lapsing Burgos into further depression and alcoholism.
In February 1953, she wrote one of her last poems, "Farewell in Welfare Island". It was written during her last hospitalization and is believed by her peers to be one of the only poems she wrote in English. In the poem she foreshadows her death and reveals an ever darker concept of life.
It has to be from here,
right this instance,
my cry into the world.
My cry that is no more mine,
but hers and his forever,
the comrades of my silence,the phantoms of my grave.
On June 28, 1953, Julia de Burgos left the home of a relative in Brooklyn, where she had been residing. She disappeared without leaving a clue as to where she went.
It was later discovered that on July 6, 1953, she collapsed on a sidewalk in the Spanish Harlem section of Manhattan, and later died of pneumonia at a hospital in Harlem at the age of 39. Since no one claimed her body and she had no identification on her, the city gave her a pauper's burial on Hart Island, the city's only potter's field.
---
---
Eventually, some of her friends and relatives were able to trace her, find her grave, and claim her body. A committee was organized in Puerto Rico, presided over by Dr. Margot Arce de Vázquez, to have her remains transferred to the island. Burgos's remains arrived on September 6, 1953 and funeral services for her were held at the Puerto Rican Atheneum. She was given a hero's burial at the Municipal Cemetery of Carolina. A monument was later built at her burial site by the City of Carolina.
Photo credit via source.
Related Articles
---