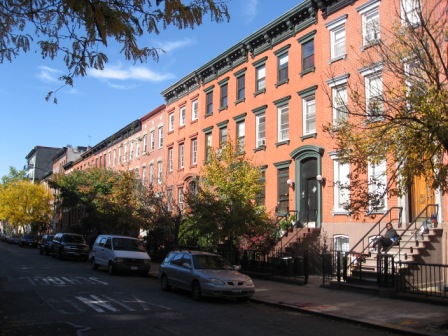 East Harlem, also known as Spanish Harlem and El Barrio, is the eastern section of Harlem located in the northeastern extremity of the borough of Manhattan in New York City. East Harlem is one of the largest predominantly Latino communities in New York City, mostly made up of Puerto Ricans, as well as a rising number of Dominican, Salvadoran and Mexican immigrants. It includes the area formerly known as Italian Harlem, in which the remnants of a once predominantly Italian community remain. The Chinese population has increased dramatically in East Harlem since 2000.
East Harlem has the highest violent crime rate in Manhattan. The area is patrolled by both the 23rd Precinct and the 25th Precinct of New York City. The neighborhood suffers from many social issues, such as the highest jobless rate in New York City, teenage pregnancy, AIDS, drug abuse, homelessness, and an asthma rate 5 times the national average. It has the second highest concentration of public housing in the United States, closely following Brownsville, Brooklyn.
The neighborhood, all of which lies within Manhattan Community District 11, is bounded by East 96th Street to the south, Fifth Avenue to the west, the East River to the east, and East 142nd Street along the Harlem River to the north.
El Barrio is notable for its contributions to Salsa music. East Harlem is also the founding location of the Genovese crime family, one of the Five Families that dominate Italian-American organized crime in New York City as part of the Mafia (or Cosa Nostra).
Manhattan Community District 11, which covers East Harlem in its entirety, is a mostly low and moderate income area. It is made up of first and second generation Puerto Ricans, African-Americans and a growing population of Mexicans, West Indians, Dominicans, Asians, Salvadorans and other Central American immigrants.
Everybody says 'Good Morning' in Harlem because it's true! And that's lovely.
It has one of the highest concentrations of Puerto Ricans in all of New York City. In the 2000 Census, 52.1% District describe themselves as of Hispanic origin, 35.7 as non-Hispanic black, 7.3 as non-Hispanic white, 2.7 Asian and Pacific Islander Nonhispanic, 1.7% as Two or more Races non-Hispanic, and 0.5% as other. By New York City averages, the youth makes up a larger than normal percentage of the East Harlem population with 30.6% of residents age 18 or younger.
93.6% of all housing units are renter occupied, and over 25% of the population resides in public housing units managed by the NYCHA. 46.5 percent of the population receive a form of income support by the government.
According to a 2010 study, the number of Asians in East Harlem nearly tripled between 2000 and 2010, largely due to Chinese people moving to East Harlem. Increasing rents in Lower Manhattan's Chinatown have driven many into public and subsidized housing developments in the neighborhood. Advocates have been calling for Chinese language services to be available in the community centers to accommodate the growing number of Chinese residents in the area. In 2000, the Chinese population in the northern portion was less than one percent, but by 2010, it has gone up to being three percent in the area. In the southern part, it rose from 4.6% to 8.4%.
As of 2010, the Puerto Rican population was 27.7% in zip code 10029, and 23.4% in 10035. 10035 also has a large Mexican population, at 10.7%.
The construction of the elevated transit line to Harlem in the 1880s urbanized the area, precipitating the construction of apartment buildings and brownstones. Harlem was first populated by German immigrants, but soon after Irish, Italian, and Eastern European Jewish immigrants began settling in Harlem. In East Harlem, Southern Italians and Sicilians soon predominated and the neighborhood became known as Italian Harlem, the Italian American hub of Manhattan. In 1895, Union Settlement Association, one of the oldest settlement houses in New York City, began providing services in the neighborhood, offering the immigrant and low-income residents a range of community-based programs, including boys and girls clubs, a sewing school and adult education classes.
Puerto Rican immigration after the First World War established an enclave at the western portion of Italian Harlem (around 110th Street and Lexington Avenue), which became known as Spanish Harlem. The area slowly grew to encompass all of Italian Harlem as Italians moved out and Hispanics moved in during another wave of immigration after the Second World War.
---
---
In the 1920s and early 1930s, Italian Harlem was represented by future Mayor Fiorello La Guardia in Congress, and later by Italian-American socialist Vito Marcantonio. In certain areas, particularly around Pleasant Avenue, Italian Harlem lasted through the 1970s. Our Lady of Mount Carmel, the first Italian feast in New York City, is still celebrated every year in East Harlem. Italian establishments still exist, such as Rao's restaurant, started in 1896, and the original Patsy's Pizzeria which opened in the 1933.
East Harlem was one of the hardest hit areas in the 1960s and 1970s as New York City struggled with deficits, race riots, urban flight, gang warfare, drug abuse, crime and poverty. Tenements were crowded, poorly maintained, and frequent targets for arson. In 1969 and 1970, a regional chapter of the Young Lords which were reorganized from a neighborhood street gang in Chicago by Jose (Cha-Cha) Jimenez, ran several programs including a Free Breakfast for Children and a Free Health Clinic to help Latino and poor families. The Young Lords coalesced with the Black Panthers and called for Puerto Rican self-determination and neighborhood empowerment. In the 21st century the Latin Kings are prevalent in East Harlem.
With the growth of the Hispanic population, the neighborhood is expanding. It is also home to one of the few major television studios north of midtown, Metropolis (106th St. and Park Ave.), where shows like BET's 106 & Park and Chappelle's Show have been produced. PRdream.com, a web site on the history and culture of Puerto Ricans, founded a media gallery and digital film studio called MediaNoche in 2003. MediaNoche (www.medianoche.us) presents technology-based art on Park Avenue and 102nd Street, providing exhibition space and residencies for artists and filmmakers, and webcasting events, and PRdream.com collect orals histories and conducts screenings.
Major medical care providers in the East Harlem area include Metropolitan Hospital Center, North General Hospital (Closed) and Mount Sinai Hospital, which serves residents of East Harlem and the Upper East Side. Many of the graduates of the Mount Sinai School of Medicine do local public health work, including work on asthma, diabetes, unsafe drinking water, lead paint and infectious diseases.
No related posts found...