---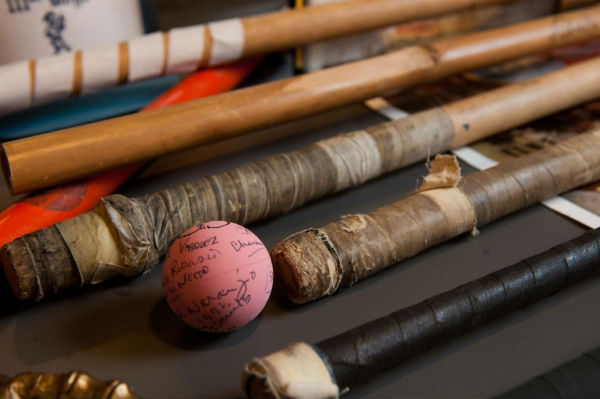 Originally published on Monday, January 21, 2013:
The greatest urban street game ever invented — stickball — is being celebrated in a storefront gallery in East Harlem where broomstick-swinging, spaldeen-smashing masters are bucking the odds to keep the sport alive and pass it on to the next generation.
NYC & Company's Spotlights East Harlem/El Barrio NYC & Company, New York City's official marketing, tourism and partnership organization, today annou…Dec 4 2013www.harlemworldmag.com
In an era of cyber-games and smartphone-socializing, the boosters of the new Stickball Community Gallery are seeking to revive an old-fashioned pastime where the street serves as classroom, backyard, social center — and even the great outdoors for the urban kid.
The colorful gallery at 230 E. 123rd St. is the brainchild of Carlos Diaz, a lifelong East Harlem resident who works as a part-time hospital administrator and runs the shrine as an unpaid labor of love, three days per week.
The Nerve, Brooklyn Stickball Team Takes On Harlem In Coney Island Brooklyn News 12 reports that the Brooklyn stickball team took on the Harlem stickball team Sunday…Aug 13 2017harlemworldmag.com
The gallery doubles as the first permanent home of the Stickball Hall of Fame, launched informally in the 1950s in a dozen neighborhood clubhouses scattered around Harlem, Brooklyn and the Bronx.
Its exhibits include a sawed-off broomstick stolen in 1950 from the back of a Sanitation Department truck for use as a bat — and the original banners flown in the 1940s by such legendary Harlem teams as the Minotaurs, Young Devils and Minton's Playhouse.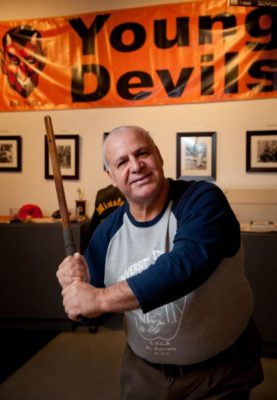 With its collection of spaldeens — also known as "hairless tennis balls" — and bats made out of mop handles, curtain rods and bamboo sticks, the gallery traces the history of a sport that typically used sewers, manhole covers, parked cars and fire hydrants as bases.
East Harlem Storefront Celebrates City's Stickball HistoryThe greatest urban street game ever invented — stickball — is being celebrated in a storefront galle…Aug 13 2017harlemworldmag.com
The 1,000-square-foot gallery overflows with gritty relics: Con Ed donated a 500-pound manhole cover, and the city Department of Environmental Protection loaned a 100-pound fire pump.
"If you want to keep kids off drugs, out of gangs and out of trouble, teach them stickball," says Diaz, the gallery founder and Hall of Fame president, who played his first game on E. 111th St. for the Young Legends as a 12-year-old in 1963.
Diaz, 63, launched the endeavor as a nonprofit organization and collected modest contributions from Con Edison, Verizon, ARCO Management and SCAN Inc., a Bronx-based youth program, and other nonprofits including the East Harlem Council for Community Improvements. He is working to create a budget to make sure the gallery and Hall of Fame can stay afloat.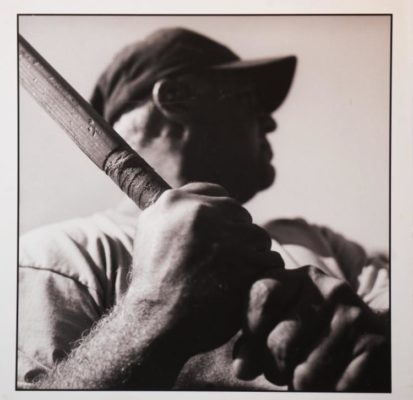 Diaz and his volunteers hold stickball clinics in gym classes at public schools including PS 101 on E. 111th St., PS 117 on E. 109th St.
"Stickball was always a low-income sport — all you needed to play was a ball and a broomstick — and it kept a great many people in my district on the straight and narrow," said Assemblyman Robert J. Rodriguez (D-East Harlem).
He points to top local teams like the Ravens, who recruit reformed gang members, and the Clean Machine, whose players are rehabilitated drug addicts.
One stickball tutor, Alfred Jackson, 77, knows every uptown team that ever hit a three-sewer home run: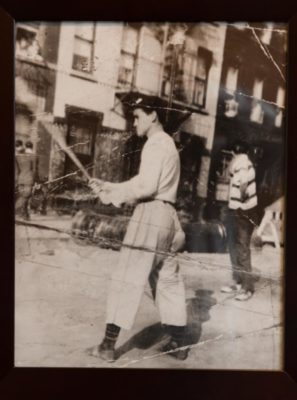 "There were the Madison Flashes on 110th St., the Falcons on 111th, Viceroys on 112th, the Minotaurs on 113th, Young Devils on 114th, Home Relief on 115th, Copens on 117th and Minton's Playhouse on 118th," he recalls. "The list goes on and on."
Those glory days may be gone, but Jackson — who has pitched stickball since 1950 — says the lessons for kids remain unchanged:
"We old-timers can use the gallery and the schools to teach kids to become better people, to keep them occupied and out of trouble — and to give them a chance to figure out what they want to do with the rest of their lives," he says.
Inductees into the Stickball Hall of Fame include street kids-turned-New York Yankees like Phil Rizzuto, Joe Torre, Joe Pepitone, Willie Randolph, Rusty Torres and Mickey Rivers.
The induction ceremony takes place every July at the Museum of the City of New York, and the plaques honoring the hall's 172 members, once scattered in the city's old clubhouses, will eventually be installed in the gallery.
The gallery and Hall of Fame is open Tuesdays, Thursdays and Saturdays from 9 a.m. until 4 p.m. Admission is free. At the Stickball Hall of Fame, 230 East 123rd Streetq, Store Front Between 2nd and 3rd Avenue, New York, NY 10035, Phone: 212-722-3876, Email: info@wsstickball.com
Via: NYNewsDay Monday, January 21, 2013
Related articles
---