---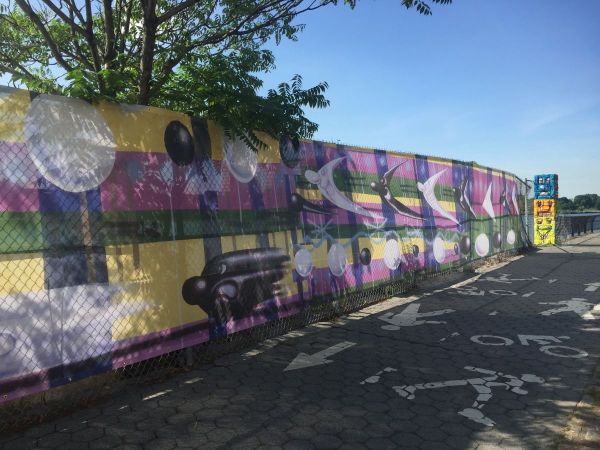 An art installation on the East River Esplanade worth thousands has been stolen for the second time this summer, a spokeswoman for Friends of the East River Esplanade told source.
The artwork, a 60-foot-by-7-foot banner covered in a colorful printed pattern, was commissioned by the organization at a cost of thousands of dollars both times, spokeswoman Jennifer Ratner said. The piece, titled NEVERENDINGOGO, was created by famous artist Kenny Scharf and was bound to a chain-link fence on the East River Esplanade near East 116th Street.
The artwork was first stolen during the weekend of June 25-26. The banner was then recreated and hung in July. But now it's gone again, and likely for good, Ratner said. The Friends of the East River Esplanade do not plan on commissioning the art for a third time.
"We tried really hard, but I can't say we will do it again," Ratner said.
The installation was temporary and was slated to be taken down sometime in the fall, Ratner said. The group had hoped the artwork would start a public conversation about beautifying East Harlem's section of the esplanade.
The organization is in the process of filing an official report with the police. The motive of the art thieves is unknown, but Ratner said that when the organization pitched the project to community groups it was met with only positive feedback.
"I can't imaging it was anything other than the art value," Ratner said.
Photo: Friends of the East River Esplanade
Related Articles
---