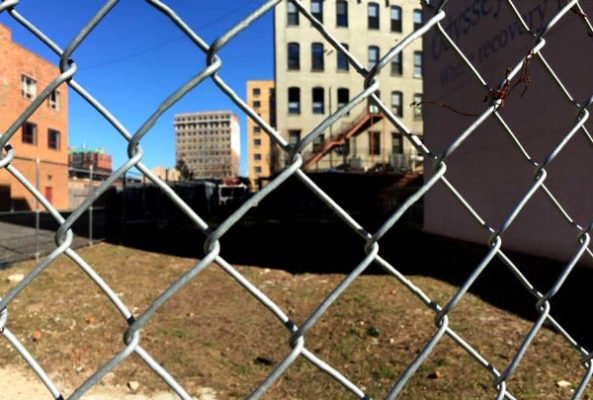 Picture the Homeless has been talking about community land trusts as a tool for helping the homeless for more than a decade. Members of the New York City nonprofit, which is led by homeless and formerly homeless people, co-founded the East Harlem-El Barrio Community Land Trust to make the solution a reality.
Man Punches Elderly Pair In East Harlem (Update)A man beat up an elderly pair in East Harlem over the weekend, sending both victims to the hospital,…Jul 11 2017harlemworldmag.com
"We were talking about community land trusts as an alternative to the shelter system," says Scott Hutchins, who has been a Picture the Homeless member since October 2012. Hutchins first became homeless in May 2012, and he's been in and out of the shelter system since.
Now, the East Harlem-El Barrio Community Land Trust is getting a slice of a $1.65 million grant announced by New York City's Department of Housing Preservation and Development last week. The money is intended to support the formation and expansion of community land trusts. It's not a lot, but all of the grant recipients are groups built to make the most out of every dollar. They're all committed to keeping rents or home prices as low as possible while maintaining safe, decent living conditions.
In Boston, Cleveland and other cities, community land trusts (CLTs) are one way that housing advocates are maintaining affordability in gentrifying neighborhoods. A nonprofit, often community controlled, owns and maintains land, and a low-income resident gets a housing price within reach on top of the land. (The land trust sets a limit on resale prices of homes or rents of units on the property.) Earlier this year, the city of New York put out a call to community groups interested in forming a CLT.
East Harlem The Capital Of Dog Bites The dogs in East Harlem aren't all bark. A study conducted by the New York City Health Department …Jul 15 2017harlemworldmag.com
"Community land trusts are proven vehicles for preserving affordable housing and committing land to serve the needs of the neighborhood. As we struggle to combat displacement in vulnerable communities, this tool has been used throughout the country and in my own borough to target housing to low- and moderate-income families," said Manhattan Borough President Gale A. Brewer in a statement about the grants.
Picture the Homeless has already sketched out its model: The CLT could acquire one or more distressed properties in East Harlem, and use subsidies to create a financially viable building. There would be a number of units priced affordably for individuals and families living on extremely low incomes — hopefully keeping them out of the shelter system, and ultimately saving the city money by doing so. East Harlem-El Barrio Community Land Trust would own the land. Tenants would lease the land from the trust on the condition the buildings they own maintain affordability.
Dubbed "Gaining Ground," the idea is financially feasible, according to Harry DeRienzo, president of Banana Kelly Community Improvement Association, "assuming it has sufficient subsidies from the city." Banana Kelly, a nonprofit community development corporation based in the South Bronx, has agreed to work with Picture the Homeless as a developer to implement the model once the CLT acquires property.
The Award Winning Actress, East Harlem's Joan Hackett, 1934 – 1983[easyazon_link identifier="B009DBBP8I" locale="US" tag="harlemworld-20″]Rebecca (Theater 62) (1962)[…Jul 20 2017harlemworldmag.com
"Community-driven solutions are at the heart of Housing New York, and our efforts to secure affordability in neighborhoods from East Harlem to Edgemere require a robust set of tools and a diverse group of partners able to build and preserve affordable housing," said Maria Torres-Springer, Department of Housing Preservation and Development commissioner, when announcing the grants.
---
---
No related posts found...