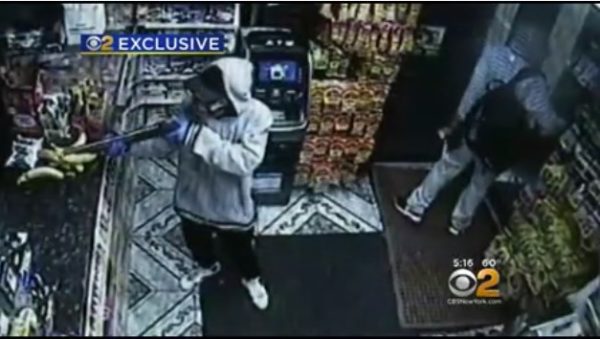 New York CBS Local reports that men armed with a shotgun recently tried to rob a deli in East Harlem, but the workers weren't having any of it.
Instead, they fought back.
CBS2's Jessica Borg spoke exclusively with the deli owner and some shocked customers at the Family First Deli on Monday.
In exclusive surveillance video obtained by CBS 2 — the would-be robbers are wearing masks and latex gloves. One of them gets frustrated with his friend holding the gun — and grabs it.
"They were telling them to put the money in the bag and stuff like that," said deli owner Hizam Pady.
The robber jumps over the counter — only to be confronted by Hizam Pady's 21-year-old brother — fighting back. Seconds later, Pady's brother hurls a calculator at the gunman's head.
Pady said he couldn't believe it, hearing what his brother and nephew did when it all went down around 1 a.m. this past Friday.
"They shouldn't fight. They should just give it up, because money's not worth nothing anyway in the end," he said.
The store clerks said there was a fourth suspect acting as the lookout right in front of the store, on First Avenue and 108th Street.
But the men decided to leave without getting a single dollar.
The suspects were last seen running by a bystander 14 blocks away outside a residential building, on First Avenue and 94th street. Sources said investigators found their backpack there with the masks they used, and a 20-gauge single-shot shotgun."
But after searching the area, police did not catch the suspects.
---
---
Customers back at the store were surprised by the store clerks' actions.
"Those guys are brave," one man said.
Pady said although this is his first attempted robbery, he is now applying for a license to get a gun of his own.
After viewing the surveillance video, Pady said he believes the suspects may have been regular customers at the store.
Related Articles
---