---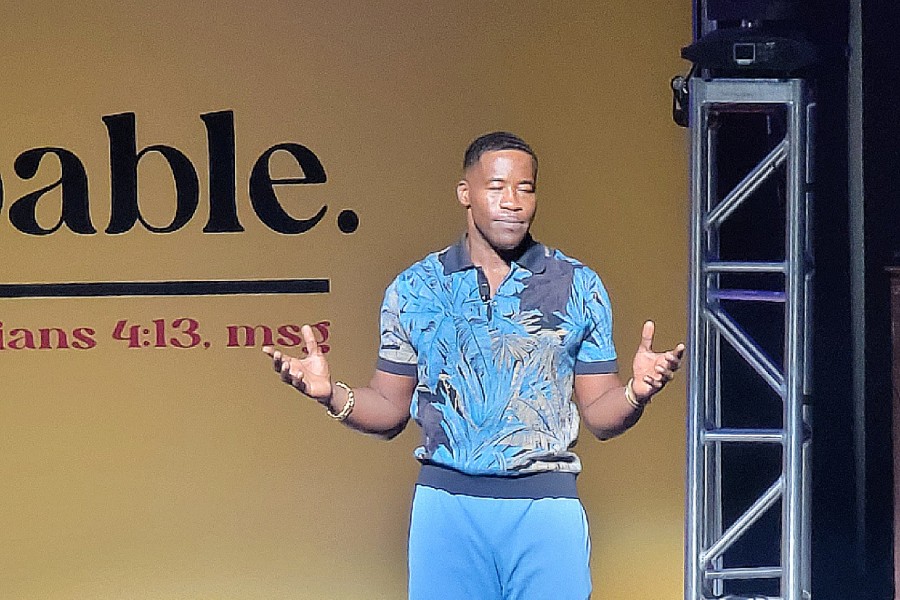 by Eartha Watts-Hicks
When Voza Rivers and the New Heritage Theatre Group brought Love Warrior to Harlem's First Corinthian Baptist Church, located at 1912 Adam Clayton Powell Junior Boulevard.
the production transformed the sanctuary on Friday, July 21, 2023. Daniel Koa Beaty's captivating performance transfixed the congregation, guests of all ages, and would-be theater-goers at First Corinthian Baptist Church with of the richest theatrical experiences I can recall in Harlem.
Directed by Jamal Joseph, this production of Love Warrior is a one-man show starring Daniel Koa Beaty. And the audience was treated to Daniel Koa Beaty's jaw-dropping genius as he morphed into character variations of age, gender, social class, and life struggle, delivering with a powerful message that enrages, tickles, delights, and evokes pride and celebration of our ancestors for the house of God, now filled to the brim with joy and laughter.
Elements like the African drum percussionists, step/tap/contemporary dance montages, and a brilliant tribute to Donny Hathaway serenaded by keyboard were hinges to a perfect body of work. But all in all, I feel grateful to have witnessed a production that compellingly captures the irony of being Black American and alive, thriving, and still thankful for my Black experience. This one-man show and the talent of Daniel Koa Beaty is a must-see, compelling enough to bring the house down and earn a standing ovation in the #FCBC on a Friday.
Catch Obie Award winner, Daniel "Koa" Beaty, in EMERGENCY on Saturday, August 12th & 19th at 7:30 PM at the Dwyer Cultural Center, located at 309 West 123rd Street (Ruby Dee Place). Tickets are $30.
Eartha Watts Hicks
Eartha Watts Hicks is Harlem World Magazine's contributing Book Editor. She is the award-winning author of Love Changes, a member of the Harlem Writers Guild, and a NYCHA/NAACP ambassador for literacy. For more information, visit www.linktr.ee/Earthatone.
Photo credit: Eartha Watts Hicks @Earthatone
---