---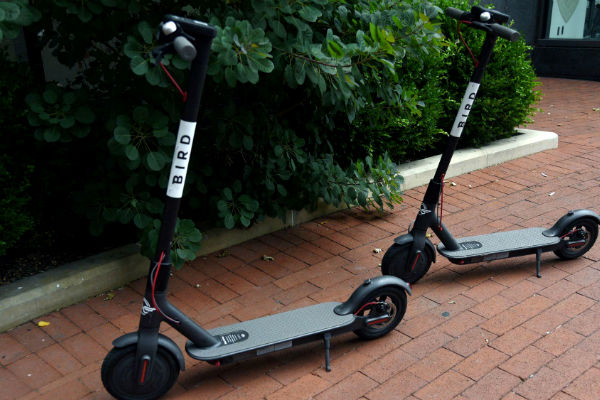 Today, Council Members Ydanis Rodriguez, Fernando Cabrera and Rafael Espinal announced legislation that will legalize E-scooters and E-bikes in the City of New York, headlining four bills that encompass a legislative package introduced today at the New York City Council Stated Meeting. The lawmakers were joined by Council Member Margaret Chin, Council Member Carlina Rivera, Deliver Justice Coalition members: Transportation Alternatives, Asian American Federation, Bike Public Project, Make the Road NY, the Legal Aid Society, American Delivery Worker Association, and E-scooter companies Bird and Lime.
"It is the job of the City Council to update our laws to reflect the evolving landscape of sustainable transportation options. As the Chair of the Committee on Transportation, it is my upmost priority to ensure that 8.5 million residents and 65 million tourists per year have efficient, safe and affordable mobility options to travel around the City of New York and take our City into the future of transportation," said Council Member Ydanis Rodriguez.
"We cannot claim to be a city that cherishes our immigrant community while simultaneously implementing discriminatory practices against a workforce that is predominantly made up of immigrants," said Council Member Rafael Espinal. "Legalizing e-bikes is an essential step in giving delivery workers greater job stability and better working conditions. The work is hard enough with difficult weather, long shifts, and low pay. The City should be doing everything in its power to support one of our growing industries and its workers. This legislation has been years in the making, and represents a great step forward for transit equity."
"I'm proud to sponsor Intro 1250 which will legalize electronic scooters in New York City. E-scooters provide an important transit option- safe, affordable and environmentally friendly. Intro 1250 caps e-scooter speed at 15 mph and legalizing these vehicles is especially important in communities of color, where delivery services are a source of family income and where the high and rising cost of public transit is a major challenge. I'm happy to join my colleagues and transit and immigrant advocates in advancing helpful transit options," said Council Member Fernando Cabrera.
"Immigrant workers serve as the backbone of our local communities," said Council Member Margaret S. Chin. "I am proud to stand with Council Members Espinal, Rodriguez and Cabrera and the advocates of Deliver Justice to introduce legislation that will turn over a new page to steer a productive conversation about how we can achieve street safety without pushing vulnerable immigrants into the shadows. I also want to thank our advocates including the Asian American Federation, Biking Public Project, Transportation Alternatives, Legal Aid NYC, Make the Road NY, and the delivery workers themselves for working to change a prevailing yet misguided narrative about the immigrant workers who are punished, fined and harassed every day for simply trying to put food on the table and provide for their families."
"AAF has been working on this issue for over a year and our primary concern is to support delivery workers, who work long hours in the worst weather to earn a living. We cannot punish immigrants who use e-bikes for work, while we allow others to use the same vehicle for recreation. With the #DeliverJustice Coalition, we are grateful to our allies on the City Council for considering workers' needs and taking this first step to introduce a legislative package to legalize e-bikes in the city," said Persephone Tan, Associate Director of Immigration & Policy at the Asian American Federation.
"The move to legalize e-bikes and scooters would clear a path for New Yorkers who are clamoring for more convenient, space-efficient transportation options," said Transportation Alternatives Deputy Director Marco Conner. "We applaud Council Members Espinal, Cabrera and Rodriguez for introducing this legislation, as it would not only provide more alternatives but would also bring an end to the counterproductive crackdown on the types of bikes used by delivery workers."
"Up until now, the New York City's policies and policing of e-bikes has been a tale of two e-bikes where the City has criminalized immigrant delivery workers riding their e-bikes for their jobs while legalizing the use of e-bikes for white-collar commuters, like those riding Citibike e-bikes. We support the legislation sponsored by Council Members Espinal, Cabrera and Rodriguez as these bills would take an enormous step towards ending the City's senseless war on low-wage immigrant workers who just want to support their families by delivering our food. We call upon the City Council to pass this legislation that would help deliver justice for immigrant workers," said Do Lee, Ph.D., Member of the Biking Public Project & Visiting Lecturer at Queens College.
Deborah Axt, Co-Director of Make the Road NY, said, "Delivery workers and advocates have fought hard this past year to make sure that workers are not criminalized simply for utilizing tools they are required to use for their job. We support the bills introduced today because they will meaningfully benefit delivery workers across the city by substantially decriminalizing the use of electric bicycles and providing a fair pathway for workers to come under compliance. We hope City Council will move quickly to pass these bills and fix the harms delivery workers continue to face every day."
"A potential pathway now exists to legalize e-bikes and end the harassment of delivery workers which Mayor de Blasio escalated a year ago," said City Council Member Carlos Menchaca. "For over a decade, delivery workers – the majority of whom are immigrants – have been caught in a cruel catch-22 where they are expected to make timely deliveries but without using the most convenient and affordable transportation option available to them. And when fined, they are forced to pay the penalty, not their employers. It's high time we decriminalize delivery work and enable delivery workers to provide for themselves and their families."
At this time, E-scooters and E-bikes are not legal modes of transportation within the City of New York; however, many delivery bike messengers and residents are exploring the private transit option of commuting by E-scooters and/or E-bikes. As we experience an increase in traffic congestion, delayed and unreliable subway trains, and the impending L-Train shutdown, the City of New York is reviewing all shared mobility transit options available to keep New York moving. The City Council is taking the initiative to begin regulating private sector mobility services safely, effectively and in the public interest.
Intro 1250
 would legalize E-scooters to operate at 15 miles an hour or less and would be subject to the same regulations as cyclist rules and procedures within the City of New York.
Intro 1264
 would legalize certain E-bikes to operate within the City of New York at 20 miles an hour maximum speed.
Intro 1265
 establishes an E-bike conversion program for throttle-operated electric bicycles to change to pedal-assist electric bicycles. This will allow delivery E-bike messengers time and funding to become compliant with the law.
Lastly, 
Intro 1266
 will create a shared E-scooter pilot program within the City to determine the impact and need for E-scooters as an alternative form of transportation. The pilot program will operate as a short-term rental for the public and the geographic area is yet to be determined pending review by the NYC Department of Transportation with a priority for transit deserts.
The next step will be for the City Council Committee on Transportation to schedule a hearing for the legislative package by early 2019.
---