---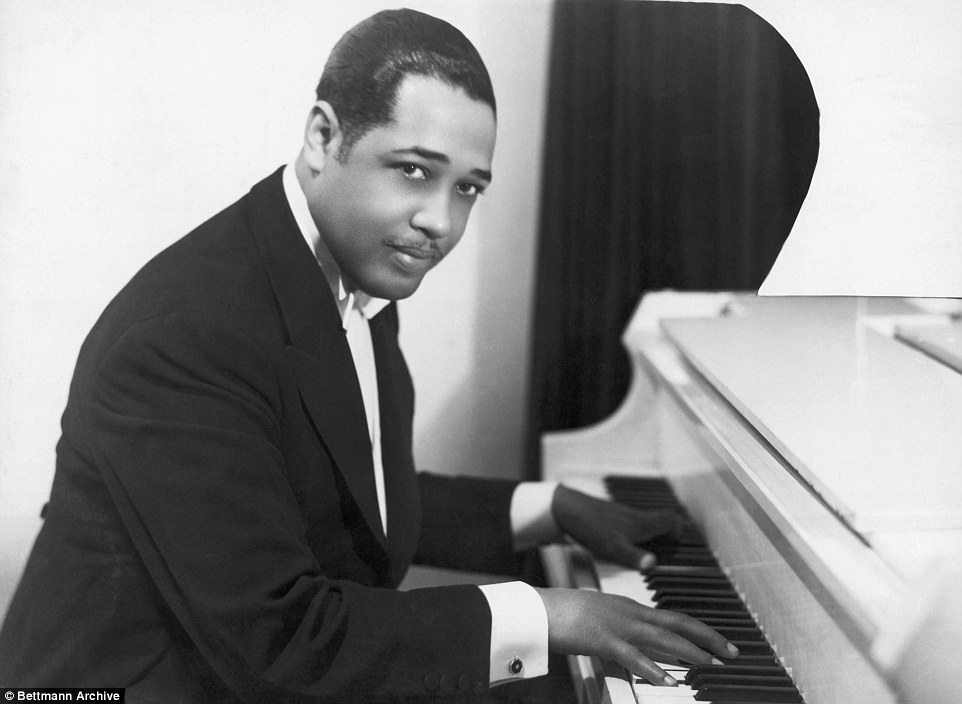 If Duke Ellington was the king of jazz, Harlem was his kingdom.
And on Wednesday, the neighborhood celebrated the music connoisseur with an auction of his most prized possessions – just a few blocks from the Cotton Bar where it all started in the 1920s.
Hand-written music sheets, his white baby grand piano, and even his Pulitzer Prize went under the hammer at the National Jazz Museum in uptown New York City after years under wraps.
Bidders even got the chance to snap up some of Ellington's own never-before-seen paintings – little-known masterpieces which he kept to himself while the world celebrated his musical genius.
It has all been hidden away for decades in his sister's Harlem apartment.
Ruth, Duke's closest confidante, sold stacks of his music and belongings after he died of lung cancer in 1974. But the most precious she kept in her living room as a shrine to the brother she worshipped.
When Ruth died in 2004, relatives decided the cherished – and incredibly lucrative – artifacts should be offered up to the Duke's fans at one of the first high-profile auctions in Harlem.
The items, which did not have starting prices, included two dozen of Ellington's hand-written music manuscripts.
The first ever scrawling for the orchestra arrangement of his hit croon Mood Indigo on a scrappy piece of paper sold for an eye-watering $14,000.
Lush Life, another of his classics, also began as a penciled-out draft with crossed-out lines and messy additions. That fetched another $14,000.
The Pulitzer Prize awarded posthumously to Ellington in 1999 for his 'indelible contribution to art and culture' also went under the hammer.
Though Duke was nominated for the music prize in 1965, he did not win. The then-66-year-old told reporters: 'Fate is being kind to me. Fate doesn't want me to be famous too young.'
In 1999, on the 100th anniversary of his birth, he was named the winner of the Special Prize 'in recognition of his musical genius, which evoked aesthetically the principles of democracy through the medium of jazz'.
The glass statuette sold on Wednesday for $7,000.
Though he made his name in music, Ellington also painted – and quite well.
When he was a boy in Washington, D.C., Ellington painted signs for parties and local businesses. He was still unknown, riffing his own music at home or at local events, when he was offered a scholarship to study art at New York's Pratt Institute in Brooklyn.
He turned it down, but continued to paint vociferously as he believed music and art had a symbiotic relationship, informing one another.
Indeed, one of his most striking portraits has the same name as one of his most famous melodies: Satin Doll.
The painting, which was among the auction items on Wednesday, features the face of a woman turning mysteriously in red lipstick, a red dress, with dark tousled hair.
It was inspired by two strong women in his life: Lena Horne, the sultry songstress whom he mentored at the Cotton Club, and his sister Ruth.
He finished painting it in 1954, months after he wrote the song of the same title.
The artwork was one of four, including a portrait of his collaborator Billy Strayhorn, propped up at the Guernsey's auction in the Jazz Museum – not far from the Cotton Club.
Duke, born Edward Kennedy Ellington, reached Harlem's Cotton Club after offering his musical services at parties around D.C. and Virginia when he was a freelance sign painter and a messenger boy for the US Navy.
He got a band together and made contacts through his two jobs, eventually making enough to be a full-time pianist.
The auction was held in Harlem's National Jazz Museum, affiliated with the Smithsonian, near the Cotton Club
In the early 1920s, his drummer got a gig in New York. Duke decided to follow him. They built a profile playing in Atlantic City and around Harlem, starting to record, fueling the Harlem Renaissance.
His big break came in 1927, when he was asked to step in for an act at Harlem's Cotton Club. His performance that night in front of a well-heeled white audience was broadcast nationally – and he became a star.
Fast-forward 80 years, jazz fans and big-pocketed auction hounds were flocking back up to the area.
It is not a popular spot for auctions.
Arlan Ettinger, one of the world's most prominent auctioneers who pioneered Guernsey's Ellington event, said he felt the location added a sense of nostalgia to the event.
'To anyone´s knowledge this may be the first major auction held in Harlem,' Ettinger told DailyMail.com shortly before the event.
'The majority of the population is African American and when you think about it so many African American people are at the root of music.
His big break came in 1927, when he was asked to step in for an act at Harlem's Cotton Club (pictured around the same time). His performance that night in front of a well-heeled white audience was broadcast nationally – and he became a star
'And yet never has there been a major auction in this area.
'This museum is within 30 blocks of the Cotton Club where Ellington got his start. We could have conducted it in midtown where Christie's, Sotheby's, and even we normally hold ours. But we thought this was appropriate.'
One bidder paid $7,000 for the diamond-encrusted pocket watch Ellington bought for his father, then carried around with him every day after his father's death.
And another shelled out $7,500 for one of Ellington's many cherished – and incredibly flashy – tuxedos, embroidered by a tailor he personally selected from Chicago.
Ellington's white baby grand piano, the one he played in a 1957 Edward R Murrow documentary, remains on display at the museum.
---