---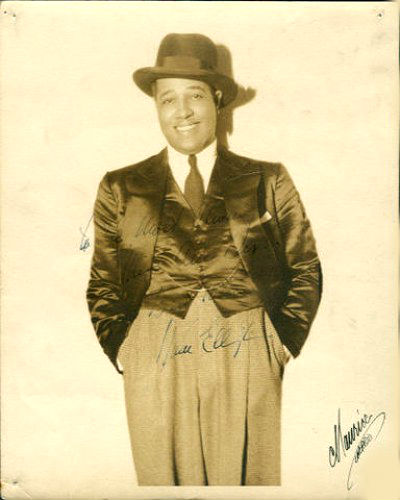 A photograph of the very elegant of Duke Ellington, in this charming signed image reads in his personal inscription, "to the Most Charming Miss Alice Dixon Best Wishes Duke Ellington", 1930's.
At the time Alice Dixon was married to Jimmie Lunceford and was a dancer at the Cotton Club, she was considered by many at the time to be the most beautiful woman in Harlem in the 1920's.
During the 1930's Ellington and his Orchestra connected with a whole different audience in a concert with Maurice Chevalier at the Roseland Ballroom, "America's foremost ballroom". Australian-born composer Percy Grainger was an early admirer and supporter of Ellington.
He wrote
"The three greatest composers who ever lived are Bach, Delius and Duke Ellington. Unfortunately Bach is dead, Delius is very ill but we are happy to have with us today The Duke". 
Ellington's first residency at the Cotton Club concluded in 1931, he worked on Symphony in Black (also 1935), a short film, featuring his extended piece 'A Rhapsody of Negro Life'. It introduced Billie Holiday, and won an Academy Award as the best musical short subject. Ellington and his Orchestra appeared in the features Murder at the Vanities and Belle of the Nineties (both 1934). In 1937, he signed on with the prestigous William Morris Agency. Billy Strayhorn, originally hired as a lyricist, began his association with Ellington in 1939. Ellington showed great fondness for Strayhorn and never failed to speak glowingly of the man and their collaborative working relationship.
Duke's laid back swagger, his "charming" way of greeting fellow artists and that million dollar smile made him the epitome of Harlem Style then and now.
Find more Harlem history here.
By "the photographer to the celebrities," brothers Maurice and Seymour Zeldman (source).
Related Articles
---