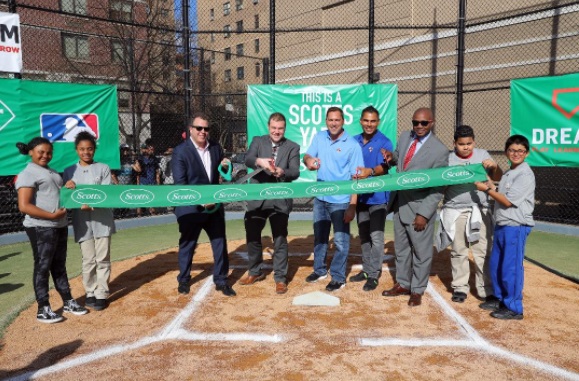 DREAM, along with Major League Baseball and The Scotts Company LLC (Scotts), celebrated the newly refurbished Field of Dreams with a ribbon-cutting in East Harlem, New York yesterday.
The official ribbon-cutting ceremony for the newly refurbished field was attended by: DREAM's Executive Director Rich Berlin, MLB Network's Mark DeRosa & Carlos Peña, MLB Vice President of Community Affairs Tom Brasuell and representatives from Scotts. After the ribbon-cutting ceremony, the Cal Ripken Sr. Foundation led a baseball clinic on the new field for 50 young athletes who participate in DREAM's program and charter school.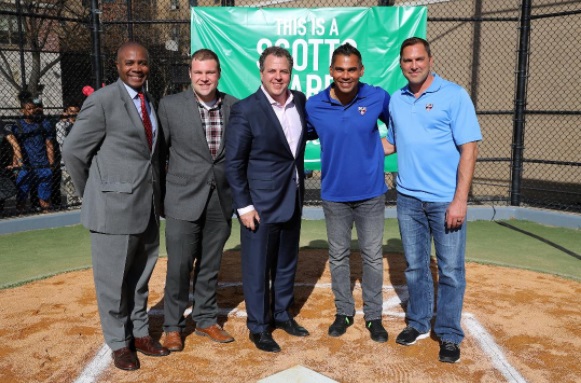 "For over 26 years, this field has been a beacon in this community, a safe place where kids can come to play, learn, and grow season after season," said Rich Berlin, Executive Director of DREAM. "We're honored that Scotts and MLB have teamed up to help us keep it the beautiful field that our community deserves for years to come."
DREAM is one of four community organizations around the country that are receiving improvements to their local ball fields through an inaugural grant initiative that is part of the Scotts® Field Refurbishment Program. DREAM was selected from over 350 grant applications across 315 cities in 43 states seeking refurbishments for their youth fields. DREAM and the three other grant recipients were chosen by a special blue-ribbon panel which included two-time World Series champion & ESPN analyst David Ross, Olympic Gold Medalist & MLB Youth Softball Ambassador Jennie Finch, World Series champion & MLB Network analyst Cliff Floyd, MLB Senior Vice President of Baseball Operations Kim Ng, Scotts Vice President & General Manager Josh Peoples and additional executives from MLB and Scotts.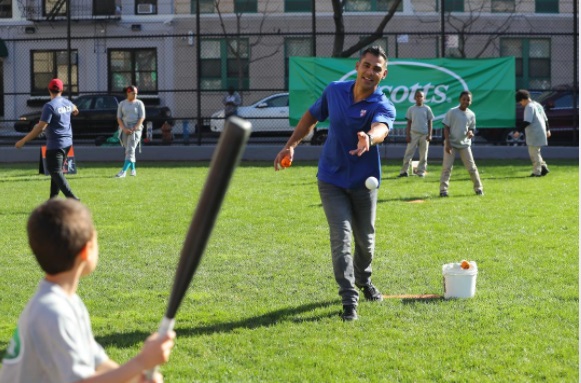 "These field refurbishments are just one way we can give back to youth and communities across the country," said Josh Peoples, Vice President and General Manager of Scotts. "Encouraging fans and family to get outside and enjoy activities like baseball is what this program is all about."
The Scotts® Field Refurbishment Program provides youth with modern, playable baseball and softball fields in American communities of need. The program, now in its third year, is a partnership between Scotts, MLB and its Clubs to give back to kids and communities around the country by renovating youth baseball and softball fields.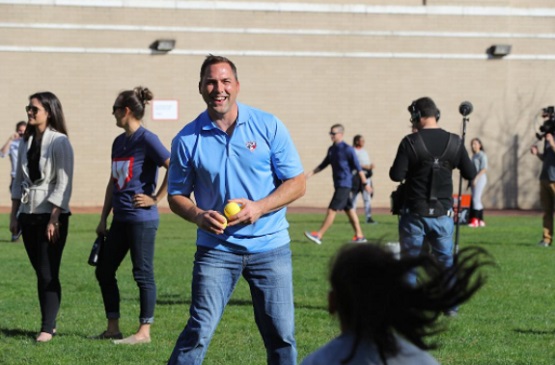 The Scotts® Field Refurbishment Program is one of the key programs under MLB's PLAY BALL initiative, which began in 2015 to encourage widespread participation in all forms of baseball and softball activities, especially among youth. Scotts is a supporter of PLAY BALL and also the title sponsor of Scotts® MLB Pitch, Hit and Run – MLB's largest national youth skills competition.
DREAM serves more than 2,200 youth each year through its comprehensive in-school, after-school, and summer programs in East Harlem, the South Bronx, and Newark, NJ. In 1991, a group of volunteers cleared an abandoned lot into a baseball field on 100th Street in East Harlem and it is known today as the Field of Dreams. Today the Field of Dreams serves as the home of year-long practices, games, tournaments and special events in the heart of New York City. The wear, tear, and erosion have accumulated over the years and has impacted the experience of participants and usability of the field. This renovation, made possible through Scotts and MLB, has supplied necessary and significant infrastructure repairs that will allow greater use of the field for years to come.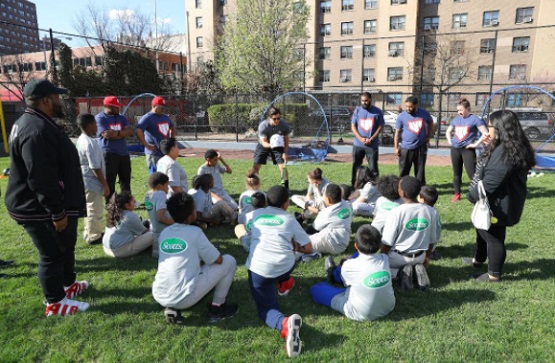 Scotts is now in its ninth season as the Official Lawn Care Company of Major League Baseball and third season as an official partner of the PLAY BALL initiative.
DREAM, 1991 Second Ave New York, NY 10029, 646.518.0724,wearedream.org
Related Articles