---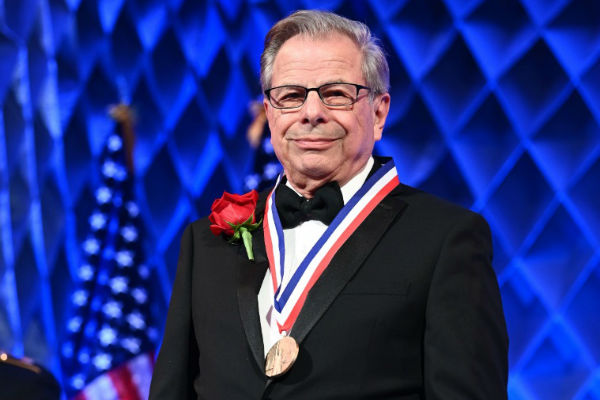 Dr. Samuel Waxman, Founder, and CEO of the nonprofit organization Samuel Waxman Cancer Research Foundation (SWCRF) was one of the medalists at the 34th annual Ellis Island Medals of Honor Ceremony, hosted by the Ellis Island Honors Society (EIHS). The event, which was held in Ellis Island's Great Hall, recognized ninety-four medalists for their leadership and service within their communities and professions while exemplifying the values of the American way of life.
Notable attendees included: Marion and Dr. Samuel Waxman, television personality Dr. Mehmet Oz, award-winning recording artist Paula Abdul, former Google Chairman Eric Schmidt, U.S. Representative Adam Schiff, IBM CEO Ginni Rometty, CNN Correspondent Dr. Sanjay Gupta, television personality Montel Williams, New York Times columnist Bret Stephens, Washington Post columnist Jason Rezaian, Executive Director of the U.N. World Food Programme David Beasley, Mastercard President and CEO Ajay Banga, Ellis Island: The Dream of America composer Peter Boyer, and more.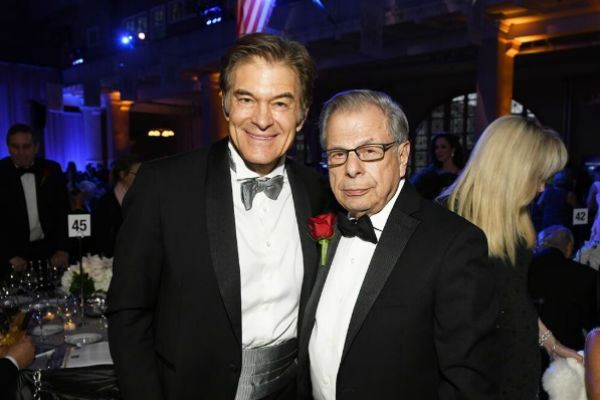 The night began with a poignant introduction by EIHS Chairman Nasser Kazeminy and the Masters of Ceremony, journalists Marvin Scott and Tamsen Fadal.
"Tonight, we celebrate an extraordinary group of Americans. They are educators, healers, scientists, artists, thinkers, and leaders of industry – all of whom are free to follow their passions and dreams to benefit America and the world," said Nasser Kazeminy, Chairman of the Ellis Island Honors Society. "Medalists, you represent the best of America, both its glorious past and its bright future. America needs your innovation, leadership, and vision.
"You can still feel the joys and sorrows of these American heroes in these hallowed halls. Who among us does not feel a sense of compassion when we think of their struggle? How can we not admire their perseverance? We must never lose that empathy. That compassionate spirit is the cornerstone of democracy and humanity."
Eric Schmidt, the former CEO of Google, opened the evening of honoree speeches by stating, "Openness to immigration drives everything." Going back to his Silicon Valley roots, he pointed out that "more than half the people in Silicon Valley are foreigners…if you are open to people coming from different places, you're bringing in the biggest and brightest."
As the night progressed, honorees reflected on what it means to them to live the American dream and the journeys of their families to start a life in America.
Recording artist Paula Abdul defined her American dream as having the ability to inspire people with her artistry.
Dr. Sanjay Gupta reflected on the fact that his parents are the reason for him being able to live his American dream. "Fleeing from Lahore as a refugee, my mother spent the rest of her life feeling as if at any moment her life in America would be taken away," he said. "But she didn't let this stop her from becoming the first woman automotive engineer in the United States, which pushed me to become who I am today."
IBM CEO Ginny Rometty paid homage to female figures in her family that paved the way for her to live her American dream. "My great grandmother, grandmother, and mother were three strong women who taught me only you define who you are, no one else."
To close the evening, U.S. Representative Adam Schiff reminded us that the day we cease to welcome the world to the shores of America is the day that we cease to be a beacon of hope and lose what it means to be American.
The 34th Ellis Island Medals of Honor black-tie gala was held in Ellis Island's Great Hall, the original registry room and the gateway for 12 million immigrants to the U.S, where medalists received and celebrated their awards in front of an iconic view of the Statue of Liberty and the Manhattan skyline.
The Ellis Island Medal of Honor ranks among the nation's most renowned awards. The U.S. Senate and House of Representatives have officially recognized the Ellis Island Medals of Honor, and each year the recipients are listed in the Congressional Record.
Check out the full list of 2019 recipients here.
Samuel Waxman, M.D. is the Distinguished Service Professor, Icahn School of Medicine at Mount Sinai, Honorary Professor, Shanghai Jiao Tong University, and Founder and CEO of the Samuel Waxman Cancer Research Foundation (SWCRF).
Dr. Waxman is a first-generation American and New Yorker. His parents immigrated to the U.S. from Europe and initially settled in Brooklyn, where he was born. He was raised in Long Island and educated in New York State earning a B.S. from Cornell University and his M.D. from State University of New York Downstate Medical Center, where he graduated Summa Cum Laude.
Dr. Waxman has dedicated his entire career as an oncologist/hematologist to developing minimally-toxic therapies to improve the lives of cancer survivors worldwide. In the late 1970s, Dr. Waxman established a trailblazing research collaboration with scientists in China that continues to this day. In collaboration with scientists in China and around the globe, Dr. Waxman created a novel treatment to reverse cancer cell behavior, which cured a form of acute leukemia that once was 100 percent fatal. In September 2018, the People's Republic of China honored Dr. Waxman with the Friendship Award for his contributions to cancer research.
Convinced that collaboration brings faster cures to patients, Dr. Waxman founded the SWCRF and its unique concept of the Institute Without Walls to bridge the gap between the bench and bedside. The more than 200 scientists funded by the SWCRF have made significant breakthroughs in cancer research, including identifying pathways to deliver drugs and novel therapies to treat cancer.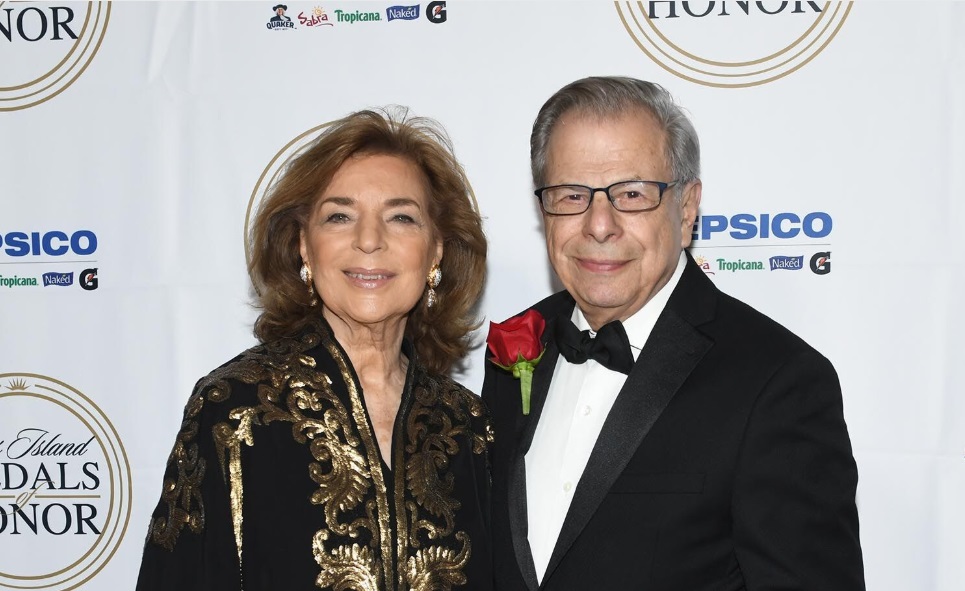 The Samuel Waxman Cancer Research Foundation is a 501(c)3 nonprofit organization dedicated to curing and preventing cancer. The Foundation is a pioneer in cancer research and its mission is to eradicate cancer by funding cutting-edge research that identifies and corrects abnormal gene function that causes cancer. This research is the basis for developing minimally toxic treatments for patients. Through the Foundation's collaborative group of world-class scientists, the Institute Without Walls, investigators share information and tools to speed the pace of cancer research. Since its inception in 1976, the Samuel Waxman Cancer Research Foundation has awarded approximately $100 million to support the work of more than 200 researchers across the globe.
The Ellis Island Honors Society (EIHS) was founded in 1986 at the behest of President Ronald Reagan with the goal of commemorating the significant role immigration and the immigrant spirit has played in the founding and growth of America. EIHS supports several national educational programs for young people of all ethnic backgrounds. In addition, EIHS organizes and supports programs that celebrate the contributions of immigrants and their progeny make to America. Every year, EIHS recognizes dedicated members in our community with the Ellis Island Medals of Honor, which embody the spirit of America in their celebration of patriotism, tolerance, brotherhood, and diversity. They are presented each year on historic Ellis Island to a select group of individuals whose accomplishments in their field and inspired service to our nation are worthy of commendation.
For more information on SWCRF, visit: www.waxmancancer.org
Photo credit: 1) Dr. Samuel Waxman. 2) Dr. Mehmet Oz and  Dr. Samuel Waxman. 3) Marian and Dr. Samule Waxman. By Noam Gala via Getty Images.
---