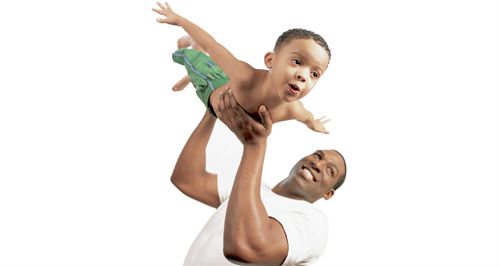 Dr. Randi Nelson
According to the NYC Department of Health and Mental Hygiene, the life expectancy for New Yorkers is at an all time high, with life expectancy at 79.4 years. However, according to this report, men continue to die six years younger than women, 76 vs 82 years with more than 1/3 of deaths among NYC men occurring before the age of 65. Let's forget about statistics for a moment, take a look at your family, how many men past away before the age of 65? I know in my family the majority of men died before 60 much less 65!! Why is this the case? And what can be done about it?
Difference in mortality can be contributed to at least three reasons; social, biological/genetics and behavioral. Social and biological/genetics account for 30%, whereas behavioral accounts for the rest. This means that many of the ailments/habits that afflict men are preventable. The top three leading causes of death among all men, including men of color, are heart disease, cancer and accidents. There are many reasons that account for this. First women are more likely to visit a doctor then men.  Men will more likely ignore symptoms and not seek care until it is too late.  Men or anyone else fearful of doctors, will be at a significant disadvantage because many diseases or health abnormalities are picked up during routine visits.  Second, men have a tendency to drink more alcohol and smoke more than women which means that they are more than twice as likely to die from chronic liver disease, cirrhosis and cardiovascular (heart) disease.  Also men are also two to four times more likely than women to die prematurely from unintentional injury, homicide, and suicide.
Prevention
As noted, many of the health ailments that affect men, are preventable. The Center of Disease control has compiled a list of lifestyle changes that can be carried out.
Heart disease and Stroke
Don't smoke PERIOD. Smoking is probably the worst thing one can do to his body. It affects every part of your body including your lungs, blood vessels and your heart.
Eat a healthy diet rich in vegetables, fruits, whole grains, fiber and fish. Cut back on foods high in saturated fat and sodium.
Have your cholesterol or blood pressure checked regularly and follow your doctor's treatment recommendations. Have your cholesterol checked regularly starting at age 35. If you are younger than 35, talk to your doctor about whether to have your cholesterol checked if you smoke, have diabetes, or if heart disease runs in your family.
Exercise and maintain a healthy weight.
Drink alcohol in moderation only. If you or family members believe you have a problem with alcohol, seek help from organizations such as Alcoholics Anonymous.
Manage stress because it can raise blood pressure and affects your overall well being. Do not be afraid to seek help when needed.
Cancer
According to the American Cancer Society, lung cancer is the leading cause of cancer deaths among men, mostly due to cigarette smoking.  Lung cancer is followed by prostate cancer and colorectal cancer.  To prevent cancer:
AGAIN don't smoke!! Cigarettes or any other tobacco product. Smoking leads to lung cancer.
Limit your sun exposure. When you're outdoors, use sunscreen to prevent skin cancer.
Consult your doctor for regular cancer screenings: Colorectal cancer screening begins at age 50, unless earlier screenings are recommended based on family history, medical history and lifestyle. In some cases, colorectal screening tests can detect abnormalities such as polyps, before they have a chance to turn into cancer. Removing polyps in the colon and rectum prevents colorectal cancer from developing. Seek a doctor if you notice a change in urinary habits. Have regular prostrate exams (digital rectal examinations).
Injuries
The leading cause of fatal accidents among men is motor vehicle crashes, according to the CDC. To reduce your risk of a deadly crash:
Wear your seat belt.
Follow the speed limit.
Don't drive under the influence of alcohol or any other substances.
Don't drive while sleepy.
Type 2 diabetes
Type 2 diabetes, the most common type of diabetes, affects the way your body uses blood sugar (glucose). Possible complications of type 2 diabetes include heart disease, blindness, nerve damage and kidney damage. To prevent type 2 diabetes:
---
---
Lose excess pounds, if you're overweight.
Eat a healthy diet rich in fruits, vegetables and low-fat foods.
Exercise!
And if you have Type 2 diabetes; remember it can be controlled with a combination of lifestyle changes and medical management. Start with a team including your personal doctor, an endocrinologist, ophthalmologist and a nutritionist/dietician. You should get an eye exam at least once a year or more to monitor diabetic eye disease. Remember to keep blood pressure and cholesterol levels under control as well as checking for cuts and cracks on your feet. A small cut on the bottom of your feet can fester into a large gangrenous foot, due to poor  nerve sensation and blood circulations.
Suicide
Suicide is another leading men's health risk. An important risk factor for suicide among men is depression. If you think you may be depressed, consult your doctor because treatment is available. If you're contemplating suicide, call for emergency medical help or go the nearest emergency room. You can also call the National Suicide Prevention Lifeline at 800-273-TALK (800-273-8255). www.suicidepreventionlifeline.org
Kidney disease
Kidney failure is often a complication of diabetes or high blood pressure. If you have diabetes or high blood pressure, follow your doctor's treatment suggestions. In addition:
Eat a healthy diet. Limit the amount of salt you consume.
Include physical activity in your daily routine.
Lose excess pounds, if you're overweight.
Take medications as prescribed.
Men it is important to reverse these mortality trends in our society.  Begin by finding a doctor you trust and implementing some of the lifestyle changes noted above. Women take your men to the doctor. Step in if he is reluctant to visit a doctor for regular preventive checkups.  Make it a family affair. Attend doctor appointments with your significant other and help implement these changes in him and your family. These small changes will increase men's odds for a longer and healthy life.
Related Articles
---