---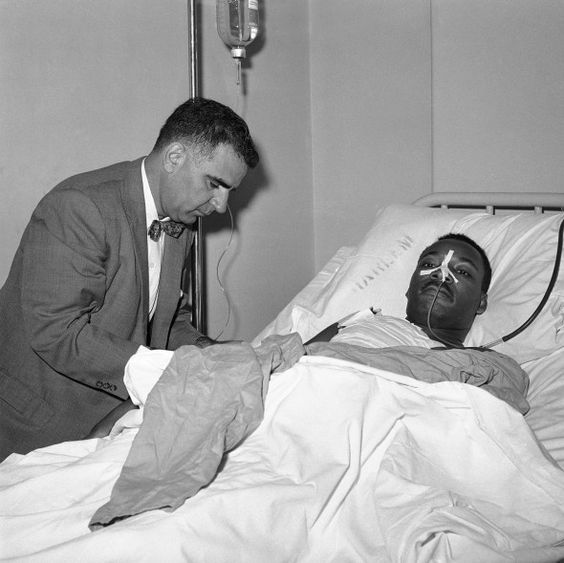 In 1958, Dr. Martin Luther King, Jr. was still basking in the glory of his legendary triumph that ended the thirteen-month Montgomery bus boycott he had led: the U.S.Supreme Court's 1956 decision to desegrate buses in Montgomery, Alabama. His first book Stride Toward Freedom, was about to be released and the decision was made to bring Dr. King to New York for a book tour. This was an election year, with Rockefeller and Harriman both vying for the Black vote that would eventually elect one of them governor.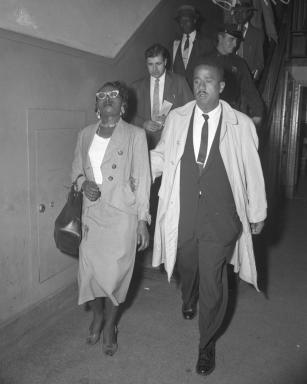 On September 20, in 1958, Dr. King, visited Harlem for a book signing where he was stabbed with a six- to eight-inch blade with a pearl handle Japanese penknife letter opener. Dr. King was stabbed by Izola Ware Curry, a 42-year-old unemployed black woman dressed in "baubly earrings, sequined spectacles, and a blue raincoat," who lived on the top floor of a tenement house at 121 W. 122nd Street in Harlem. She stabbed Dr. King at the Jewish-owned department store Blumsteins Department Store, Harlem's largest on 125th Street at a book-signing table set up in the back of the shoe department. Some say the signing at Blumsteins was considered a "snubbing" of Harlem 's leading black bookseller the National Memorial African Bookstore owned by Lewis Michaeaux.
In veteran journalist Hugh Pearson's book When Harlem Nearly Killed King, writes about what may have led to Ms. Curry's actions. One, Curry's "belief that the NAACP was controlled by Communists," her feeling that "Communists were running things in every civil rights organization." Also, she "detested Negro preachers," Ms. Curry felt they were "flimflam artists who pimped the community.' In addition, "that boycotts and protests led by Negro ministers were a sham and that rather than follow them into protests, Negroes should appeal directly to Congress to change racial laws." Thus in Curry's mind, "MLK was a young minister pimping the community for the benefits of Communists."

Dr. King was taken to Harlem Hospital where the hospitals most acclaimed African-American surgeon, Dr. Aubre Maynard, the chief of the surgeons who claimed he "saved" King (she was one of Harlem Hospital's first black interns and its first black chief surgeon). "If you had sneezed during all those hours of waiting," Dr. Maynard said, "your aorta would have been punctured and you would have drowned in your own blood."
On September 30, 1958 while still in Harlem Hospital Dr. King made a statement forgiving Ms. Curry and calling for non-violence in the civil rights movement. Here are some of his words:
… The experience I had in New York gave me time to think. I became convinced that if the movement held to the spirit of nonviolence, our struggle and example would challenge and help redeem not only America but the world. It was my hope that we would remove from our souls the shackles of fear and the manacles of despair, and move on into the uncertain but promising future with the faith that the dawn of a new day was just around the horizon….

Izola Curry was found to be mentally incompetent to stand trial and was committed to Bellevue Hospital, where she was diagnosed as a paranoid schizophrenic and committed to Matteawan State Hospital for the criminally insane. After Izola Curry's commitment to Matteawan nothing more is known of her life. If she has died, her date of death and burial site are unknown.
Related Articles
---