---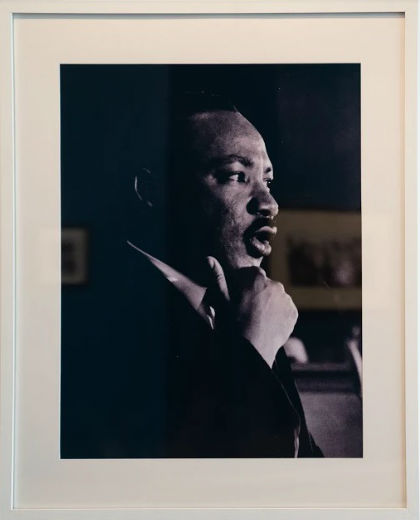 With Crusader: Martin Luther King Jr., the Schomburg Center for Research in Black Culture presents an intimate photo travelogue of Dr. Martin Luther King Jr. as an ideological pilgrim, global citizen, traveler, and friend.
The new exhibition, on view from January 15, 2019 through April 6, 2019 in the Schomburg Center's Latimer/Edison Gallery, navigates King's month-long pilgrimage to India, his acceptance of the Nobel Peace Prize in Oslo, Norway, and offers candid images of King during the Civil Rights Movement by renowned photographers Moneta Sleet, Jr., Austin Hansen, Robert Sengstacke, and Ben Fernandez.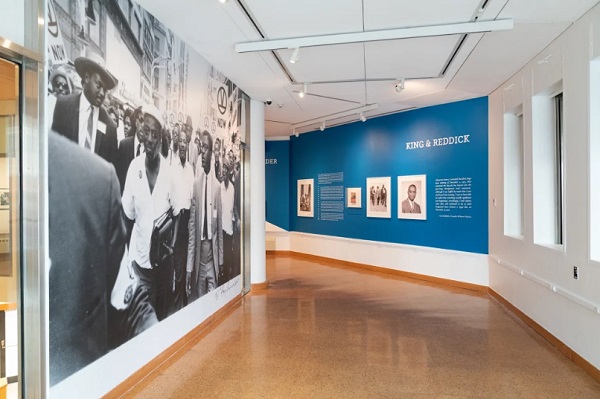 Curated by Novella Ford, Associate Director of Public Programs and Exhibitions at the Schomburg Center, Crusader follows King on his travels through India, inspired by his curiosity of and adherence to Gandhi's philosophy of nonviolent resistance. It was on this trip that King's ideological commitment to nonviolence was strengthened and reinforced, eventually leading him to the Nobel Peace Prize honor in Oslo, Norway. Photographs from the ceremony are also in the exhibition.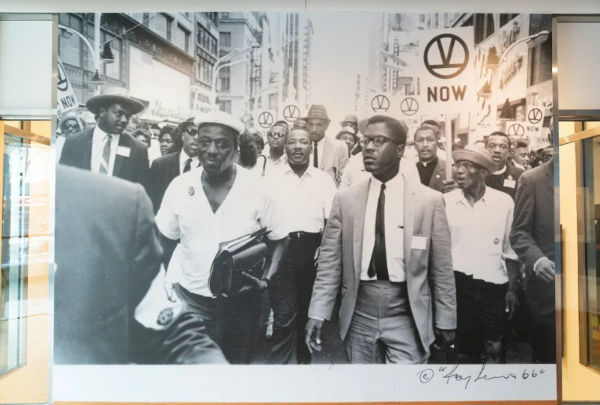 Exhibition photographs also offer a behind-the-scenes look into King's travels with his wife, Coretta Scott King, Ralph Abernathy, Dorothy Cotton, and colleagues like biographer Lawrence Dunbar Reddick, all of whom often accompanied him as travel companions. Lawrence Dunbar Reddick also served as the second curator of the Schomburg Collection until 1948 after Arturo Schomburg's death in 1939. These photos capture personal moments of conversation and camaraderie between King and his most trusted confidants as he carried his message of peaceful revolution across America and around the world.
"Most of the popular photography we see of Dr. King, positions him as preacher and icon in the Civil Rights Movement, as he certainly was. But through this exhibition, we see King as a philosopher in search for greater understanding of the ideas that shaped his personal crusade against racism in America," said Kevin Young, director of the Schomburg Center. "In this exhibition, we see King beyond constraints of the American narratives within which he has been so often placed. It was from outside of these boundaries that he would solidify the philosophy that transformed him and that he would use to transform America and the world."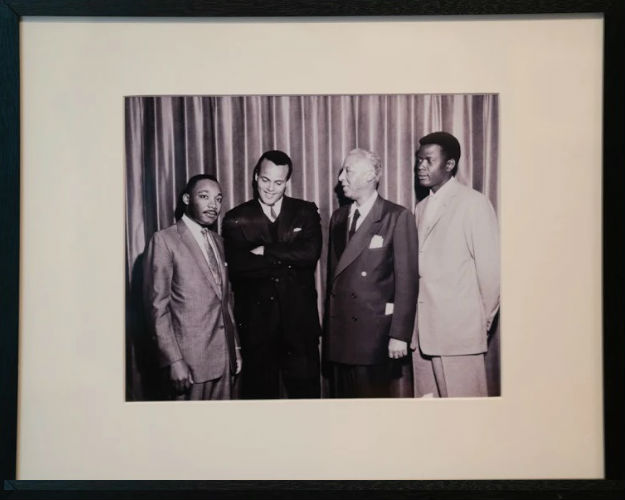 "When we think about our heroes and icons, we sometimes forget or take for granted that they too are human, with hopes, curiosities, personal affections, and concerns. King is so often credited with and revered for influencing us, but Crusader offers us the chance to reflect on the people, ideas, and experiences that influenced him," said Novella Ford, associate director of public programs and exhibitions at the Schomburg Center. "In Crusader, we see King as both student and teacher, famous and familiar, as he traveled with the people who knew him and who were able to know him with greater intimacy than others have had the privilege to be allowed."
This exhibition coincides with the 60th-anniversary republication of Crusader Without Violence: A Biography of Martin Luther King Jr. by Laurence Dunbar Reddick, the first profile of the young leader before his rise to global prominence as a civil rights icon. The Between the Lines: Crusader Without Violence public program will follow the exhibition opening at 7 PM.
Photo credit: 1-4) Dr. Martin Luther King, Jr, and others. Via Schomburg Center for Research in Black Culture.
---