---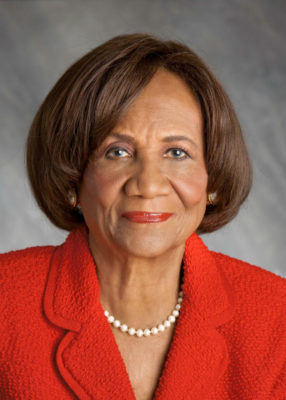 Touro College of Osteopathic Medicine (TouroCOM) is holding a Tenth Anniversary Gala on December 6, 2017 at 6:30 p.m. at the Schomburg Center for Research in Black Culture in Harlem. The Gala is celebrating the building of the school and the contributions of its founders, who opened it in 2007 with a mission to educate underrepresented minorities (URMs) and serve the underserved.
The festive occasion will honor TouroCOM's founders and founding members of its Community Advisory Board (CAB). The CAB has provided guidance to the school and served as a liaison between the Harlem community and the College to help TouroCOM meet its goals. Among its key accomplishments are the establishment of a scholarship fund, which has raised more than $170,000 and resulted in 15 student scholarships.
All proceeds from the Gala will benefit the TouroCOM Underrepresented Minority Fund, to give these students the opportunity for a medical school education.
Dr. Hazel Dukes, President of the NAACP New York State Conference, is among the founding CAB members to be honored. A Harlem resident who chaired the local Community Board when the school was founded, Dr. Dukes was well aware of the health disparities in the community and the need for a successful medical school in Harlem to address them.
"They have lived up to their mission and goals for our community and made sure that  TouroCOM includes students from every race and especially those from the minority communities," Dr. Dukes said, adding, "They continue to engage the community through participation in the Greater Harlem Community Chamber of Commerce health programs and the TouroCOM Annual Health Fair."
Commitment to Bringing Underrepresented Minorities into Medicine
Another founding CAB member/honoree, Michael Hardy, Esq., General Counsel/EVP of the National Action Network, Inc., praised TouroCOM's commitment to bringing URMs into the medical school and profession.
Statistics show TouroCOM has been successful in pursuit of its mission. According to the American Association of Colleges of Osteopathic Medicine, an average of 7.86 percent of students enrolled in osteopathic medical schools between the academic years 2009-10 and 2016-17 were URMs, whereas TouroCOM enrolled nearly double that number, enrolling an average percent of 13.98 URMs during the same time period. Since its inception, the school has graduated 112 DOs (Doctor of Osteopathic Medicine) who are URMs. Additionally, over half of TouroCOM's 700 graduates have gone on to become primary care physicians and/or family practitioners, many in underserved communities.
" TouroCOM has provided an avenue for underrepresented minority students through both the medical school's DO program and its master's pipeline program, for underrepresented minority students to live out the dreams of themselves and their families," Mr. Hardy said.
TouroCOM also mentors and conducts outreach with local high school students to instill in them an interest in math and science and to prepare them for careers in the health sciences. Last year the College received the 2016 Health Professions Higher Education Excellence in Diversity (HEED) Award from Insight Into Diversity magazine. In 2015 the school received the "Spirit of the Heart" Award from the Association of Black Cardiologists for eliminating cardiovascular disease disparities in the delivery of healthcare, and received an NAACP Community Service Award for increasing the number of underrepresented minorities in medicine.
Other founding CAB members being honored at the Gala are:
Geoffrey E. Eaton, President, NAACP Mid-Manhattan Branch, former Chief of Staff to Congressman Charles B. Rangel
The Hon. C. Virginia Fields, President and CEO, National Black Leadership Commission on AIDS, Inc. and former Manhattan Borough President
Walter J. Edwards, CEO of Full Spectrum of N.Y., LLC.
Also being honored are TouroCOM's founders:
Martin Diamond, DO, FACOFP, Founding Dean
Jay Sexter, PhD – Founding CEO
Thomas J. Monahan, M.A., Past Executive Secretary, N.Y. State Board of Medicine
Sheldon Sirota, of blessed memory, DO, FACOS
Dr. Bernard Lander, of blessed memory, Founder and First President, Touro College
For further information on Touro College, please go to: www.touro.edu/news
Related Articles
---