---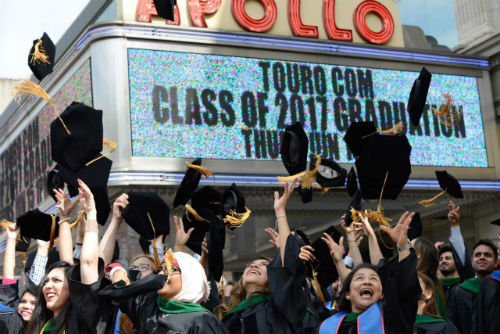 Touro College of Osteopathic Medicine (TouroCOM) conferred diplomas upon 131 candidates for the doctor of osteopathic medicine (DO) degree last Thursday at festive ceremonies held at the famed Apollo Theater in Harlem. The packed event included numerous awards and accolades, entertainment from three top-flight tenors, and the commissioning of six military students by Retired Major General, United States Army, Philip Volpe, DO.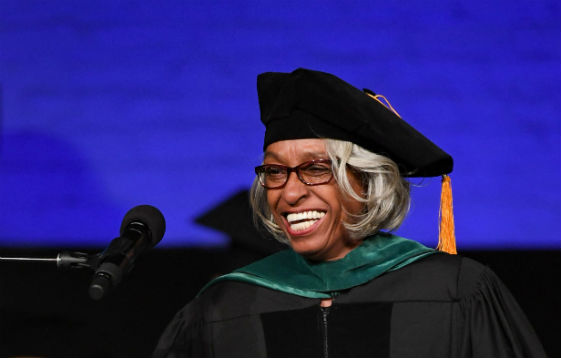 Keynote speaker and pioneer in medicine Dr. Barbara Ross-Lee (above), retired Vice President of Health Science and Medical Affairs at New York Institute of Technology College of Osteopathic Medicine/Consultant Minnesota College of Osteopathic Medicine, reminded the graduates that they are embarking on a "high calling with awesome responsibilities."
Close to three-fourths of the class will become residents in primary care, which includes internal medicine, pediatrics, family medicine and OB/GYN. With the responsibilities will come expectations, and trust in what the new doctors will provide, she noted.
A pioneer for women and minorities who was the first African-American woman to be named dean of a medical school, Dr. Ross-Lee has had a huge impact on the osteopathic medical profession as a physician and leader. She advised the graduates to be wise, do the best they can, use common sense, continue to learn, and to be proud and confident that the contributions they will make as osteopathic physicians will be distinctive and significant.
"Osteopathic medicine has succeeded against all odds to contribute something valuable to healthcare," said Dr. Ross-Lee. "You are this profession's future. Enhance it and guard it well, because we bring important and valuable perspectives to healthcare. American medicine would be diminished without osteopathic medicine. You hold the future in your hands."
Be Humble and Have Empathy
In offering their congratulations, both Dr. Kenneth Steier, TouroCOM Executive Dean and Dr. Martin Diamond, Interim Dean and Dean Emeritus, emphasized the importance of empathy. "Everyone is born with the capability of feeling empathy. Your success as a physician depends on how well you develop the skill of applying it," said Dean Steier. "Resolve to be humble and empathetic."
Dean Diamond commended the graduates for performing with grace under pressure. "We hope that you will remember TouroCOM's osteopathic roots as well as its mission to serve the underserved."
Student of the Year: "You may be the answer to someone's prayers"
Numerous student awards were presented. DO Student of the Year went to Payal Aggarwal for outstanding service to the school, leadership, research and dedication to the profession. She was also chosen to give the student address to the class. In her remarks, she shared the recent experience of her father's admission to the hospital – an event she said taught her more than the hours of lectures of medical school.
"The only thing that helped during that stressful time were the doctors who had a positive attitude, who made it a priority to listen to my dad and who took the time to answer all the questions my family and I had. These doctors weren't faking compassion. They truly cared about their patients and made it known in their actions," said Aggarwal. "Going to the hospital is so routine for us that we often forget it is never normal for patients or their families to be there. Understand that after today, you will be the answer to someone's prayers and be part of the most intimate situations and decisions families will make."
The Dean's Award, for the highest academic standing, personal achievement, and success in academic studies and on clinical rotations went to Matthew Woodward. Chukwudi Onyemekwu received the Excellence in the Preclinical Years Award, and Norman Nicol won the Excellence in the Clinical Years Award. The Research Award went to Gregory McWhir, Westley Reinhert-McMillan, Daniel Gorman and Jacob McLean. The Excellence in Public Health Award went to Terry Tian and Daniel Barbash, while Shannon Caesar-Peterson received the Community Service Award from the Medical Society of the State of New York.
Related Articles
---