---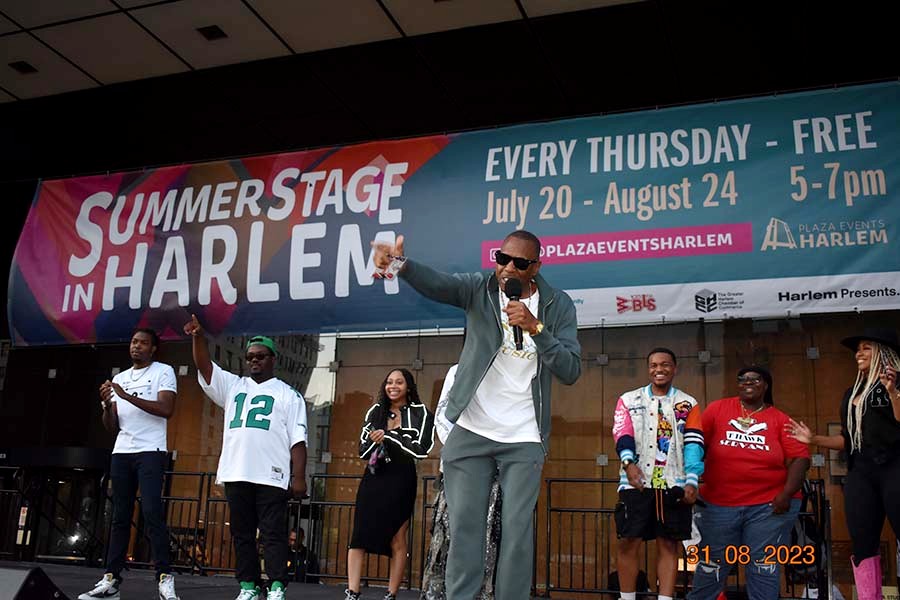 As we celebrate the 50th Anniversary of Hip Hop, we recognize Don Fryson, Founder and Chief Executive Officer/ 360 Entertainment International, LLC, for the origination of Clean Money Music™.
Which has positively impacted youth and communities over the past decade. Moving forward, Don Fryson has initiated "Hip Hop! Building the Next 50 Years Together" in collaboration with industry, business, media, and community leaders.
Concerned about the detrimental effects of negative references and stereotypes depicted of Black people in media and entertainment, particularly hip-hop music, Don Fryson decided to change direction in his life and work to solve systemic issues that plague our communities. In 2009, he formed 360 Entertainment International, LLC (360EI). Its mission is to Entertain, Educate and Empower.
In 2013, Don Fryson and his team consolidated with NewWorldStation.com, a digital music and media distribution platform that Ms. Shawn Shearer, Voza Rivers, Earl Harvey, and Abdul Malik Abbott developed. In 2022, the platform was redeveloped. Based on market trends, Don Fryson came up with the name UOhnit.com.
2023 marks the tenth Anniversary of Clean Money Music.
By producing, promoting, and presenting Clean AND Commercial hip hop, youth are inspired to achieve greatness against all odds — in forms they are most receptive to.
Suicide rates of Black youth are at an all-time high. This issue is critically important. Hip Hop is the #1 listened-to genre in the world.
"The use of foul language, violence, misogynistic images, and lyrics in hip-hop has created an environment that has undermined our communities for far too long. The purpose of the Clean Money Music movement is to bring a different dynamic to how people and the media perceive the hip hop artists and the communities they represent."
Clean Money Music has reached millions of households through countless promotions, television shows, radio programs, video footage, live-streamed events, articles, conferences, and more! Hundreds of artists, dancers, filmmakers, broadcasters, and performing artists are engaged in Clean Money Music productions. Highlights include:
Production of The SWAG (Students Who Achieve Greatness) Tour: performances in high schools throughout central Florida. Dance Kingdom TV show: hosted by youth, aired on Brighthouse Cable (Time Warner), viewed by five million households in Florida, Michigan, California, Indiana, and Alabama. Youth participants had to have a 2.0 GPA to audition.
"These shows gave impetus to youth across the region to study harder — and improved grades and regional test scores."
Clean Money Music Radio on WHPB 98.5 FM gained popularity and was named the #1 radio station in Orlando, Florida. The program featured independent artist showcases, interviews, community events aired remotely, and live freestyle competitions that had artists across the region coming in droves.
"…only use clean lyrics without N, B, or H words…."
Participants could only use clean lyrics without N, B, or H words, encouraging artists to be more creative in their lyrical content.
Many artists had yet to get a chance to be on the radio, and they desired performance opportunities Clean Money Music offered. So, they cleaned up their image and had fun live on the radio.
Clean Money Music also produced radio shows on WOTS 1220 AM Florida, BemoorRadio.com, Detroit, and RhythmAndSoulRadio.com / WHCR, New York City College.
With the support of Voza Rivers, executive producer of HARLEM WEEK, Don Fryson / Clean Money Music, he produced shows for HARLEM WEEK, NYC Marathon, Marcus Garvey Park, Harlem Summer Stage, Central Park / Harlem Meer Festival, Uptown Night Market, Bronx Night Market, the Multicultural Festival, Summer Breeze Festival Mt. Vernon, and many other venues. In addition, Clean Money Music artists recently performed on New York's WPIX channel 11.
Expanding upon this model, Don Fryson / Clean Money Music has initiated a national campaign titled "HIP-HOP! BUILDING THE NEXT 50 YEARS TOGETHER, in collaboration with community and business leaders: Danny Tisdale / Harlem World Magazine; Marko Nobles / Rhythm And Soul Radio; JT Thompson / Hip Hop Hall of Fame TV; Attorney / Professor Jordan Williams- Texas Southern University, CEO of TSU Entertainment Group, DJ MonieB Remnant Entertainment, and others.
The collaboration aims to create positive alternatives/balance to music directed toward our youth and present narratives that promote unity within our communities ― redefining the hip-hop culture.
"…committed to achieving a healthy balance of music and entertainment…"
It takes a village to raise a child. Collectively, we are committed to achieving a healthy balance of music and entertainment directed to multicultural youth across the United States and worldwide. If we don't do it, who will?
Please join us in this mission. Your donations or contributions will help us go a long way in Hip-Hop, Building The Next 50 Years Together!
For more information, visit us at cleanmoneymusic.com or inquire at info@360entertainmentcorp.com
Photo credit: Clean Money Music.
---