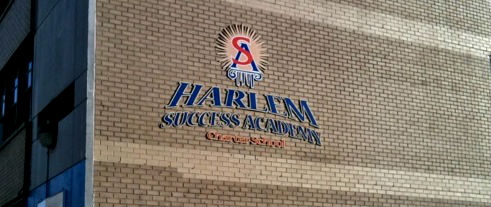 NY Post reports that school librarians are all but ­extinct in Harlem. The Department of Education has failed to provide librarians at 87 percent of Harlem schools that are legally required to staff them, according to a group of activists.
Education: The Public Good or The Individual Good? A Talk At Columbia In Harlem (Video)On Friday, March 24th, 2017, an education policy symposium held in celebration of the 35th anniversa…Apr 5 2017harlemworldmag.com
State education law mandates that schools serving kids in grades seven to 12 must have a librarian on staff to develop research skills.
"In a secondary school with an enrollment of more than 700 but less than 1,000 pupils, a certified school library media specialist shall devote the entire school day to school library work," the law states. For schools with less than 700 kids, a part-time librarian is required.
The Harlem Council of Elders, a community advocacy group, said that requirement goes all but ignored in their schools — and that 10,000 mostly black and Latino students are suffering for it.
---
Become a Harlem insider - Sign-Up for our Newsletter!
---
"This is crucial for their education," said Diane Tinsley of Community Education Council 5. "They don't have this fundamental skill — how to research. This is something kids in other areas know how to do because they have those resources."
WildlifeNYC Brings Animal Education From Harlem To HollisIn December 2016, you may remember Bambi, Rudolph And Maybe Dancer Scene In Harlem (pictured above),…May 8 2017harlemworldmag.com
Citing DOE data, CEC 5 found that 40 of the 46 schools in five Harlem districts that qualified for librarian staffing didn't have one.
In District 4, not a single school requiring the presence of a librarian staffed one.
Tinsley said Harlem students are receiving diplomas but end up lost at the collegiate level without some of the skills that a librarian could help to impart.
"They jump into college without these basic skills," she said. "A lot of them end up taking remedial classes and having to use up their financial aid to do so. It's a serious problem and no one seems to want to do anything about it."
The DOE suggested Friday that there's a shortage of certified librarians to staff city schools.
The Fabulous Alvin Ailey Spirit Gala 2017 Benefit Supports Education ProgramThe centerpiece of Alvin Ailey American Dance Theater's Lincoln Center engagement is The Ailey Spiri…May 26 2017harlemworldmag.com
"While there are challenges in identifying and hiring library media specialists in New York City and across the state, we'll continue our investments in libraries and students' reading skills," said DOE spokesman Will Mantell.
Mantell said that the DOE would be placing "reading coaches" in District 5 and 6 elementary schools but did not cite any imminent plans for the secondary school librarian drought.
The Harlem Council of Elders blasted the lack of a specific plan and said that their patience is wearing thin.
"This discriminatory practice is shameful, illegal, and must end immediately," the group said.
Related Articles
---
VIDEO
---
"Dr. Harry Delany is a renowned Harlem born and raised surgeon, the son of the great jurist and civil rights leader, Hubert Delany...." This monthly post is made in partnership with Harlem Cultural Archives.