---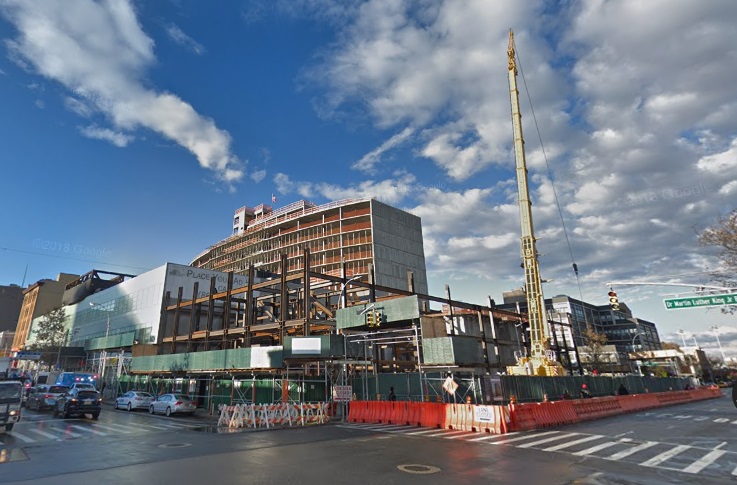 The Department of Buildings is pleased to announce that registration is now open for the agency's first-ever virtual New York City construction industry conference taking place September 21st-25th, 2020.
Build Safe | Live Safe Digital 2020: Safety, Innovation, & Sustainability. The conference will also showcase the proposals of the winners of our "Carbon Neutrality" and "Hack the Building Code" Innovation Challenges. See the full schedule and register to attend here.
"Unprecedented times have helped us accelerate our embrace of digital tools that help us to better serve our fellow New Yorkers," said Buildings Commissioner Melanie E. La Rocca. "We are thrilled to be able to invite the industry to take part in this virtual conference, where our expert guidance will highlight the things that make our city a national model. In addition, we'll be announcing the winners of our two innovation competitions, which are sure to harness the creativity of our industry partners."
In light of the ongoing public health crisis and limits on indoor capacity, DOB has postponed the in-person Build Safe | Live Safe conference until May 2021. Purchased tickets for the in-person event will be honored for the May conference. In lieu of the one-day event, registrants will have the opportunity to participate in a free, weeklong program. DOB encourages past Build Safe | Live Safe attendees and other industry professionals to sign up today.
Members of the public are now able to register to participate in DOB's virtual conference, Build Safe | Live Safe Digital 2020, which will run for one week from September 21st -25th and feature over 20 different presentations on construction safety and industry trends. The lineup of panelists will include presentations by the Buildings Commissioner and the winners of our "Carbon Neutrality" and "Hack the Building Code" innovation challenges. The two challenges will highlight new technologies to help cut carbon emissions from NYC's buildings and novel ideas to modernize the city's building code, respectively. During the week, a variety of key industry topics will be explored including: the NYC Safety Report Card, a review of the last 15 Years of Construction Incidents, Construction and Worker Safety, the NYC Energy Conservation Code and Sustainable Building Laws, Tenant Protection Plans, Accessibility, and much more.
"BTEA contractors always place safety first, and endeavor to work with the Department and Commissioner to create a culture of safety in the construction industry. We are pleased that Build Safe Live Safe will be occurring virtually, and will include the public. The information that participants gain from the panels and discussions is invaluable," said Louis Coletti, Building Trades Employers Association President & CEO.
"As we adapt to the presence of COVID-19, it's vitally important that we continue to provide digital venues where we can advance safety and sustainability. The Department of Buildings continues to create new and innovative ways to facilitate information sharing while highlighting best practices that will push our industry forward and continue to make New York City the model for advances in construction and safety," said Brian Sampson, President, Empire State Chapter of Associated Builders & Contractors.
"ACEC New York is always proud to support the efforts of the NYC Department of Buildings," said Jay Simson, President & CEO, The American Council of Engineering Companies of New York. "The 'Hack the Building Code' challenge is just one example of the innovation and forward-thinking that is not only laudable but also essential for the safety and well-being of all New Yorkers. The importance of the NYC DOB Virtual Industry Conference and the work on display within cannot be overstated, and we look forward to seeing the solutions that will shape the built environment of tomorrow."
"The Department of Buildings has worked tirelessly to help the real estate industry operate safely in these difficult times. It's critical industry leaders collaborate to advance smart, sustainable building initiatives and spur much-needed economic development. REBNY looks forward to participating in Build Safe | Live Safe Digital 2020: Safety, Innovation, & Sustainability and continuing to work with the Department to make our city safer and more sustainable in the years ahead," said James Whelan, President of the Real Estate Board of New York.
"Now more than ever, it is critical that New York's building industry is strong and we continue to build smartly and efficiently," said Carlo A. Scissura, Esq., President & CEO, New York Building Congress.
"Commissioner La Rocca's announcement that the annual Build Safe Live Safe conference will happen this month demonstrates DOB's commitment to maintaining normalcy is very abnormal times," said James Bifulco, President of the Construction Safety Advisory Committee of New York. "As the lead site safety professionals association in New York, CSACNY applauds DOB for taking the steps necessary to enhance safety, promote innovation, and implement new sustainability measures. New York City continues to lead the way, and we are proud to work with Commissioner La Rocca and the DOB team on achieving these goals."
"We commend Commissioner La Rocca and the DOB for continuing to find innovative ways to adjust to the challenges created by the pandemic and ensuring the annual Build Safe Live Safe conference occurs," said Veronika Sikorski, President of the NYC Special Riggers Association. "During these trying times, it is vital that we maintain our commitment to improving safety while implementing new ways of doing business that enhance efficiency and promote sustainability. We look forward to the upcoming conference."
Photo credit: new construction on 125th street Harlem NY.
---