---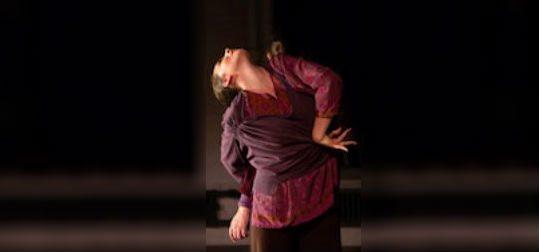 The Fort Tryon Park Trust and Drastic Action present "Dis/Location (Fort Tryon)," a 35-minute, sitespecific dance exploring the experience of immigration, performed on the rugged slope of the Billings Lawn. The program will also include two short dances about the immigrant journey created and performed by middle school students from City College Academy of the Arts, a largely immigrant school where Drastic Action teaches creative dance classes.
Performances will take place Thursday, June 16 and Friday, June 17 at 6:30 pm and Saturday, June 18 at 5 pm. Billings Lawn is located in the southern part of Fort Tryon Park (see map.) The nearest subway is the A train to 190th Street. The performance is free.
The company includes Nickemil Concepcion, Vladimir Campoy, Kaoru Ikeda, Hyunjin Kim,
Mengying Lin, Sameena Mitta and Darla Stanley. Costumes are by Jennifer Lee.
For generations Fort Tryon Park has been a refuge for immigrants. The neighborhood, once called "Frankfurt on the Hudson" because of the large population of German Jews during World War II, is now nicknamed "Quisqueya Heights," and has the largest Dominican community in the US. With "Dis/Location (Fort Tryon)," Drastic Action celebrates the history and beauty of the park and brings to light its often-unnoticed place in immigration history. The piece asks, "What does it feel like to lose your home?" "How does it feel to try to fit into a new culture?" "What are the rituals we use to create a sense of home?"
The dance is rooted in artistic director, Aviva Geismar's, experience as the child of a Holocaust refugee and in interviews she conducted with a range of New York City immigrants including: an 87- year old member of the French resistance, a nanny from Columbia and a graduate student from Croatia.
At the beginning of the piece, dancers huddle together at the top of a slope, completely encased in green canvas sacks. As their human forms emerge, an out-of-control momentum sends them rolling down the hill. Gradually the sacks take on a range of roles, acting as comforts, protections and even sacred objects, sanctifying the space. In a section exploring the awkwardness of trying to fit into a new culture, the sacks become unwieldy, oversized uniforms as the dancers soldier on through a bizarrely intricate movement drill. The stuttering rhythms and fragmentation of Darla Stanley's solo
express the fragile and unmoored feeling of losing one's home.
June 16-18, 2016 Thursday and Friday at 6:30 Saturday
ADMISSION – FREE Bring a lawn chair or blanket
5 Billings Lawn, Fort Tryon Park Washington Heights, New York, New York
No related posts found...
---