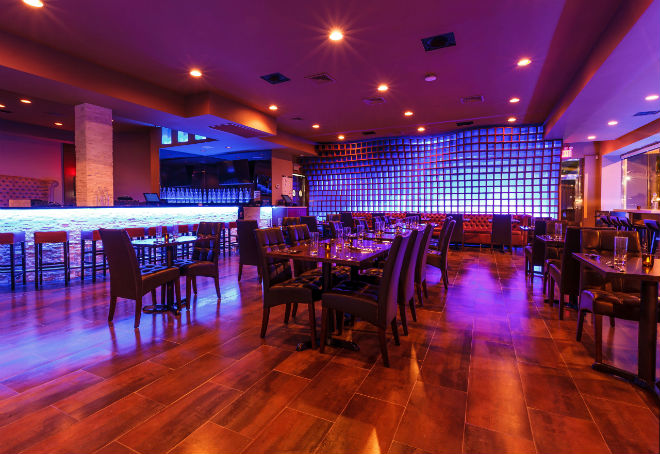 By Lil Nickelson
By The Hudson Restaurant & Lounge ("BTH") is appropriately named because it is physically located by The Hudson River is located at 712 West 125th Street in between 12th Avenue and Riverside Drive just before you make the left to head for West Side Highway's entrance ramp heading South. 
BTH is open for business seven days a week starting at 11 am and closing at 11 pm Sunday through Thursday and at 2 am on Friday and Saturday.  They can be reached by phone at 212 222-2841 and on the internet at www.bythehudson.com.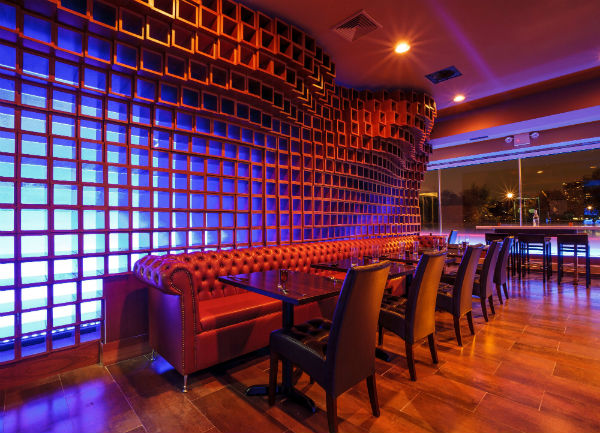 I initially heard about BTH through friends that had dined at the restaurant last winter, but I didn't make it to the restaurant until this summer after I had met Executive Chef Carlos Cartagena at the Stroll on the last day of the 1st Annual Harlem EatUp Festival in Morningside Park.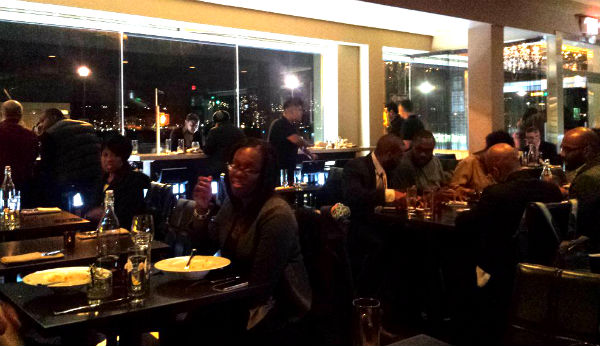 Upon entering BTH the interior décor is modern and sleek with a chic vibe that is quickly becoming the theme for most new restaurants opening up in Harlem.  The windows on the side facing the Hudson River and the view of the New Jersey skyline are large and span from the ceiling to the floor.  They can be fully opened to give an open air café feel, however, it would allow in the traffic noise that flows from the entrance ramp to the West Side Highway South during rush hour times.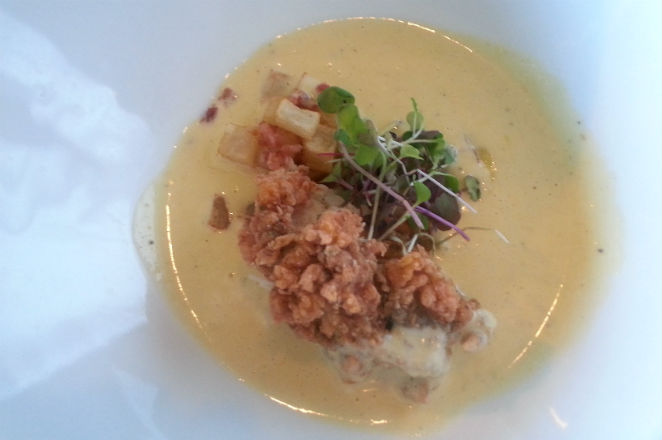 The hostess seated us and Chef Carlos came out to greet us as well.  Carlos is classically trained chef that grew up in the Bronx with broad range experience acquired from working in numerous high end, fine dining establishments in NYC.  He's pulled from all of these experiences to develop a very tasting and interesting menu at BTH.  The most creative and interesting thing about his menu is how it changes with the seasonality of ingredients and with each season.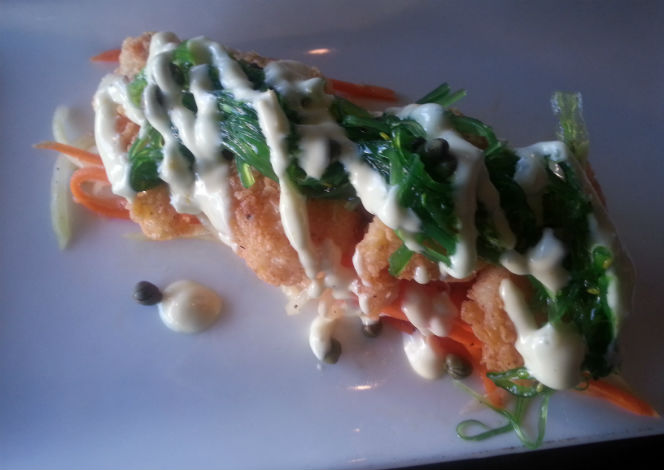 For our appetizers we had Clam Chowder, Catfish Tempura and Crab Cakes.  Chef Carlos personally served to us the Clam Chowder which looked like a modern, deconstructed version of clam chowder that had a fried oyster, crumbled bacon bits piled on top of a creamy broth that he poured into our bowls. The clams were the outstanding item you tasted in the creamy broth that was on the bottom of the bowl.  It was topped with the bacon and a fried oyster on top.  A small amount of micro greens garnished the top of the pile.  It was not only creative take on clam chowder that was delicious.  Can I admit had I been at home eating this dish I would have been licking the bowl to get every last drop of the clam broth; I mean it was that good.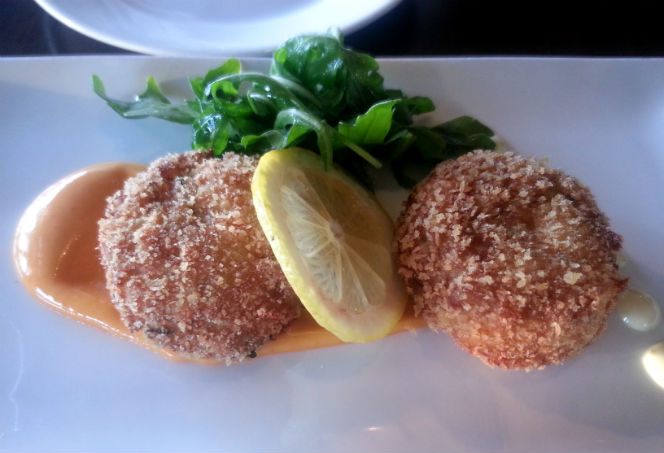 The Catfish Tempura we had was served on a bed of pickled julienned slices of vegetables: carrot, fennel, zucchini and jicama that was topped with sautéed seaweed salad and a creamy citrus aioli sauce.  The catfish was light and crispy, fried in a tempura batter (versus flour or corn meal).  The taste of the catfish along with the crunchiness of the pickled vegetables gave this appetizer a wonderful light taste with a lot of flavor.  When I recently visited the restaurant's web site I see that Chef Carlos is now pairing the catfish with papaya salad and carrot slaw with a sweet chile sauce.  This switching up of ingredients is what I was speaking about earlier that will distinguish BTH's menu and will lure repeat visits so you can sample the current way Chef Carlos is pairing ingredients versus the last time you ate there.
---
---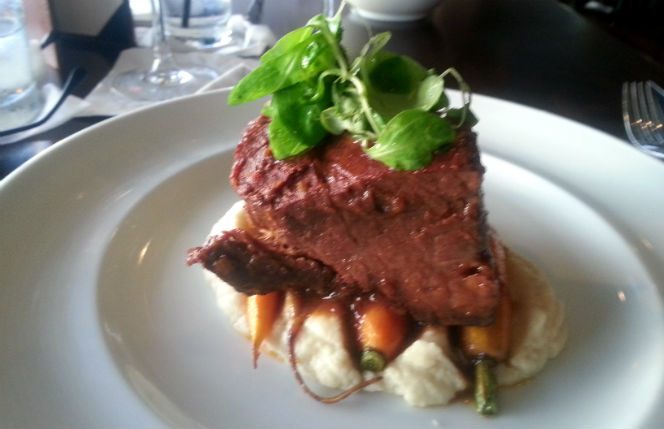 The Jumbo Lump Crab Cakes were lightly breaded with panko bread crumbs and were served on top of a sriracha aioli sauce with baby arugula on the side with a slice of lemon on top.  What I liked best was the cakes were not filled with a lot of other ingredients so the essence of the lump crab meat was the star and came through with each bite.
Now Derek, my tasting team member's entree was the Braised Beef Short Ribs that was served on a pile of creamy mashed potatoes and sautéed baby carrots topped with micro greens.  The ribs portion was large for the price.  Derek found it very filling and super tender; the meat separated with a fork.  The sweet sauce gave it a very savory taste.  The combination of the creamy potatoes with the slight crunchiness of the carrots provided a nice balance to the filling beef.
My entrée Diver Scallops served on top of English pea risotto, mascarpone and roasted tomatoes coulis topped with micro greens.  The scallops were pan seared to perfection; they were so moist.  I swore off scallops after working as a volunteer for a Women Chefs luncheon banquet were I personally released 150 of them from their shells.  I had not eaten one in at least 10 years since that day.  Chef Carlos won me over with the scallops and the pea risotto.  Until that night I was not a fan of peas unless it was served in a rice dish, not by itself.   That's the mark of a great chef to me; when they can expand your palette horizons and make you revisit ingredients you thought you didn't like.
Dessert is delectable and very spontaneous at BTH.  They don't have a published dessert menu because it's dependent on whatever ingredients are on hand and what the chef wants to create.  We had cream brulee and chocolate molten cake the night we ate there.  Derek said he didn't want any because he was filled from his beef ribs.  However, the way he dusted off the chocolate cake you would not have known he felt filled.
One of the owners, Fernando Reynoso, was there and he came over to speak with numerous customers in the restaurant that evening.  I like it when an owner make the rounds because it shows he cares enough to inquire about our dining experience which is a nice touch.
BTH is reasonably priced; an appetizer, entrée and a glass of wine can run you about $60.  Live jazz on Fridays and a DJ on Sundays.  I'm looking forward to seeing what Chef Carlos has cooking through the seasons to come and I hope you do too.
Read more article by Lil Nickelson here.
Related Articles
---