---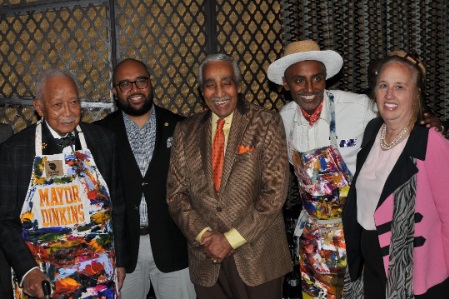 By Lil Nickelson
The Luminary Award Dinner for the 5th Annual Harlem EatUp Festival was a memorable event held on Thursday, May 16th, 2019 at Ginny's Supper Club in the lower level of Red Rooster Harlem. The sold-out weeks in advance dinner began at 6:30 pm and this year's honorees were Lana Turner, the Honorable Mayor David N. Dinkins and the life and legacy of the American entrepreneur, philanthropist and activist, Madame C.J. Walker posthumously.
The dinner was established to recognize culinary, art and cultural leaders of Harlem, It was hosted by Chef Marcus Samuelsson and Guest Chefs Mashama Bailey from The Grey in Savannah, GA voted 2019 Best Chef – Southeast by the James Beard Foundation, Michelin starred executive chef Emma Bengtsson from Aquavit in NYC. Harlem residents, actors Neil Patrick Harris and David Burtka who is also a professional chef stopped by with hors d'oeuvres and cocktails in hand, while legendary winemaker Mac McDonald owner of Vision Cellars in Windsor, CA and Harlem's own wine maverick Andre Mack owner of Maison Noir Wines provided their award-winning wines to celebrate and toast the awardees.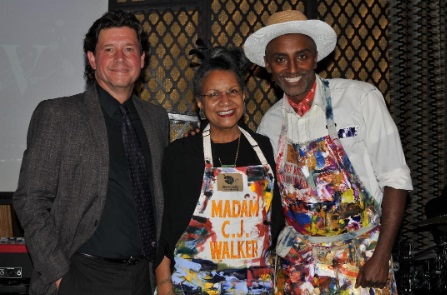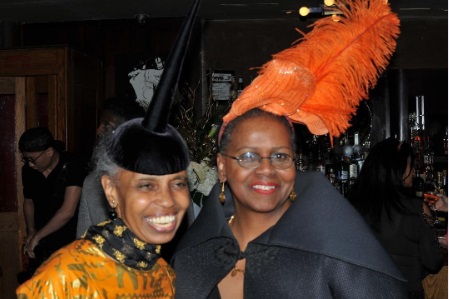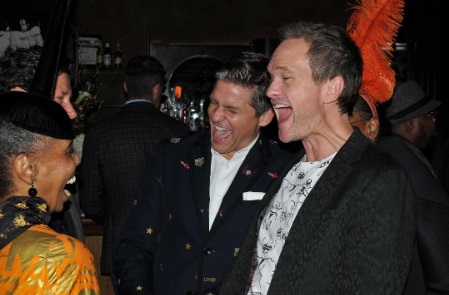 As soon as you walked into the room you could feel that something special was in the midst. This isn't a dinner where you just eat and depart; you mingle, interact around the room with other attendees from the appetizers through the dessert. During the reception Maison Noir Wines "Love Drunk" Rose Wiillamette Valley 2018 was served with the six  hors d'oeuvres: Edward's country ham with tome tuille (thin baked wafer of tome cheese), caviar and crème fraiche, gravlax (raw salmon cured in salt, sugar and dill) with horseradish on a rye crisp, hot honey chicken oysters with buttermilk aioli, crab cakes with Po-boy mayo and micro celery, caviar with chive cream puffs and figs with goat cheese and pink peppercorn honey.
During the reception, I ran into Eugenia Foxworth of Foxworth Realty at a table seated next to James Beard Foundation 2019 nominee for Best Chef South Chef Brad Kilgore. Two Honorable from NY's political scene were seated together, honoree Mayor David N. Dinkins and his long-time friends Congressman Charles Rangel and his wife Alma. A'Leila Bundles, an American journalist, Columbia University trustee and the great-granddaughter of Madame C.J. Walker stopped to speak with me before she and the iconic Lana Turner got together to catch up with one another. Lana Turner worked in real estate and in the art world, where she defined herself by her ornate attire, never leaving her apartment without a statement toque; she defines classic Harlem swag. I congratulated Ms. Turner and told her how I included her picture at The Stroll last year in my article for Harlem World Magazine. She asked me my name and replied, "That was you who included my picture?" She proceeded to take my picture and I was humbled by her actions.
As I made my way to the table for dinner my friend Sintora Simpson came over to say hello from the table purchased by David R. Jones, President, and CEO The Community Service Society of New York, one of four supporters of tonight's dinner.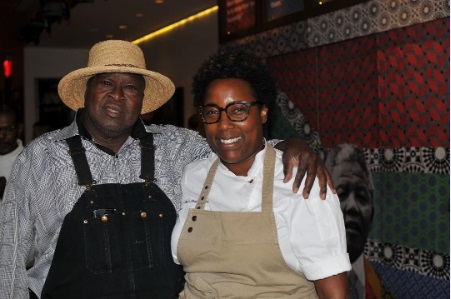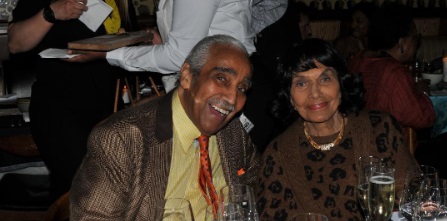 Dinner consisted of Smoked Georgia Whiting with spring chow chow and egg dressing served with Maison Noir Wines "Oregogne" Chardonnay Willamette Valley 2014, Crispy Duck Breast with rice grits, farm greens on top of plum sauce that were served with Vision Cellars Red Wine Blend 2012 and Rosella Pinot Noir 2014. Before dessert was served actors Neil Patrick Harris and David Burtka circulated around the club greeting everyone and passing out treats to eat and taking photos upon requests.
Harlem EatUp co-founders Marcus Samuelsson and Herb Karlitz spoke about each honoree and had them to come forward after a brief statement on their accomplished within Harlem to receive their accolades, citations and picture taking Then Chef Marcus had Chefs Mashama and Emma come forward to introduce them before dessert was served. For dessert, we had Arctic Birds Nest Goat Cheese Parfait with blueberry sorbet and yogurt snow served with Hudson Baby Bourbon Whiskey, a product of festival sponsor Hudson Whiskey.
It was during the dessert course that I realized the two people sitting to my left was another Harlem resident, Michelin starred executive chef Emma Bengtsson from Aquavit in NYC and her date. When I realized that Chef Emma has relocated to another section I made a point of going over to her to tell her how much I appreciated the dessert she had created; it was scrumptious.
Then came a surprise performance by Dawn Padmore, Karlitz & Company's Vice President Culinary Marketing to center stage, where she sang two arias to the amazement of most of the audience; it was like the topping on a cake.
Photo credit: 1) Mac McDonald, Vision Cellars and Chef Mashama Bailey, The Grey. 2) Marcus Samuelsson, A'Leila Bundles and Marcus Samuelsson. 3) Lana Turner and Evetta Petty, Harlem's Heaven Hat Boutique. 4) Mayor David N. Dinkins, Troy Outlaw, Jr., Charles Rangel, Marcus Samuelson and Manhattan Borough President Gale Brewer. 5) Lana Turner sharing a laugh with David Butka and Neil Patrick Harris. 6) Charles and Alma Rangel. Photos by Rudy Collins
---