---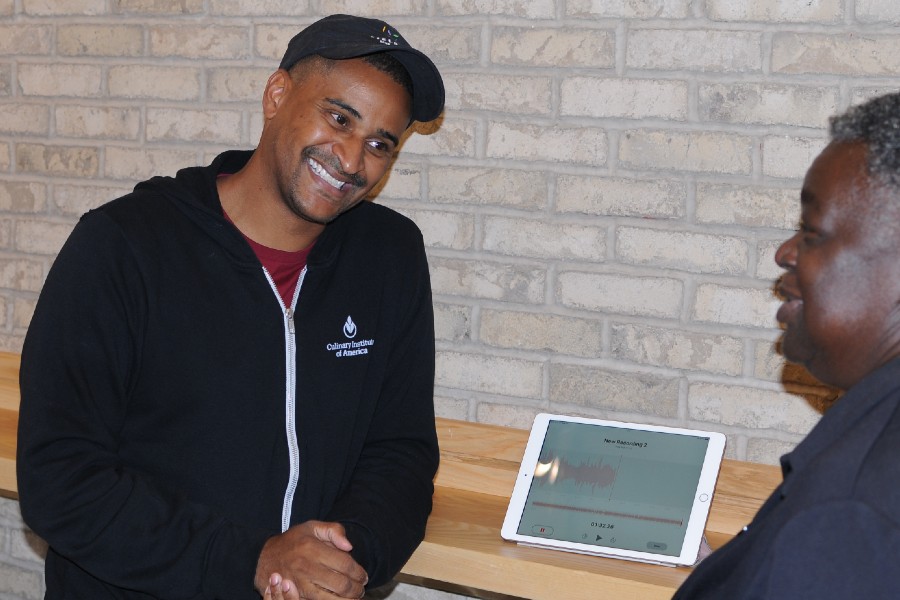 By Lil Nickelson
Chef JJ Johnson took the time out of a very busy schedule one afternoon to discuss all of the wonderful events taking place in his life.
We met up at his third location of his FIELDTRIP casual dining restaurants near Columbia University at 2913 Broadway in the Morningside Heights section of Harlem.
Miss Lil: Why did you choose to build your restaurant business concept around a universal food ingredient like rice?
Chef JJ: I came up with the concept because I believe that everybody loves rice, and why wouldn't want to come eat at a restaurant with a universal language like rice because you can find something that you love that gives you comfort. Also, rice was a cash crop here in America, rice is an ingredient that is black, and African American, and what people think about rice is that it's Asian. There are two yellow brick roads, the Asian brand, and the West African brand. I wanted to celebrate that and change the conversation about rice.
Miss Lil: Your latest book, "The Simple Art of Rice Recipes from Around the World for the Heart of Your Table," was released on September 12th, and your book tour began that day at a bookstore near your second FIELDTRIP location in the Rockefeller Center area of Midtown. How is the book tour going?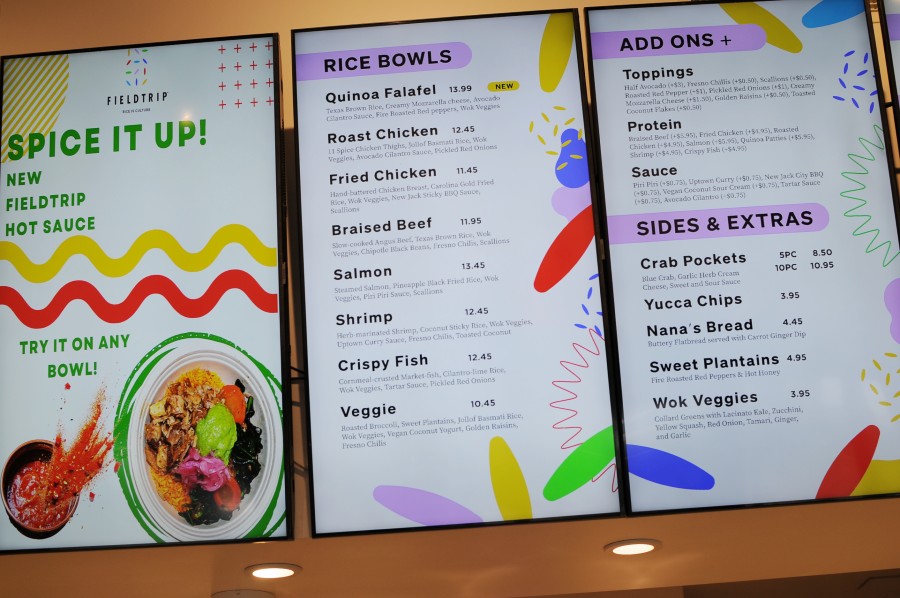 Chef JJ: So far the book tour is going good; it's been received well here in Manhattan. At the Museum of the City of New York was a great turnout, and Williams Sonoma has been very supportive in their Maryland, New Jersey, and Pennsylvania locations. People who love rice, hate rice, cook rice really well or can't cook rice at all have been coming out.
Miss Lil: One of the recipes included in your book "The Simple Art of Rice," are your two aunt's recipes for Arroz con Gandules (Puerto Rican Rice with Pigeon Peas) which you grew up eating as a kid. Why did you think that it was important to include it in your book?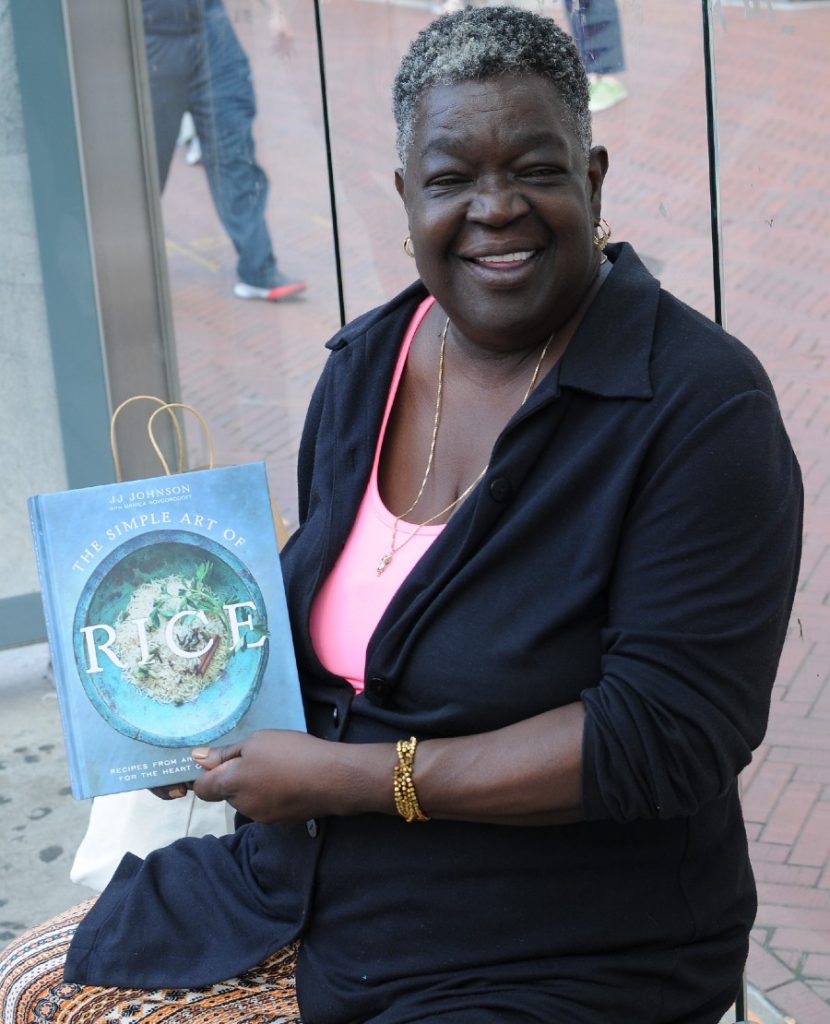 Chef JJ: Yes, my two great-great aunts' recipes and I included a lot of recipes in remembrance of my family like my Poppy Williams' Red Beans and Rice and BB Sticky Rice. Rice was at the center of the table in our house. It was celebrated and we had great moments around rice. I fell in love with rice because of my family, and I didn't want to leave that behind. Rice makes your life easier, and I don't think most people realize that. Once you learn how to cook it right, you have so much left over you can do rice salad, you can do fried rice, you can do rice in your waffles, you can do so much with rice.
Miss Lil: I grew up in a home like you where rice was a staple in the house, and I didn't eat that much rice since I left my parent's home. I started eating it again when you opened your first FIELDTRIP location on Lenox Avenue right off 116th Street in Harlem.
Chef JJ: I appreciate that thank you very much, we are giving you whole grains.
Miss Lil: You give customers access to different types of rice with each bowl that you have paired with specific proteins. Have you ever thought about allowing customers to build their own bowls?
Chef JJ: Oh man, oh man, people ask me this every day. I want to give my customers maximum flavor. I think at one point we probably will let you choose the rice, but I won't let you just build your own bowl. If I let you build your own bowl and you don't like the taste of the combination then that will be an issue, and I don't want that.
Miss Lil: I'm one of your 141,000 followers on Instagram this summer, and I saw you executing meals that were like what you were preparing as executive chef at The Cecil and Minto's Playhouse. Do you give any of your staff who work in your rice culture locations the opportunity to experience your fine dining culinary experiences?
Chef JJ: I think a lot of people forgot that I've come up in the fine dining, full-service experiences. I am playing around with a new concept with full service. Some of my current staff like one of our present managers, Patricia, have come along to give her that experience to see how flavors are built. Not a lot of the staff, but some have, but they do ask me about those events because I believe they follow me on Instagram as well.
Miss Lil: During your recent residency down in the Bahamas at the Atlantis this summer, I saw your oxtail dumplings were on the menu. When I want to get my way, I will make those dumplings and wow him with my skills in preparing your recipe.
Chef JJ: Oh yeah, people dining that evening were looking at it with ten eyes, and when they tasted it they were like oh wow, this is fantastic, that's one of my classic dishes.
Miss Lil: Do you ever plan on expanding your restaurant group to include the other types of cuisines that you have mastered?
Chef JJ: There is a young man who was an intern at The Cecil with me who is one of my traveling chefs who has worked heavily with me on developing new recipes. I try to extend my olive branch to as many people as I can. I am working on expanding in a lot of different areas around food because that's empowering.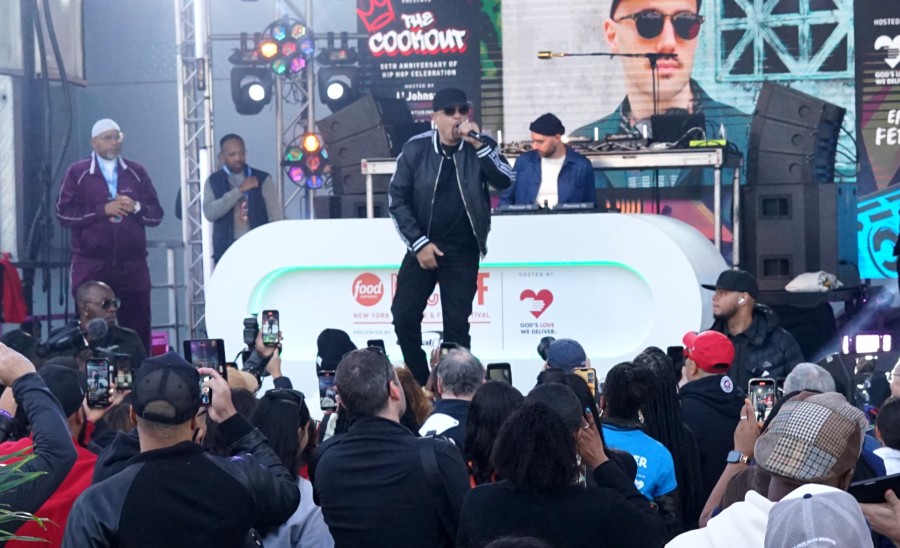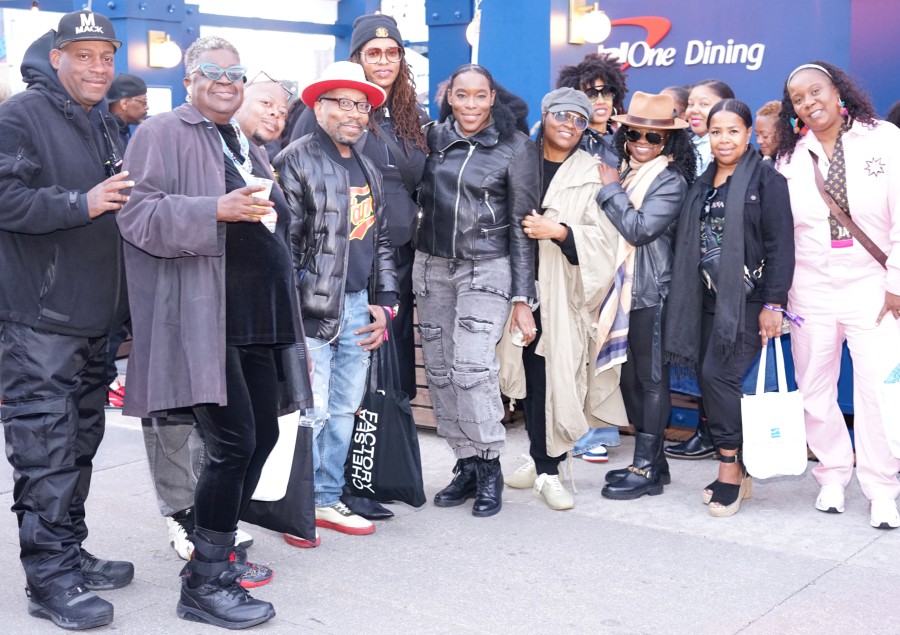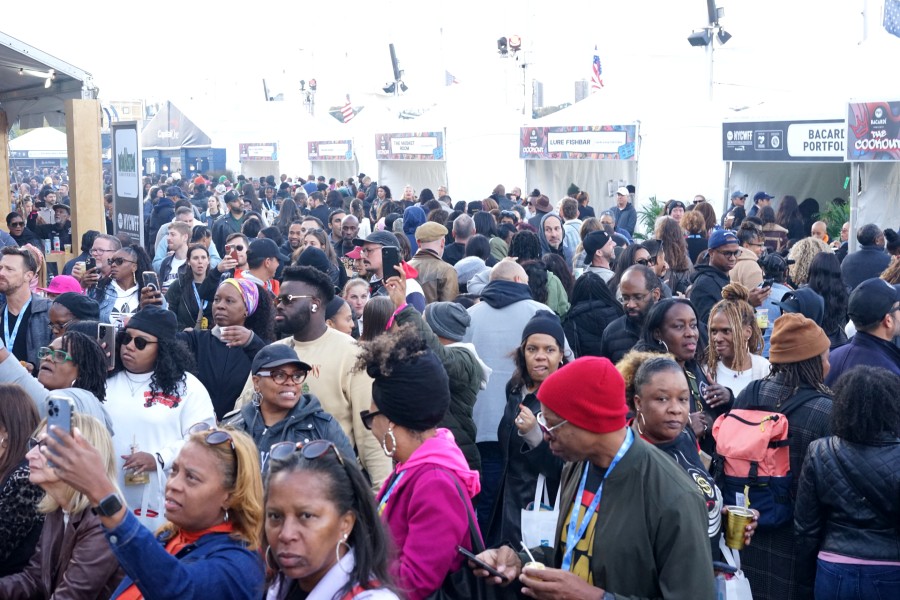 On Sunday, October 15th, 2023, Chef JJ Johnson hosted "The Cookout" as part of the 2023 NYCWFF (NYC Wine & Food Festival) from 4 p.m. to 7 p.m. at the Intrepid Museum at Pier 86. Chef JJ personally selected every restaurant that participated to celebrate the beauty and sheer brilliance of African American cuisine aiming to spotlight dishes that form the rich tapestry of Black culture. I have attended NYCWFF events for the last 10 years, and I have never seen that many people of color at any of the festival events. Celebrating the 50th anniversary of hip-hop was also a main part of the cookout, and Rev. Run, Iced-T, celebrity DJs, and noted break dancers were there to entertain the mosaic of black, brown, yellow, and white people who enjoyed the cookout. So, I say bravo to Chef JJ, Mr. Lee Schrager, the founder of the festivals, I'm glad the committee is allowing him to take the event to SOBEWFF in South Beach in February 2024. Chefs JJ and Marcus Samuelsson are both highly skilled and accomplished Black chefs who deserve to be recognized for their contributions to the culinary world.
Lil Nickelson
Experienced Senior Consultant with a demonstrated history of working in the food & beverages industry. Skilled in Sales, Management, Business Development, Marketing Strategy, and Social Media. Strong consulting professional with a Master of Business Administration (MBA) focused in Finance and Financial Management Services from New York University – Leonard N. Stern School of Business. She has worked as a columnist in Harlem, Dining With Miss Lil with Harlem World Magazine for many years. Read more about Lil Nickelson.
Photo Credits: 1) Chef JJ and Miss Lil talking. 2) The FIELDTRIP menu. 3) Miss Lil holding The Simple Art of Rice Cookbook. 4) Iced-T performing on the Intrepid. 5) The diverse crowd on the Intrepid 6) Harlem in the house on the Intrepid. By Rudy Collins.
---