---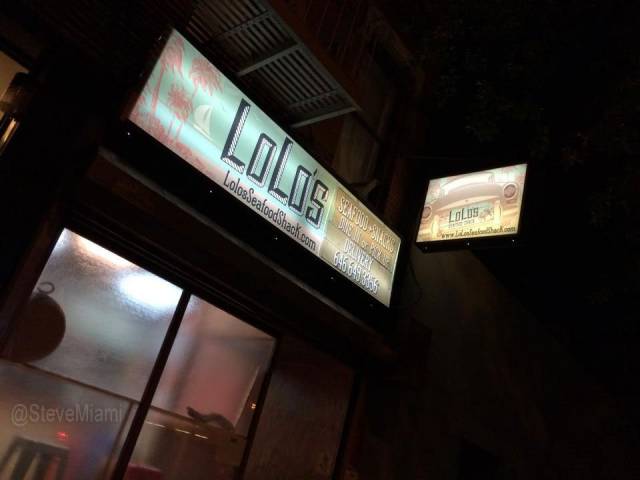 By Lil Nickelson
My tasting to review LoLo's Seafood Shack took place on the evening of the first day in spring; it snowed all day and a cold was coming down on me.  I didn't want to get out of my bed, let alone go outside.  However, I had a tasting team member meeting me there and I dislike allowing the weather to dictate where and when I go outside.  I'm so glad that I went because we were blessed with a great meal and time that night.
Now when you first walk in you wonder in your head where are we going to sit?  The front portion of the store is so small and there aren't any tables there.  The owners, the husband and wife team of Executive Chef Raymond Mohan and Skai Young greeted us.  Chef Raymond proceeds into the kitchen while Skai escort us into the back of the store and it's like we had walked off of 116th St in NYC and been transformed into some little neighborhood restaurant on some Caribbean island.
The room is bathed in bright colors of pink, green, orange and yellow: wooden ceiling and tables are surrounded by metal chairs with bright colored legs.  A large metal art piece shaped like a star with little white lights streaming out of it to the abstract art work on tapestries hanging from the ceiling to Reggae music playing softly in the background and we sit down and strip off our winter coats, hats and gloves.  We looked out the back window and noted that there is an outdoor patio that can comfortably seat around 28 people.  A light bulb went off in my head.
A brother with neat, long dread locks comes over to our table to ask what we'd like to drink.  Cindy, my tasting team member ordered a ginger beer and I ordered a Fanta orange soda.  He brings out a tray with four sauces on it and explains that Chef Raymond makes all of his sauces from scratch: one is mild, one is a chimichuri green sauce, one I sweet & spicy with jalapeno peppers and the last one is called "dragon" and is very hot.  Cindy tried them all and she said the dragon will open up clogged noses.
Our tasting began with fried fresh smelt fish and garlic French fries and a lime zest remoulade with fresh chives to garnish.  Next up was the Belizean Conch Fritters with a lime zest remoulade, Smoked Wings with Achiote Glaze, Garlic Creama sprinkled with sesame seeds and fresh herbs, and Jerk Ribs with Chef Raymond's jerk sauce along with a few sides of Dutty Rice, Sliced Sweet Potatoes with honey butter and some fresh fried Plantain Chips.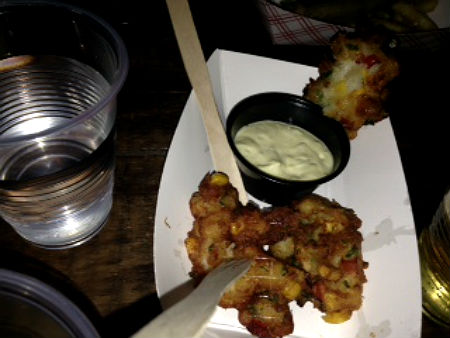 Then came by Colossal Coconut Shrimp with the Chilled Broccoli Salad.  When they brought out the Fried Soft Shelled Crab sandwich it was enclosed in an island pita shaped bread that Chef Raymond made to order his self and it included fresh herbs inside the bread dough.  Now with every item Cindy kept saying "Lil I like every item better than the last one.  This food is amazing; I have to bring my husband Sal here."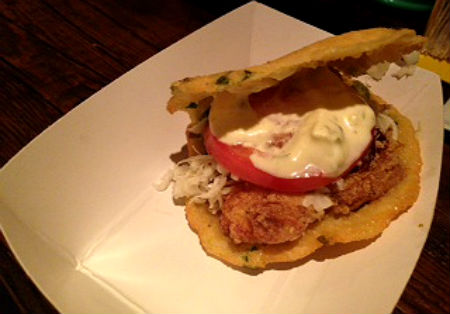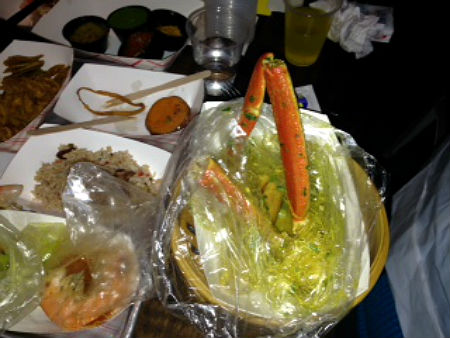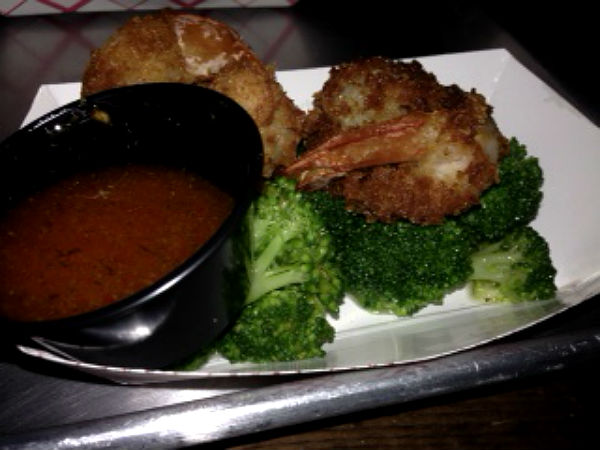 Next our waiter came out with plastic bibs and rubber gloves for us to put on for the final tasting items; the Seafood Steampot dishes of shrimp and Snow Crab Legs.  They also have a Crawfish Steampot as well.  You have a choice of four sauces developed by Chef Raymond: Garlic Butter and Old Bay, Ginger Scallion Butter, Coco Curry and LoLo's Special Sauce (which is a blend of all three).  We put on the bibs and gloves; Cindy even took a picture of me in them.  Then we dug in and I kid you not that they were so finger licking good that we started licking the sauce off of the gloves!! We burst into laughter as we peeled those gloves off and continued into the steampot dishes and licking our fingers.  Thank heaven we don't have pictures of us licking the gloves or our hands because we both were doing so at the same time.
So here's the low down on LoLo's: it's located at 303 West 116th Street New York, 10026 in between Manhattan Avenue and Frederick Douglass Boulevard (8th Avenue); it's closer to FDB.  Their days and hours of operation are Tuesdays through Fridays 4pm to 9:30pm, Saturdays from 3pm to 9:30pm and Sundays from 3pm to 8pm and are closed on Mondays.  Their phone number is 646 649-3356 and their web site is http://www.lolosseafoodshack.com/#about.
I know that Chef Raymond and his wife Skai have developed a fine restaurant that bathes you into Caribbean flavor by its décor that she designed and by the menu that he created.  I plan on hanging out there quite a bit because I love seafood and being reminded of my travels to the Caribbean islands.  Go by and try them out for yourself.  Just do me a favor and tell them that Miss Lil's review sent you clamoring to try and taste their menu.
Related Articles
---