---
By Lil Nickelson and photographs by Rudy Collins
The New York Urban League ("NYUL") has been helping New Yorkers gain access to equal opportunity in employment, education, financial and technological literacy and more for over 90 years. The NYUL held its 54th Annual Frederick Douglass Awards on Tuesday, May 14th, 2019 from 6:30 pm to 9 pm at Chelsea Piers, Pier 60 located at 23rd Street and West Side Highway. The black-tie event was hosted by NBC4 New York co-anchor Stacey Bell. The reception began at 6:30 pm, dinner and the awards ceremony started at 7:30 pm with dessert and dancing during the after party.
"Lift Every Voice," the Black National Anthem was soulfully sung by Marcelle Davies Lashley with the invocation following delivered by Rev. Patrick Young, Pastor at First Baptist Church of Corona. Welcoming remarks were warmly given S. Jeanine Conley, NYUL's Board Chairperson and partner at Littler Mendelson; she thanked all assembled for taking time out of their lives to support the mission and goals set forth 100 years ago by our founders. NYUL board advisory council member Mayor David N. Dinkins attended the gala and was looking quite dapper.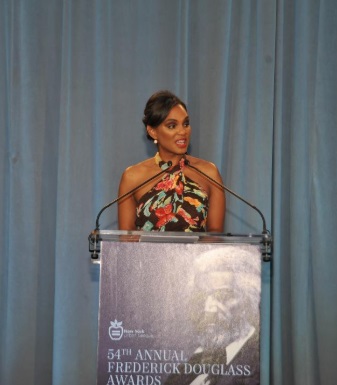 Honorees that received this year's Frederick Douglass medallions were Grasshopper Bancorp for Community Leadership, The View co-host Sunny Hostin for Leadership & Service and the Ann S. Kneel Award was given posthumously to the late Kenneth R. Thompson.
Upon the presentation of the Frederick Douglass Leadership & Service Medallion, Sunny Hostin spoke of how she felt humbled by the award because she initially felt like she had not accomplished enough yet for such an award. "I found the courage to use my voice on my platform when Treyvon Martin lost his life. Life for me changed once I became aware of the facts and I decided the time for me to act is now."
Manny Gonzalez, Moet Hennessy USA's Senior Director, Multicultural Marketing and the gala's co-chair greeting the assembled guest ad offered a toast for the organization's mission to raising their voice and putting programs and services in place to serve blacks and other underserved ethnic communities in our highly diverse city.
Remarks by NYUL's President and CEO Arva R. Rice summed up best why we gather on these occasions when she said, "We can't pay our ancestors back for the sacrifices and suffering they endured, so we have to pay it forward for the next 100 years."
Grasshopper Bancorp's Frederick Douglass Community Leadership Medallion was accepted by its founding CEO Judith Erwin and its Chief Technology Officer Minerva Tantoco, two women who are pioneers and trailblazers in the commercial banking and technology fields. Grasshopper Bank NA is the first digital commercial bank in the United States.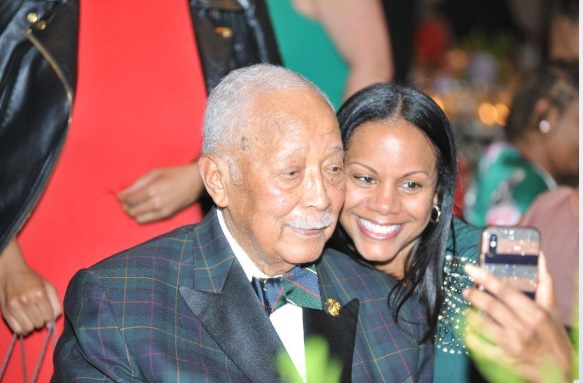 The Ann S. Kneel Award was presented by Eric Gonzalez, the current and first Latino district attorney of Kings County and was accepted by Mrs. Lu-Shawn Thompson on behalf of her late husband Kenneth R. Thompson, who mentored Eric Gonzalez.
Funds generated from this gala go to fund NYUL programs that empower the black community, from first day of school to the first day on the job and beyond. NYUL has been assisting students and their families in developing a blueprint for academic success through their comprehensive programs designed to increase the number of students that get into and graduate from college.
NYUL's employment and career services meet the needs of the people they serve through career readiness workshops, talent matching, training program referrals and access to exclusive events. NYUL believes that from the youngest to the oldest, everyone in our community should be fluent in technology and provides guided support at their Technology Learning Center.
Photos by Rudy Collins:1) NYUL Board Chair S. Jeanine Conley and board members Bill Washington and Hon. Sylvia G. Ash. 2) Host Stacey Bell NBC4 New York co-anchor. 3) Mayor David N. Dinkins and an admirer.
---