---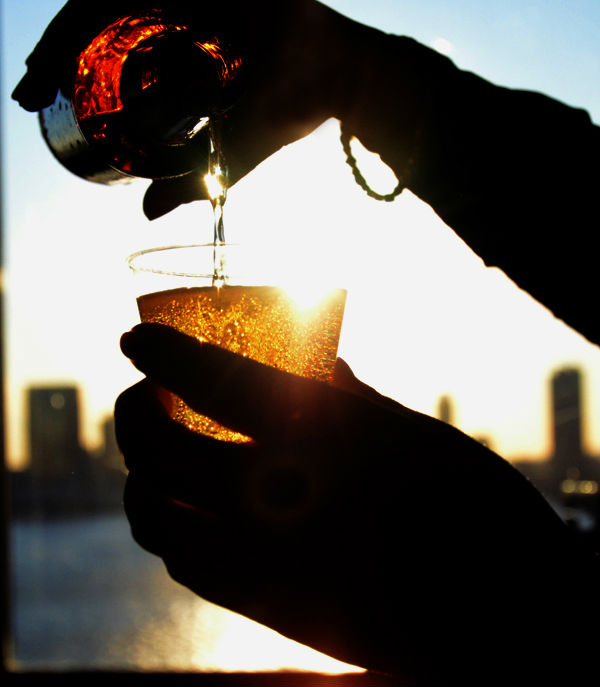 By Lil Nickelson
On Wednesday, March 18th, 2015 Edible Manhattan hosted the Good Cider Event from 6pm to 9pm at Tribeca Three Sixty on the 11th floor of 10 Debrosses Street.  Why would I miss watching the 1st season's final episode of "Empire" as it unfolded you ask?  To meet vendors of the NYS Cider community and to enjoy excellent eats at a tasting event to benefit the New York Cider Association (http://www.nycider.com/index.htm).
You see I love Harlem, New York City, New York State and the United States; I am pro America.  I want to see all of us rebound and nurture the U.S. economy.  The New York Cider Association uses apples grown in our state to make their ciders.  In case you haven't recognized it yet New York State grows the best apples in this country in my humble opinion; year round.  More different apple varieties are grown in New York than any other state.  I bought most of my apples this past year from Caradonna Farms, located in the Hudson Valley section in Malboro, NY.  In Central Harlem at the two farmer's markets they participated in through November 2014.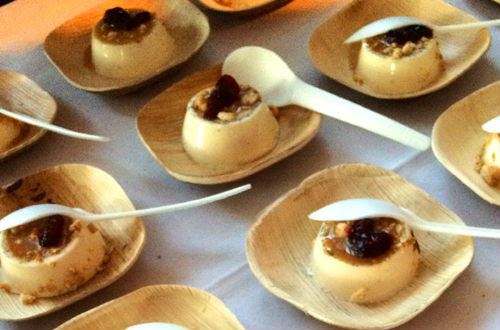 So when I get the opportunity to put my column's spotlight on events that promote my local economy, I don't hesitate to do so.  Thirty (30) cider vendors were present at the event.  They allowed participants to sample and purchase their product lines.  They talked with us and educated participants about the subtle, yet distinct differences in various apple ciders between fresh and hard, from dry to semi dry, semi-sweet to sweet.  To ciders with other fruits added or fresh ginger added.
Ten (10) food vendors were also present offerings tastings from appetizers to dessert items that either contained apples, apple ciders or whose taste complemented eating them along with apple cider. From Gramercy Tavern's cured pork loin with buckwheat, cabbage and apple slaw to Grace's Marketplace's vanilla bean panna cotta with caramel cider reduction and crunchy granola participants ate enough to make sure the alcohol in the ciders didn't go to our heads.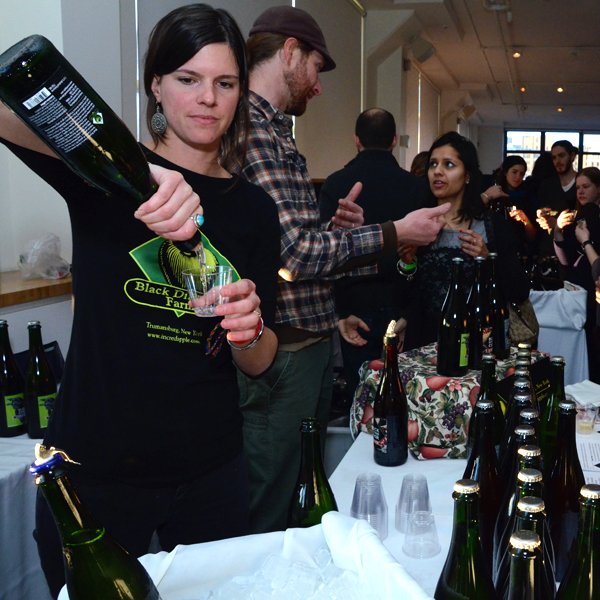 Edible Manhattan Magazine had a table giving away copies of their latest issue.  Green Mountain Energy, a retailer which provides cleaner energy and carbon offsets had a table.  VerTerra which produces dinnerware, boxes and trays made from fallen leaves that we were eating off our tastings off of that evening had a table.  I have been using their products since 2011 for eating at outdoor concerts in the summer and I simply love them.  Their products are lightweight yet durable are chemical free and compostable.
So I plan on stopping by the cider vendors' tables at the various farmers' markets I patronize looking to expand on my knowledge each week going forward.  If you'd like to learn more about the cider industry in our state, please go to the web site listed at the end of the first paragraph for further information. Salute to you all until the next cider event.
Did you attend the event?
Photo credit: By Albert Trotman http://www.trotfilms.com .
---