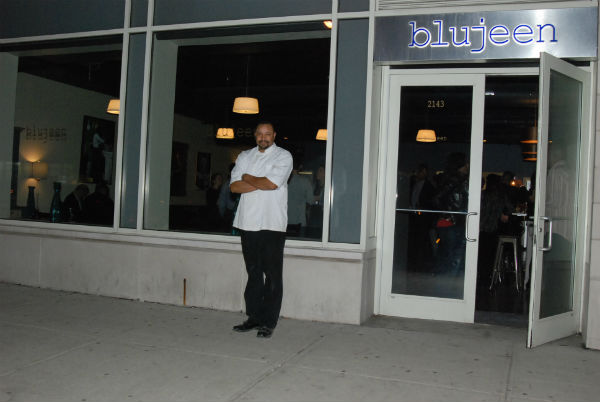 By Lil Nickelson
Back in March 2015 Executive Chef Lance Knowling was getting antsy waiting to open up Blujeen Restaurant so he invited a select number of people to his pre-opening launch party that was held for two (2) hours on Friday, March 27th, 2015. 
Not his full menu, just appetizers and smaller tastings of items from his modern comfort menu.  Everything tasted wonderful and a couple of items you wished you had access to the full sizes instead of a small tasting of.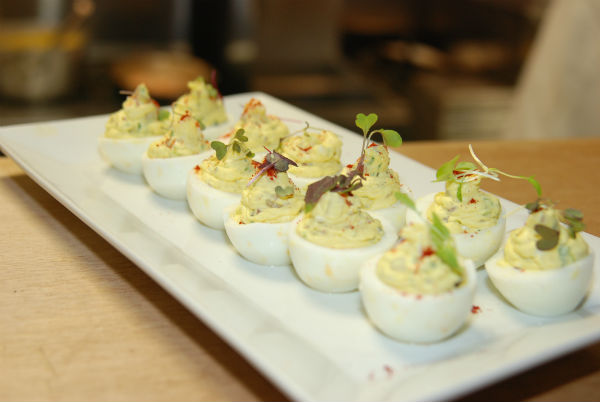 Well Blujeen officially opened this month and it's a smash it.  Blujeen is located at 2143 Frederick Douglass Boulevard in between 116th and 115th Streets, 212 256-1073 (www.bluejeennyc.com).  Right now they are open for dinner and will expand on their menus as time goes on.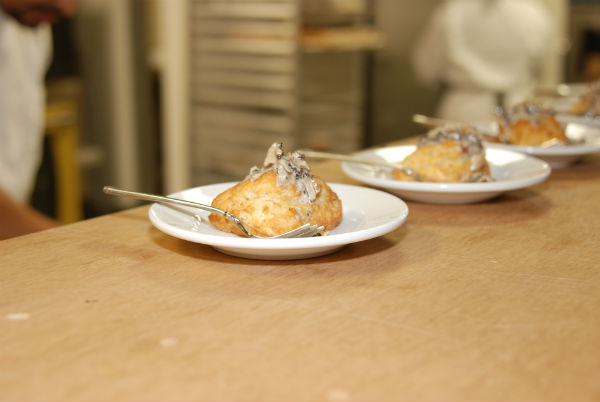 I wanted to wait to see their price list before I reported on the tastings I consumed at the pre-opening launch party.  From their small plates menu we sampled the deviled eggs, mini shrimp and grits with charred lemon butter, Louisiana corn velvet soup, root beer jerk chicken legs and the biscuits and mushroom gravy.  The deviled eggs were prepared southern style with onions and sweet relish; they conjured up visions of my late Mom and summer picnics with my family at Van Cortlandt Park.  The corn soup was so smooth and creamy that I wanted a big bowl of that, not a shot glass.  The buttermilk biscuits and with wild mushroom gravy was excellent and I am a bona fide mushroom lover.  The root beer jerk chicken legs were not too spicy but full of flavor and what I nice treat that he uses the legs and not wings or thighs.  Small plate items run in price from a low of $7 to a high of $12.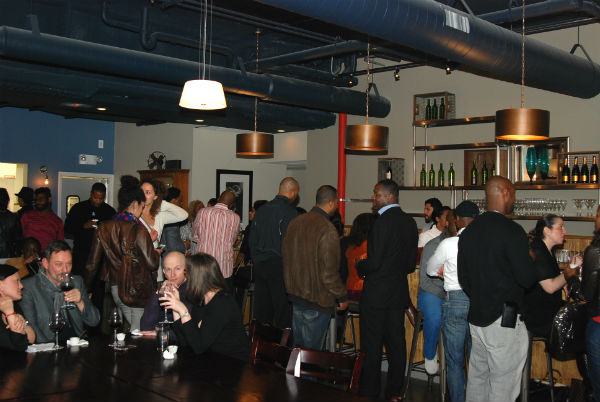 From their large plates menu we sampled the Blujeen burger and the blackened salmon.  We had slider burgers (as opposed to full burgers) that were made from the blend of short rib beef and ground beef prepared by the Harlem Shambles, the butcher shop next door to the restaurant.  The sliders were excellent, moist and you could tell that they were made from the best cuts of meat.  The salmon was moist and cooked to perfection and was served with lemon butter.  On the regular menu it has a citrus comeback.  Large plate items run in price from a low of $14 to a high of $23.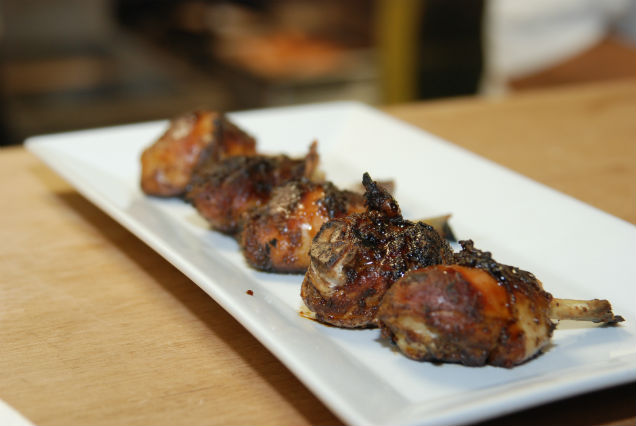 We also sampled another dish that has yet to found its way to the menu: black eye peas and chicken; it was tasty and again reminded me of my bean lover parents.
From their dessert menu we samples red velvet mini donuts and a drizzle of cream cheese and crumbled pistachios.  I popped so many of those moist mini donuts into my mouth I had to cut myself off.  Dessert items are priced at $8.
---
---
Blujeen has three featured vegetarian items on their menu that are priced at $14.  Side dishes cost $6 each.  Kid portions are available from their large plate menu items only.  The restaurant is accessible for people with disabilities.  Now I'm waiting for Executive Chef Lance Knowling to invite me back to review the whole restaurant; the food along with the service that his staff provides which could add to or detract from the restaurant's overall dining experience.
Related Articles
---