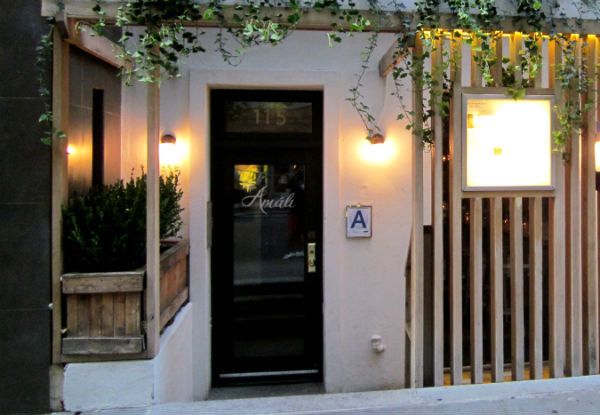 By Lil Nickelson
James Mallios and his fellow partners have designed Amali as a very comfortable, yet cozy and relaxing atmosphere for their guests to partake in some great tasting Mediterranean inspired food. I say guests instead of customers because that's how we felt by the time we left Amali.
You step down and walk in past the outdoor terrace (where the meats were grilled this summer) into a host station straight ahead with people that warmly greet you upon entering and their bar is to the right.
The décor is rustic with a homey "lived in" feel that makes you feel comfortable right away. The tables are made from pine wood reclaimed and repurposed from the ceiling. The lighting is low and quite relaxing. I would go there on a date with a man, with my nephew, niece and their three kids or for a meal where I'm catching up with one of my sister friends.
James Mallios is very proud of the team that they have assembled since opening in November 2011. He boldly acknowledges that his culinary staff is led by two black men that are creating fabulous Mediterranean inspired dishes based on their collective culinary training, work experiences and their own individual creativity with foods at their disposal.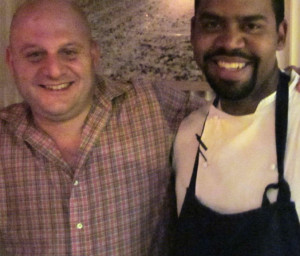 Executive Chef Nilton Borges, Jr. is a 31 year old chef that took the culinary skills developed working in several Michelin rated restaurants and followed them up with his culinary degree from the French Culinary Institute. Junior is a humble, Afro Brazilian man that in 10 years in this country has learned to speak English and cook like a dream. He does not want his cooking opportunities to be defined or confined by what people "think" he should be cooking. His Chef du Cuisine is his protégé and fellow FCI graduate, Chef Martell Fonville, a 24 year old chef of African American descent from Michigan that is currently specializing in Italian cuisine.
Junior's passion begins with being personally involved in selecting food from the markets (Fulton Fish or Union Square). The restaurant also partners with a local Montauk fisherman. They select individual steers sourced from local farms that are butchered in house. One taste and you will agree that they have found a groove with the food selected and the dishes they are creating and serving up at Amali.
The service staff is attentive, patient, and very knowledgeable about the restaurant's food and drink menus. Their menu changes weekly in response to the season, the market and their partnerships with fishermen and farmers. Once you decide what to order you will have questions because their menu lists the main food ingredients without a description of how the dish is prepared. Substitutions are made depending on what foods are "in season" and at harvest when the chefs go to market. They have several different cooking techniques to choose from depending on the ingredients at their disposal.
My friend Brenda and I sipped on smooth peach white wine sangrias as we updated each other on our summer, and savored the breads and oil served as we waited for our order. Our appetizer was a daily special that our server Jonathan recommended. The spicy meatball and polenta appetizer was served with micro greens and red and yellow cherry tomatoes dressed with a light vinaigrette. The meatballs were moist, meaty bites with just the right amount of heat. The vinaigrette was light enough that it didn't make the mini polenta cakes soggy. The cherry tomatoes were at their peak in flavor; a sweet burst of flavor in your mouth with every bite.
The linguine entrée was prepared with the exact ingredients listed on the menu; linguine, heritage bacon, lump crab and sweet corn covered with a phenomenal sauce that was light and creamy. Fresh pasta tastes so light and tastier than boxed pasta, but each ingredient was playing its own tune on different taste buds; the smoky salt from the bacon and the sweet burst of corn were equally competing with the lump crab meat for our attention.
The lamb entrée ingredients varied from what the menu listed. The boneless lamb loin was seared to medium rare perfection with toasted pine nuts, those delicious cherry tomatoes and micro greens with warm balsamic vinaigrette. The staff was even gracious enough to take the plate back and cook enough lamb pieces to medium well for me to eat as well. I finished off the lamb entrée while Brenda took care of the linguine.
For dessert we had sorbets that were made in house; Brenda chose blueberry and I had cantaloupe. Both were smooth, not overly sweet and a wonderful ending to a really great meal. Then Chef Junior sent out two freshly baked rosemary shortbread cookies straight out the oven as a little extra something for us. The scent of rosemary engulfed my mouth and nostrils as the taste of butter, sea salt, and sweet tantalized my mouth's taste buds.
---
---
This fall their menu will feature braised meats, stews inspired by one pot meals (which is a Brazilian custom), ragus and roasted vegetables; I can't wait.
Attention voting members of the James Beard Foundation. I know which chef should be your Next Rising Star in NYC and where the chef works. Proceed immediately to Amali Restaurant located at 115 East 60th Street in between Park and Lexington Avenues; for further details go to their website at www.amalinyc.com.
Have you eaten at Amali?
Related Articles
---